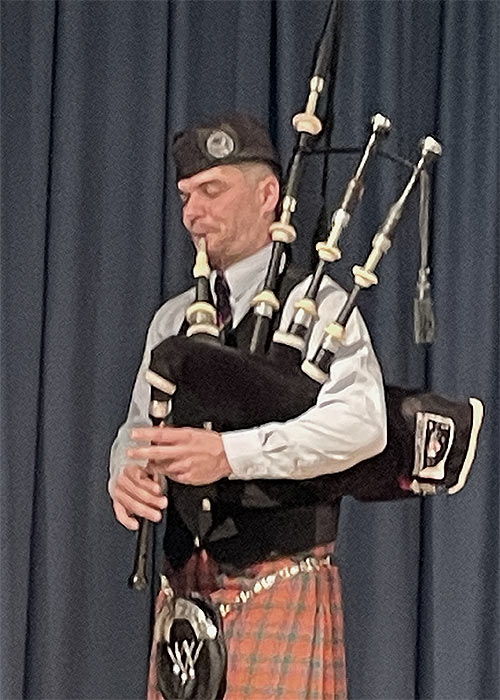 Angus J MacColl (pictured) won the Scots Guards Knock Out contest after a closely fought final in the Guards Club at Haymarket, Edinburgh, yesterday March 26. Organiser P/M Jimmy Banks MBE reported a 'a great day of very good piping before an audience of approximately 50'.
The other finalist was John Dew of Inveraray & District Pipe Band. Judging was by audience vote and nominated judges seated in the audience.
John was fresh from a very successful paper he gave at the Piobaireachd Society Conference held in Perth the day before.
---
Niall's Tune
Composer and double Gold Medalliust Niall Matheson has produced a new tune inspired by his native Badenoch. Niall writes: 'Here is another piobaireachd I finished last month; please have a look and see what you think.
'It is called A Chreag Dhubh after the mountain that overlooks Newtonmore and is the home of the famous Cluny Macpherson's Cave where he and Bonnie Prince Charlie hid after the Battle of Culloden.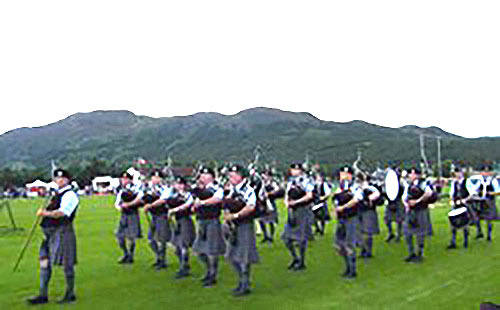 'Many pipers will have played many's a time under this great hill at Newtonmore Highland Games. It is more commonly known and spelt 'Creag Dubh' which means 'Black Rock' in Gaelic.
'Interested to see what readers think. There's loads of info to be found on internet about Creag Dubh and Cluny Macpherson as well as Bonnie Prince Charlie when he stayed in the cave. Here is the ground:
Download a copy of the tune by clicking the chevrons below, top right:
Don't forgret Niall's music book the 'Fyrish Collection' is available here.
---
Dollar Contest
Promoters of the new pipe band contest to be held at Dollar Academy, Clackmannanshire, on May 20, have requested that all bands intending to compete submit an 'intention to enter' by this Friday, March 31.
Entries close officially on April 30 and the entry form is available here. Entries £10 per band. The contest is on what would have been the date of the now cancelled British Pipe Band Championships.
There are three prizes in each grade of £100, £80 and £60. Playing requirements: G1 – Medley, G2 – MSR, G3 Medley, Juvenile – MSR; G4a, 4b and Novice details on the entry form. Static start will operate for Novice B grade.
The competition is run under RSPBA rules. Contact is Gary Mair of the Dundee, Perth and Angus Branch.
---