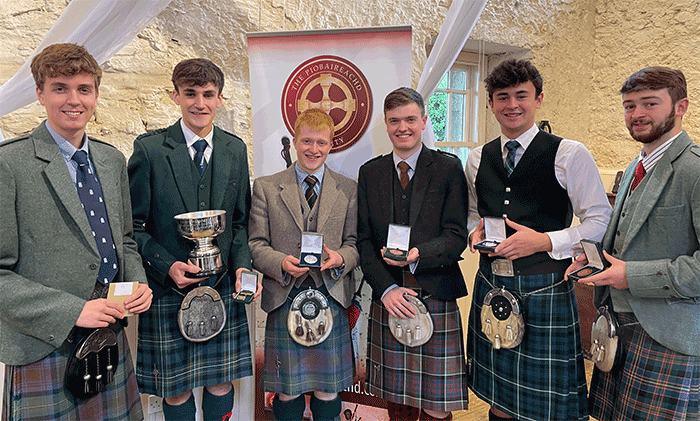 The Lochnell Estate lies low on a wooded spit of land jutting out into the Firth of Lorne. Sheltered on its eastern lee sits a castle, home of the Cochrane clan for 100 years and the Campbells for centuries before. For most of last Saturday its ancient walls resounded to the call of the bagpipe.
There may have been some unkind things said about the sea-going Cochranes back in Admiral Nelson's day, but our host on this occasion, Lord Archie, could not have been more generous, more welcoming or more accommodating.
By The Editor
What's more he's a piper. He learned at school. He's promised me he'll take up piobaireachd.
This was not the first time his home had been home to the pipes. I remember playing there, as will others, around 20 years ago when the Highland and Islands Festival were invited to hold their Friday night piobaireachd contest in the castle chapel, courtesy Lord Archie's father, the Earl of Dundonald.
Moving on a couple of decades it was now the 150th Anniversary of the Argyllshire Gathering. Much had been done to mark this historic occasion, but a plan for a new Intermediate Youth Championship would put the feather in the bonnet, the castle, with all its romance, sealing the deal.
And it happened. Most successfully. There we were, my fellow judges Archie Maclean and Ian Duncan, and Fear an Tighe John Wilson safely corralled in the Lochnell chapel last Saturday morning as Torquil and Alastair and Jamie and Hattie and Alasdair and Glynis and Rosemary busied about us and the ten invited pipers.
---
[wds id="2″]
---
Lord Archie and his brother smoothed out the rough edges and made sure the log fire stoves were at full, warming pelt throughout the day. A brief tour of the historic rooms and it was on with the piping.
The Piobaireachd. Ten played. Some froze. Some over-thought. I don't think giving out tunes a week before is always a good idea. Too much time to ruminate.
The winner of the ceòl mòr was 19-year-old Andrew Ferguson from Dollar. He played the Earl of Ross's March. This tune would have taken a prize against the big guns, make no mistake. Apart from a rushed crunluath doubling, it had everything: expression, technique, and all delivered on a true, unmoving bagpipe.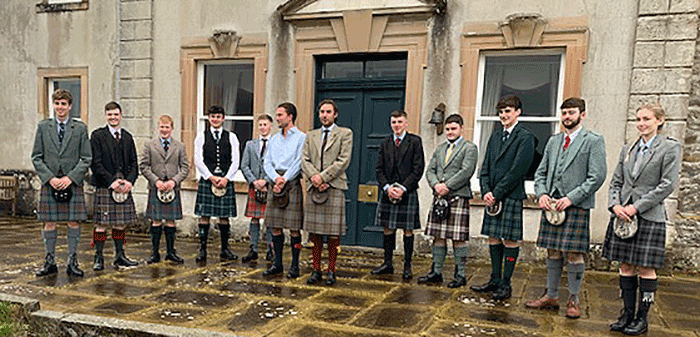 Second placed Ruairidh Brown gave us Lachlan MacNeill Campbell of Kintarbert's Fancy. The pipe was nicely set and held; the finger was good – only two missed crunluaths; variation 2 lacked phrasing.
Hamish Drennan's pipe did not hold for the full length of his Battle of the Pass of Crieff but his crunluath a mach was so well played that you hardly noticed. Elsewhere in the tune he didn't quite capture the swing down from the high A in the Thumb, and the dithis lacked focus and could be erratic at times. No matter; a worthy prizewinner.
Finlay Cameron was given the Lament for the Iolaire, a lighter tune than others submitted, but, on this occasion, not fatal. The pleasant melody was fully captured in the ground, but ground to a semi-halt in Variation 1 where there was overdwelling on the Bs and Cs end of phrase. A nice, sweet pipe.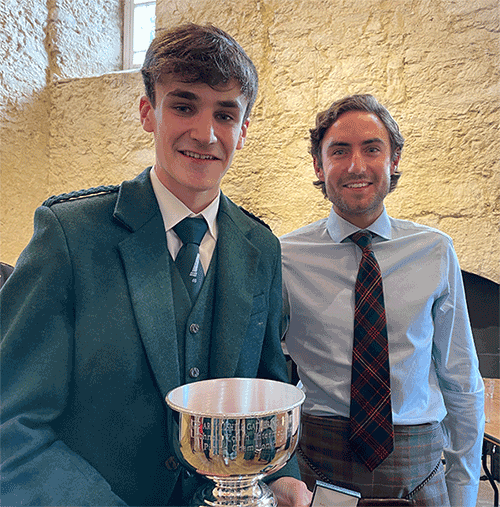 Of those not in the list Cameron May can take heart from a well set out King's Taxes on an excellent pipe. Just too slow. Same for Brodie Watson-Massey. His Ronald MacDonald of Morar was deliberate and inconsistent in its phrasing, though the pipe and finger were exemplary.
Luke Kennedy and Anna Smart were both going well in MacKay's Banner and the Old Men of the Shells respectively when pipe problems intervened. Bobby Allan (MacDougall's Gathering) and Ross Conner (Mary MacLeod) still have some work to do to capture the essence of these very difficult tunes.
Result:
1 Andrew Ferguson, Earl of Ross's March
2 Ruairidh Brown, Kintarbert's Fancy
3 Hamish Drennan, Battle of the Pass of Crieff
4 Finlay Cameron, Lament for the Iolaire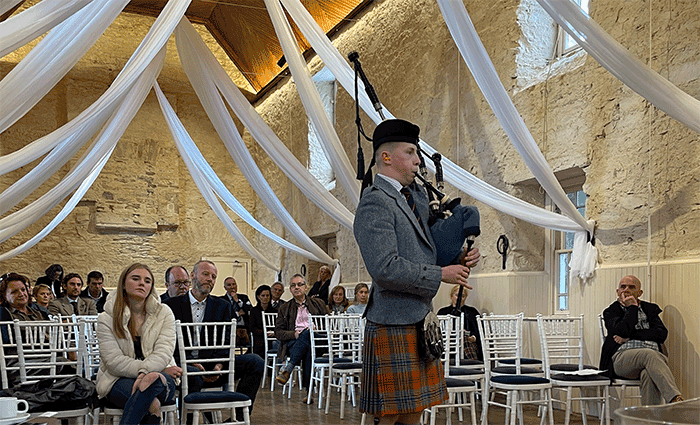 A short interval now during which mine host delivered a delicious buffet, then, suitably refreshed, we took our seats once more for the March, Strathspey and Reel. Here the lack of 'live' match practice was clearly evident, lockdown lay offs inducing nervy, tight technique. The fingering overall was clipped, indistinct and sometimes missing.
The prizewinners were just as guilty as those not in the list, though to a lesser extent. Gents and lady, if you are going to make it in the upper echelons of professional ceòl beag you MUST have impeccable, clear, precise technique. And you need a chanter that will project that technique.
The good news for these fine pipers is that the issues mentioned are easily sorted. Diligent practice chanter work, a resolution to play in public as much as possible here on in, and perhaps a crisper chanter reed for some, will do the trick.
I'll run through the playing: Finlay Cameron: light birls in the march, light pipe for light music; musical. Cameron May: missed birls and taorluaths; slowish reel. Andrew Ferguson: double F and tachums in march but held it together – just. Bobby Allan: tachums, phrasing, need work; good pipe. Anna Smart: more expression required, odd squeak from high A. Hamish Drennan: missed birls, musical. Luke Kennedy: excellent march and strathspey, lost his way in the reel. Ruairidh Brown: tight, tight, anxious, good pipe. Brodie Watson-Massey: shaky at start but finished well. Ross Conner: excellent march and strathspey, small fumble in reel.
Result
1 Andrew Ferguson, Stirlingshire Militia, Cameronian Rant, Rejected Suitor
2 Ross Conner, Inveran, Highland Harry, Little Cascade
3 Finlay Cameron, Bonny Anne, Bob o' Fettercairn, John MacDonald's Reel
4 Brodie Watson-Massey, Abercairney Highlanders, Caledonian Society of London, Sheepwife
Time to make the prizes public; over to the Fear an Tighe. John expressed his gratitude to all involved. He praised the camaraderie among the pipers. He said those invited had told him they were delighted just to have been asked to take part no matter the outcome. He rightly pointed out how important it was to give the young professional a platform such as that at Lochnell. He hoped the sponsors would stay on side. The host family had done a noble thing in opening the doors of their home for the best in Scottish music.
Photographs and handshakes now, then homeward with a last word from Mrs Ferguson, Andrew's mum. She'd driven him up from the shade of the Ochils. 'He's floating on air.'
---