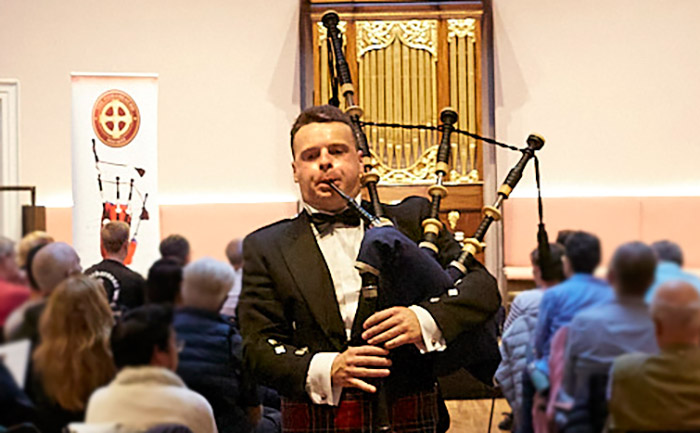 When asked to offer some thoughts about piobaireachd as an art form, I was delighted to oblige. This is not least because I was brought up as a flute-playing Scot in England by a piper for a father.
With my career now in the performing arts as a conductor specialising in working with singers, I have regularly looked upon piobaireachd with a great deal of interest, even if my knowledge of the repertoire is somewhat limited.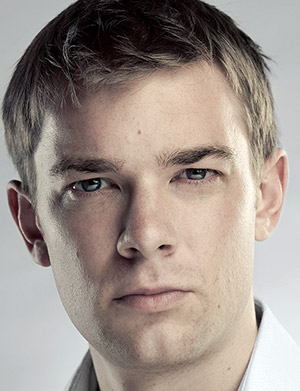 By Calum Fraser
I was fortunate to attend a couple of piping events over the summer when visiting family north of the border. Although both were on the more relaxed side of competitive piping, they renewed some questions that I have wrestled with for several years.
The first of these events was the Piobaireachd Society's annual concert, entitled 'Classical Pipe Music – Scotland's Hidden Treasure'. In what was a first for me, none of the four pipers tuned onstage.
Instead, each player entered from one side of the hall as the previous player was exiting the other with no break in drone sound. Having been to numerous piping recitals and competitions over the years, I found this to be most illuminating, and far more like what I experience when performing.
Whilst the intonation of the drones occasionally drifted, it was never to a distracting degree and certainly no more so than when players have had several minutes to tune the instrument onstage. As a result, the audience was treated to eight piobaireachds in around 90 minutes.
The venue, St Cecilia's Hall in Edinburgh, is beautiful, though there was interestingly a marked difference in projection and sonority between those who performed from the raised stage and those who played amongst the audience at floor level.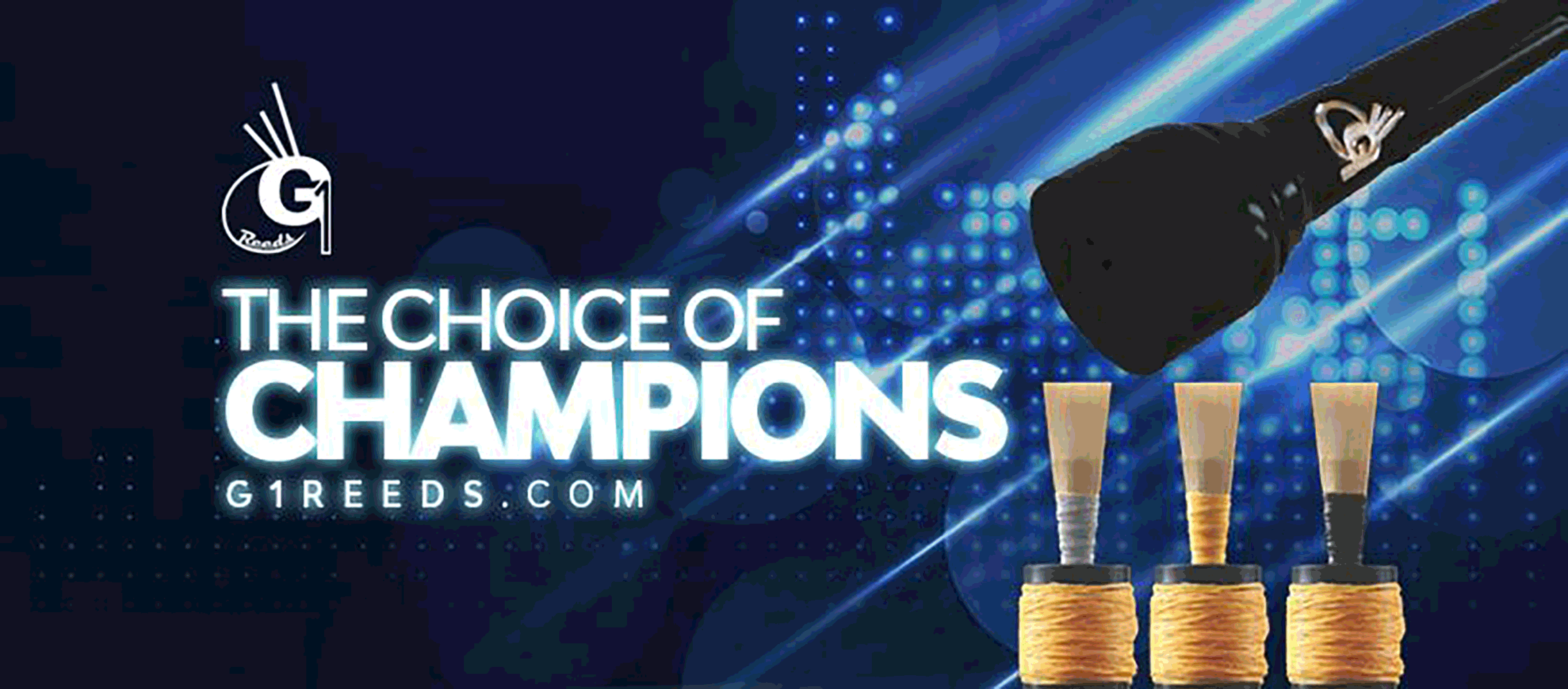 RGH-Heritage-pipingpress-800×300
MacRaeBanner '19

Ayrshire Bagpipes Nov 2020
Selcraft-UK—Piping-Press—Advert
2023_BalmoralClassic_Ad_PipingPres_Rv
---
A week after this, I attended the Eagle Pipers' Society's Captain John A MacLellan Memorial Dinner at the Waldorf Astoria, also in Edinburgh. Another highly enjoyable evening, this had more of the traditional competitive element, despite it being an invitational. We were treated to four piobaireachds, after which the verdict was announced.
These two events have caused me to think more deeply about how piobaireachd compares to my line of work, particularly in terms of public perception. Much of what is admired is universal. Innate musicianship is present in all forms of music, though the perception is markedly different between an orchestral concert and a piobaireachd contest.
Whereas one might hear punters chuntering about a soprano that was not on top form in the classical world, it seems just as likely that an audience member may disagree with the decision of the judges in the competitive world of piping.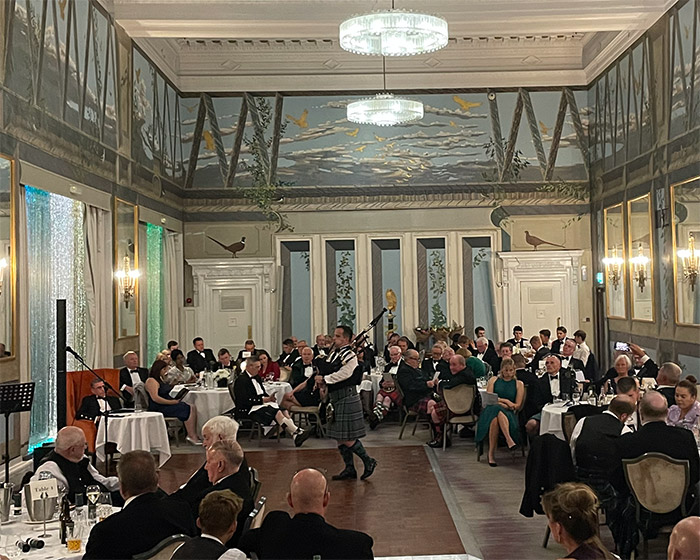 When listening to any piobaireachd through musical yet naïve ears, I always listen for innate musicianship, beauty of tone and intonation through the whole instrument.
While everyone wants a performance to be accurate, I have never quite understood the insistence on a lack of mistakes being quite so high on a judge's wish list. I don't doubt that all the judges know the repertoire well and the regular use of either scores or a designated reader is not something that is often done in my industry.
Much of my professional time is spent thinking about programming: which choral piece would work best following another; how the respective tonalities will take the listener on a harmonic journey; and how melancholic works can sit alongside pieces that are more upbeat, both in tempo and spirit.
I must confess that I have always found it unusual that pipers are given their tune mere minutes before they play, and the audience is rarely offered the promise of hearing a specific player perform a favourite piobaireachd in advance of purchasing a ticket.
In addition to the sound of the instrument, the physical nature of performance greatly interests me. I am always drawn to those pipers who, within reason, physically and outwardly feel the music. As a performer, I am always aware that each member of the audience will be looking for something slightly different, even if they come from a place of particularly limited knowledge and experience.
It begs the question: Should one be performing to the judges' bench or the audience? The answer, of course, is both, but this must pose problems for a player if they have visual performance in mind as well as the sound.
I find piobaireachd a fascinating, historic, and cultured art form that is without peer in the piping world. The nearest comparison in terms of vocal music is Gregorian chant, something upon the shoulders of which all subsequent vocal music stands. I dearly wish there was more crossover between these ancient traditions, as I believe that those non-Scots in my industry could learn so much.
Calum Fraser is a conductor who specialises in choral and operatic repertoire. He studied at The University of Manchester and with Simon Halsey, Adrian Partington and Sarah Tenant-Flowers. Calum is currently the Director of Music at St Leonard's Church in Streatham, Musical Director of Streatham Choral, and Director of Choirs and a conducting tutor at The University of Nottingham. He is also a founding Musical Director of Scottish professional chamber choir Caledonian Voices and the founding Artistic Director of Magnetic Opera.
---