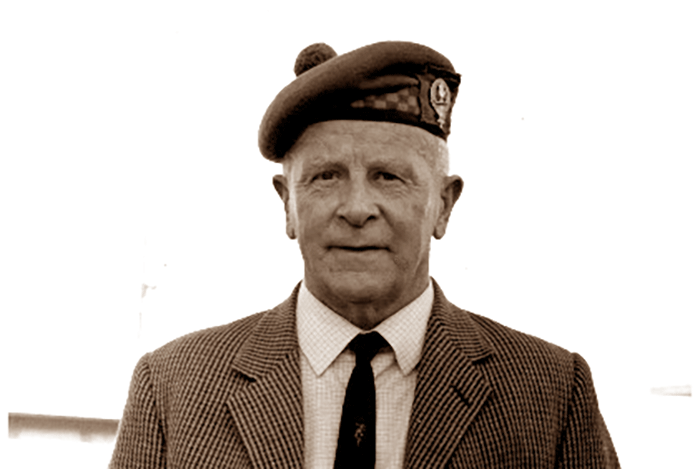 We continue with excerpts from the tribute edition of the South Australian Pipe Band Newsletter from 1972 which marked Bob Brown's death after a teaching and recital tour there. The above photograph of Bob was taken during the trip. The caption reads: 'Pipe Major RU Brown at Port Pirie Highland Games in South Australia. Invited as Official Guest to open the Games. Driven 200 miles north of Adelaide. Occupants of the car were Sir Lyell McEwan, Chieftain, and Lady McEwan, Hamish Mackenzie, and a driver from the South Australian Government motor pool assigned to Sir Lyell. Bob was surprised at the ease of conversation and relaxed manner of the car's occupants. He had never been driven at speeds in excess of 100mph.'
By Hamish Mackenzie, friend and host
I am conscious, as I write this, of Bob peering over my shoulder and saying 'now stick to the truth'. I have to do this and what I write will only contain facts of his career and life as I know them.
His piping career and ability are so well known that I need scarecely mention them, but to my certain knowledge, he never had a trophy that he didn't earn the hard way. By this I mean that he never, in his life, entered a contest unless his preparation, practice and instrument were as perfect as it was possible for them to be.
Here lies a lesson for all of us. To illustrate his thoughts on this he made it clear to me that before I played in Scotland again I was to spend at least two weeks with him in Balmoral – for preparation.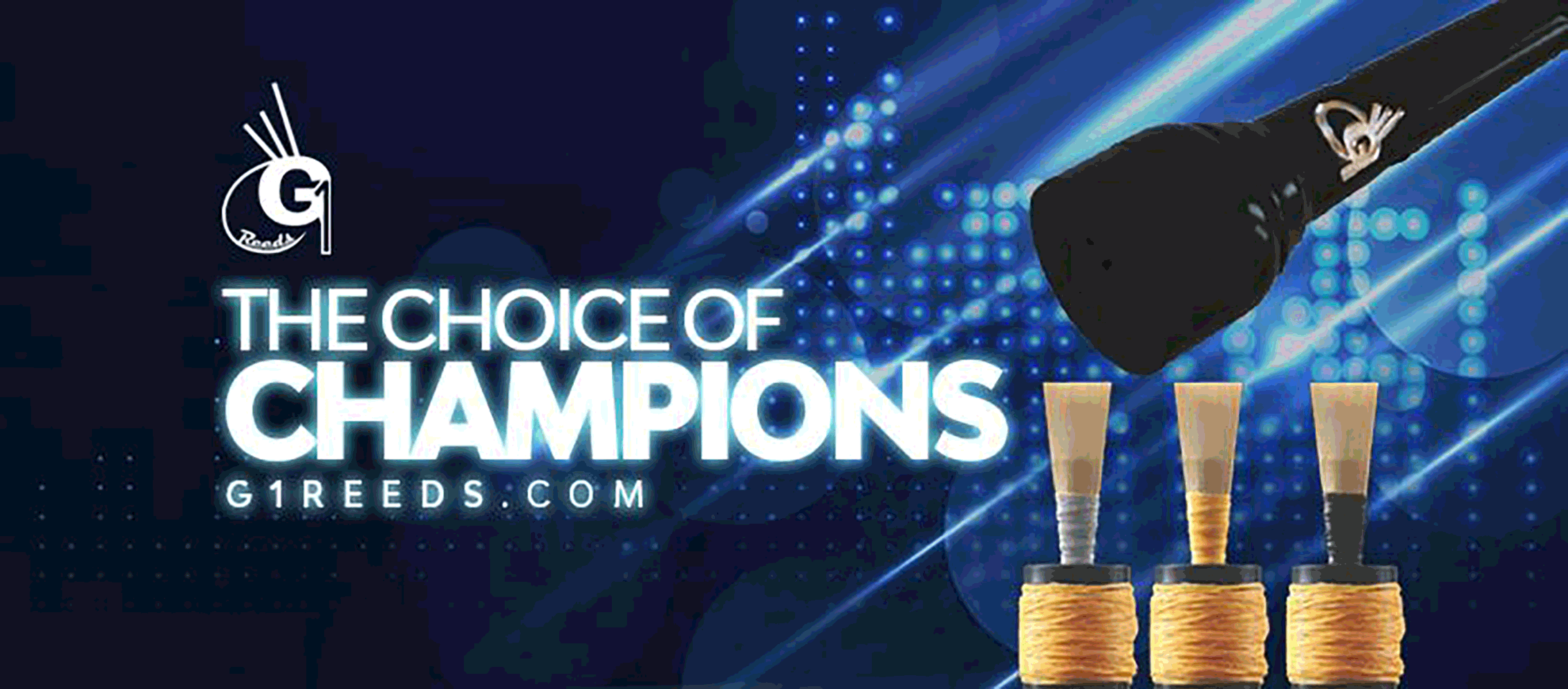 RGH-Heritage-pipingpress-800×300
MacRaeBanner '19

Ayrshire Bagpipes Nov 2020
Selcraft-UK—Piping-Press—Advert
2024_WW_Ad_PipingPress_Ani
---
I first knew and played against him when I was about sixteen. In those days if you ventured outside your own county you were thrown to the wolves in open competition and naturally I got little or no prizes. However I can remember him saying to me, I think at Dornoch Games, 'Can you play your three piobaireachd correctly?'
I replied that my best efforts were made when John MacDonald [Inverness] – our mutual teacher – didn't rap the chair with his knuckles. He said, 'If you have achieved that you can beat anybody here.' I didn't of course but his theory was correct and it did give me the confidence I lacked.
Most people tend to think of him as piper to the Royal Family, but his main employment at Balmoral was as a gamekeeper, and this, in itself, curbed his piping to quite an extent, as most competitions in Scotland take place in August and Semptember – the very months that grouse shooting and deer stalking are at their height. However both he and Bob Nicol managed quite a few Games.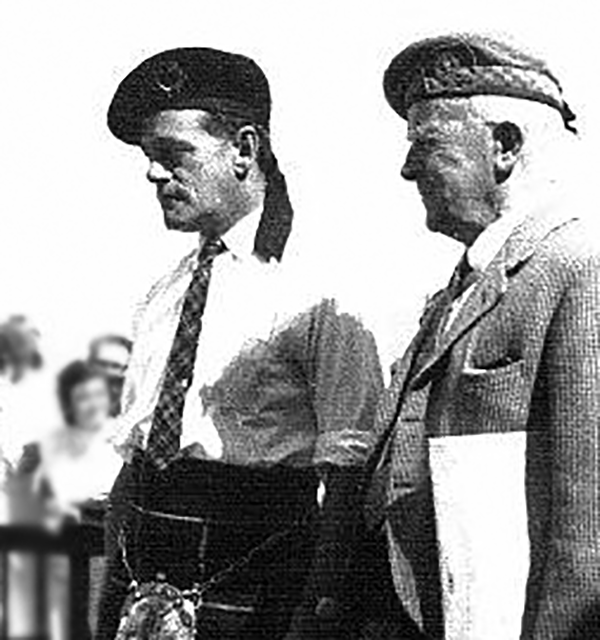 His technique of teaching by singing is well known to those who attended his class and this, of course, is how John MacDonald taught all his pupils, but he did tell me that when he had to climb anything up to 3,000 ft. in the Cairngorm Mountains by himself, he always passed the time by singing grounds and variations of piobaireachd; little wonder he could pluck a tune out of the air and play it on request.
I knew little of his family life, but while he stayed with us the postman came in for a bit of glare if he didn't bring a letter from his wife Annie every second day – and indeed he wrote to her every second day. How's that after 40 years of marriage?
Although I have not yet met her, I believe from Bob's conversation that she was his greatest helper and severest critic of his playing. One thing he did do was to take her away for a few weeks every year, entirely away from pipes and all thoughts of them – maybe another lesson lies here for domestric bliss.
Many pipers and followers tend to become one-eyed about pipes. This is not good. The best players I have known, including Bob Brown, John MacDonald and my father, all had a deep appreciation of a wide range of music. My wife Laura has a large collection of records ranging from fairly heavy classics to pop music. Whilst I was at work it was quite common for Bob to ask her to play this record or that – but always one of good musical content.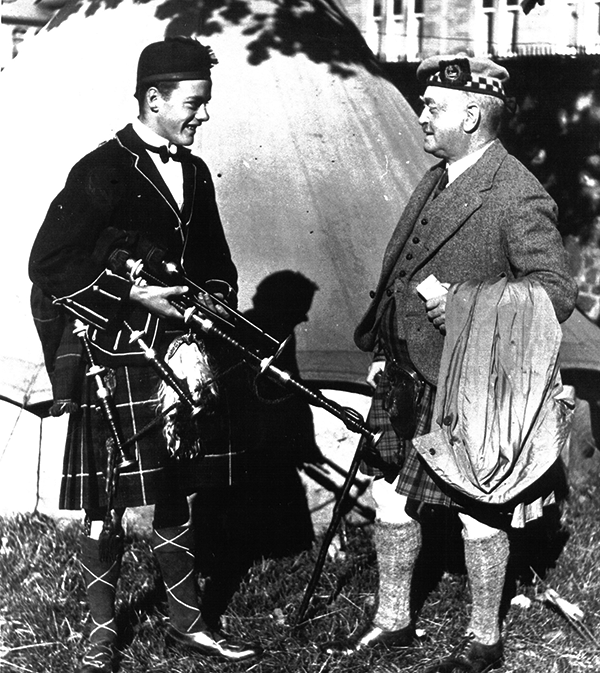 I judged the Piobaireachd competition with him in Hobart and imagine my surprise when I looked at his judging sheets to find he had re-written them. To his mind, by far the most important part of ANY tune, piobaireachd or otherwise, was the musical content. His re-writing of the sheet was as follows: Tuning 10 points, Tempo 10 points, Execution 25 points, and Musical Content 55 points. He was looking for music.
On his deathbed John MacDonald expressed his fears to Bob that piobaireachd was finished. He said, 'I know you and Nicol will fight hard – and see you do it.' Well, in Bob's words, he has lighted small fires all over the world. His very last fire was ignited here in Adelaide, so let us see to it that it will not die out or ever become an ember. Let us add fuel.
The RU Brown Piobaireachd Society of South Australia continues to this day and holds annual competitions and recitals promoting ceòl mòr in the southern hemisphere. This historical series to be continued.