New President Michael Grey has certainly rejuvenated Ontario's Piping and Pipe Band Society. There's now new archive material from the Society's archives available, his latest Newsletter tells me.
Above is film of the innovative Vale of Atholl band under P/M Ian Duncan from the North American Championships at Maxville in 1988.
The blurb reads: 'This is the last of nine bands to play on Saturday, July 30, 1988. The Vale of Atholl………as a leading Scottish band coming to compete in Ontario, this performance was met with a lot of excitement and anticipation.
'The grade one contest at Maxville included both march, strathspey and reel and medley performances. Judges visible in this medley section include Geoff Neigh (piping) and John Kerr (drumming). In this contest the 78th Fraser Highlanders Pipe Band were the reigning World Pipe Band Champions.
'The overall results: 1 78th Frasers 2 Vale of Atholl 3 Toronto & Dist. 4 Clan MacFarlane 5 Toronto Police 6 Scotsaire Pipe Band (Windsor, Ontario).
'Other bands participating ….. were the Canterbury Caledonian (Christchurch, NZ), Victoria Park (Regina, Saskatchewan) and Parlin & Dist. (New Jersey, USA). Best drum corps: 78th Frasers.'
Why don't we hear that snare effect from drum corps today?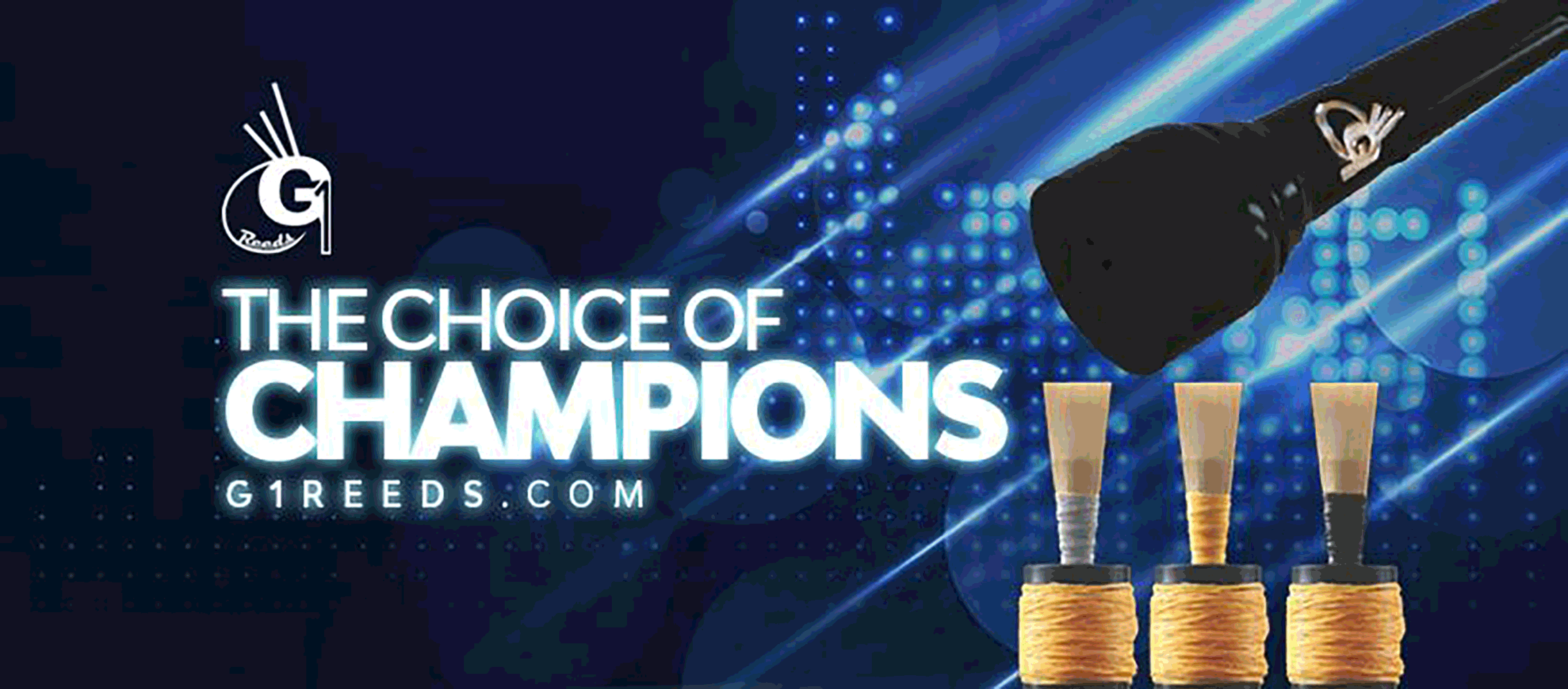 RGH-Heritage-pipingpress-800×300
MacRaeBanner '19

Ayrshire Bagpipes Nov 2020
Selcraft-UK—Piping-Press—Advert
2023_BalmoralClassic_Ad_PipingPres_Rv
---
Chief Exec
I hear a new candidate for the RSPBA's Chief Executive position is currently working a probationary period. An excellent time to see the workings of the Association at full tilt, given the championship season starts a week on Saturday with the British at Greenock.
We wish the new man well and he could not have a better role model than the retiring Chief, Ian Embelton.
---
Donald Cameron
I've unearthed this picture from the Donald Cameron plaque unveiling mentioned in the report by Dingwall Duncan last week.
The event took place at Seaforth Cottage in Maryburgh, Ross-shire, on June 3rd 2002, and was organised by Inverness Piping Society. Its then secretary, Archie Maclean, is far right welcoming everyone. In the picture can also be seen Iain MacFadyen, Roddy MacCrimmon (father of Gold Medallist Euan) and P/M Andy Venters.
What Duncan did not report last week was that the strathspey Maggie Cameron is named for Donald's wife and that the reel Sandy Cameron could refer to either Donald's son or his brother Alick. We'll keep you right Dr Watson.
Everyone knows the four-parted Maggie. Here are the additional four written by the blind piper Archie MacNeill and mentioned on PP a few weeks back: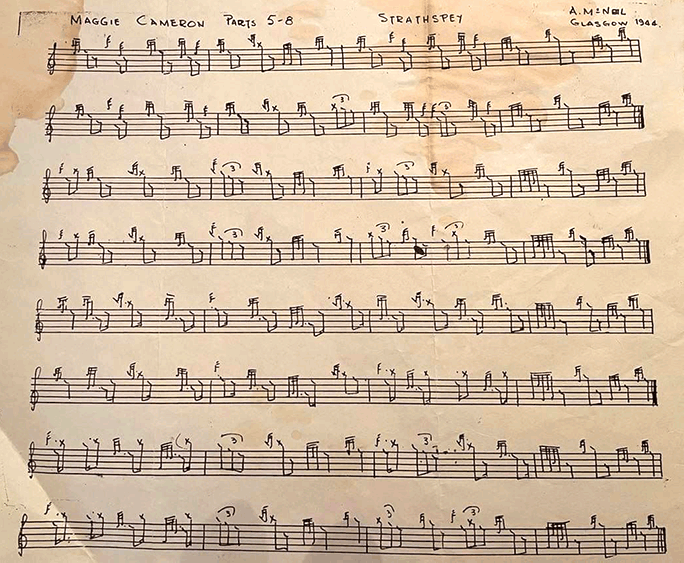 ---
Finlay Drynan
I was saddened to learn of the death of my former BB comrade Finlay Drynan aged 73. Playing footballl one day in Haldane Street, Whiteinch, Glasgow, it was Finlay who encouraged me to go with him to the 214 BB where I could learn the pipes. This in 1960.
Finlay was a very good piper and after the BB I believe played with the Clan McRae and Rolls Royce, but I may have that wrong.
Finlay's funeral is at Dalnottar Crematorium, Glasgow, at 2.30pm on Monday the 23rd May 2022.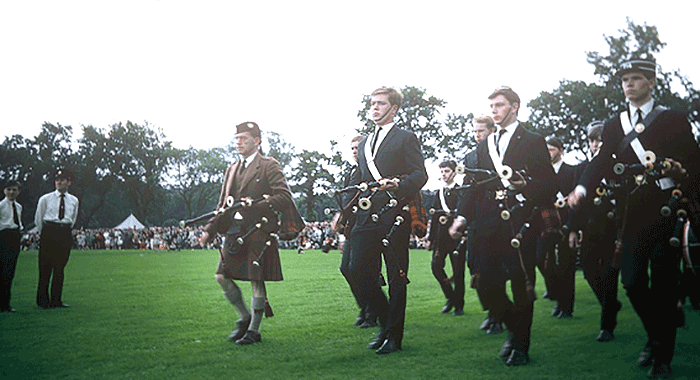 ---
Captain John Contest
Eagle Pipers' President Douglas Gardiner: I wonder if you might be willing to advertise on Piping Press that tickets are now on sale for the Captain John A MacLellan MBE Memorial Dinner & Recital Competition on Friday 26th August 2022.
Tickets are £50 and can be bought on the Eagle's website.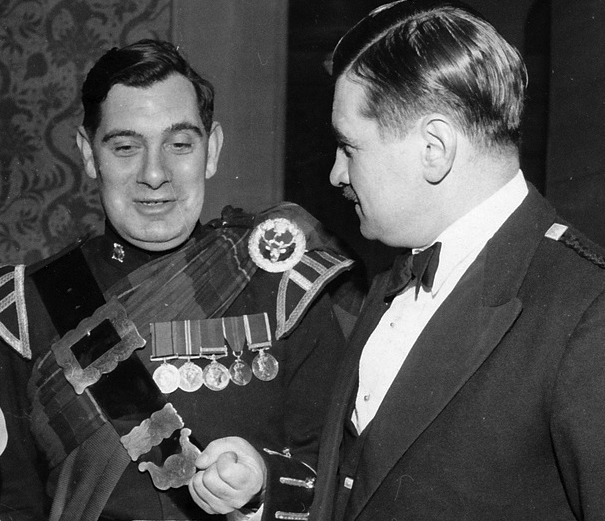 The pipers are Iain Speirs (three times former winner), Angus McColl (2019 winner), Finlay Johnston (winner of the 2021 Premier Grade piobaireachd at the Captain John MacLellan contest) and Jack Lee (2021 Glenfiddich champion).
Each will play a tune composed by Captain John.  Dr Jack Taylor will determine who wins the bespoke silver medal for best performance. Numbers are limited and we expect demand to be high.
I enclose a lesser known photo of Captain John with Dr Roddy Ross of Binneas is Boreraig fame (above).