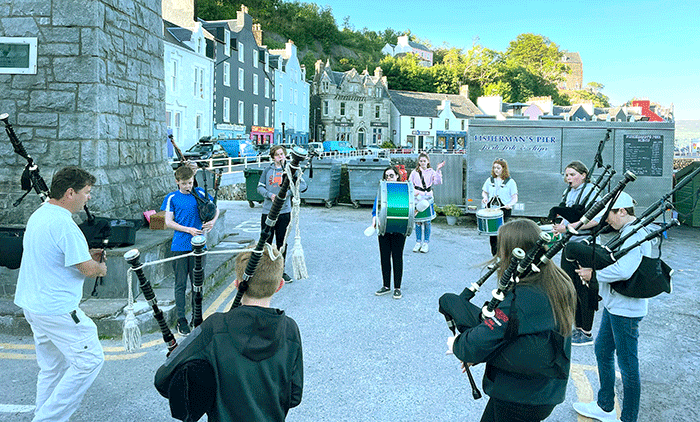 Time stood still this week on the island of Mull. The sun shone on calm water and soaring summit. But the idyll belied an inner tension. The 'tier zero' island is confronting an influx of bug carriers, or so it thinks. It means restrictions more stringent than in covid city, Glasgow.
By Robert Wallace
It will be a time before we learn to live with this but we need to start soon and that means the piping world too. The story this week about our instrument being no more aerosol lethal than a breathing human gives hope.
Tobermory High School pipe band does too. Seeing them practice on Main Street (with an impromptu bass drummer) gave everyone a lift. A few grateful tourists chucked coins into their donations bucket.
---
[wds id="2″]
---
Calum MacLean, the P/M and a PP correspondent of note, tells me there is a plan afoot for a commemorative cairn to the Rankin piping family. Clan MacLean are behind the project and they want to place the memorial on the island at Kilbreanan near Cnoc Nam Piobairean, 'Hillock of the Piper', where Rankin lived and taught.
Calum's doing more research on the origins of the famous piping family and believes they may have come from Ireland as the name is unusual on his home turf. You can read more on them from piping historian Keith Sanger here and from Calum himself here.
---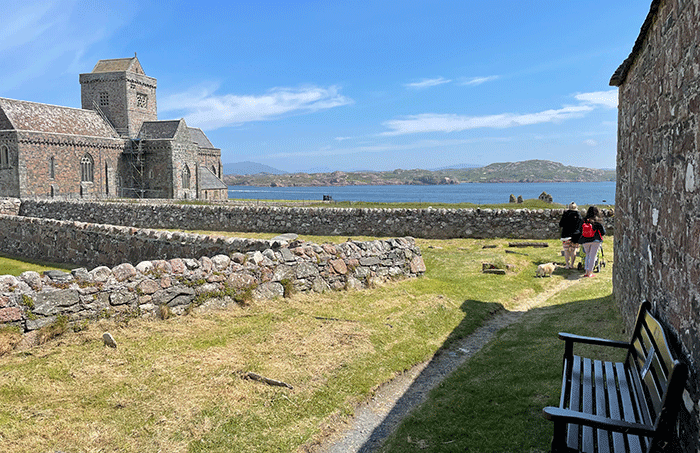 On a trip to Iona and its abbey I spotted this bench (bottom right in picture) dedicated to a Dominic McGowan.
Now, thought I, was this the same Dominic McGowan who died at a tragically young age and for whom Duncan Johnstone wrote his melodic and poignant 6/8 march? The dates fit and I remember him telling me about the origins of the tune.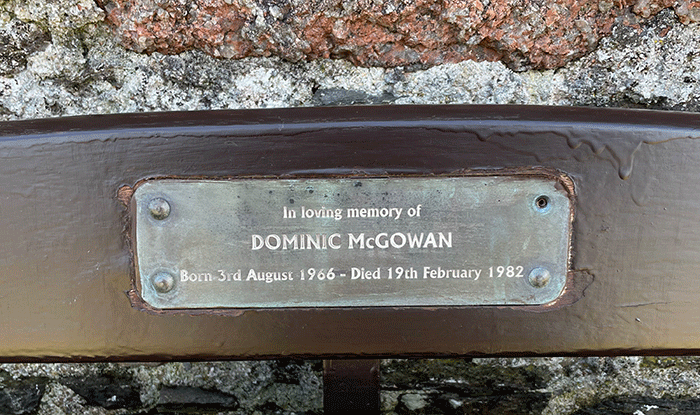 I may have got this completely wrong, but, as ever, await correction.
---
On the way to Iona you pass Pennyghael which piping lore people will recognise as the birthplace of the famous piper Hector MacFadyen, Gold Medalist and, in 1968, the first winner of the Silver Chanter (Lament for MacSwan of Roaig). You can hear Hector playing the tune on the Piobaireachd Society website.
I don't think Hector was directly linked to the other major MacFadyen piping family (Iain, John, Duncan, Freena), though I believe that dynasty did have a Mull connection too.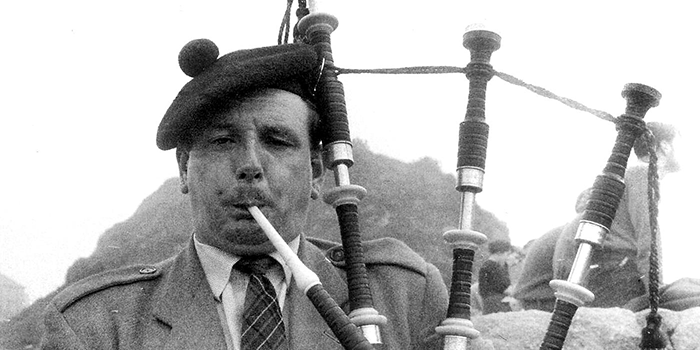 Hector was taught by his father and later by Duncan Lamont, he of the once popular reel by Donald MacLeod (Willie Ross Book 5) and a pupil of John MacDougall Gillies. Calum tells me that there was music right through the MacFadyen, Pennyghael, family, Hector's brother being a fiddler and Gaelic singer and an uncle proficient on the box.
Looking over from the shoreline of Loch Scridain to the soaring ramparts of Ben More it is easy to see where their inspiration came from.
---
Whilst here Ian Duncan (Vale of Atholl, Atholl Highlanders, doyen of teaching and all things piping), sent me a reminder pic of the judging team at Tobermory Games in 2017.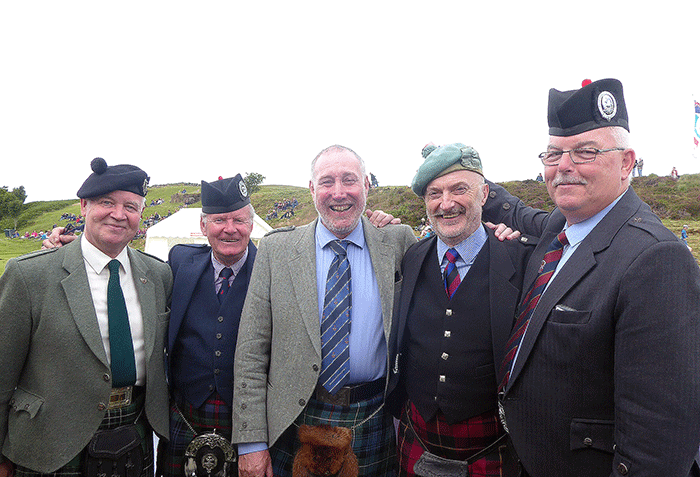 Happy days indeed Ian. Unfortunately there won't be a games this year but since being here I've learned that there will possibly be an outdoor kids contest on the games park later this month. Better than nothing I am sure.
---
Sad to say, the Mishnish Hotel, once a haven of traditional music, is a shadow of its former self with hardly a tune to be heard. But I am sure Bobby MacLeod's ghost still stalks the tables humming away at the great 6/8 he wrote for Seumas MacNeill.
---