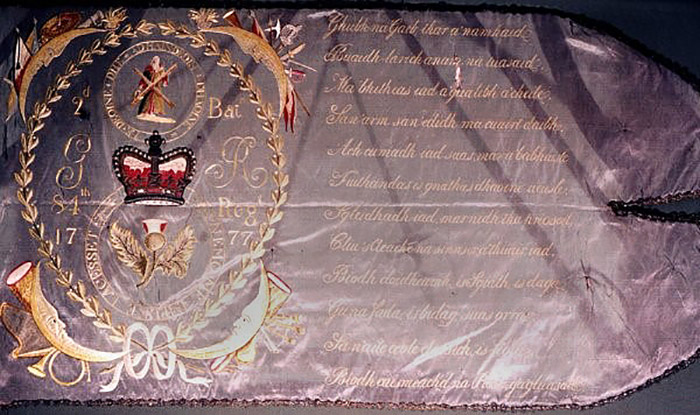 Regarding the recent article about the Rankin family of pipers, we actually know as much if not more about that family than many other piping families, the only mystery being where they came from.
The earliest record of any of that family name on Mull comes from the Breadalbane papers when in 1697 John MacIntyre the son of the Breadalbane's piper Donald Roy was sent to first Condullie Rankin for tuition, before then going onto MacCrimmon on Skye.
By Keith Sanger, piping historian
We also know from other record material that there were a number of pipers on Mull both before, contemporary with, and after the Rankins, which poses many questions regarding the Rankin family.
In terms of piping we also know from the 1716 arms list that Condullie was not in the Jacobite rebellion but his sons Hector and John were, and that the latter who would have been still a youth, was listed as absent probably having yet to return from an event noted in a contemporary Gaelic poem.
John seems to have been acting as servant/pipe carrier for his older brother who in keeping with the custom of the times handed his pipes to the young man to hold while Hector drew arms and charged with the rest of the army at the Battle of Sheriffmuir.
The boy took fright and ran away taking the bagpipe with him, which, if he had not yet returned when that arms list was made, probably explains why neither Condullie nor Hector are described as 'pipers' when other people in the list are noted as pipers and in one case a harper.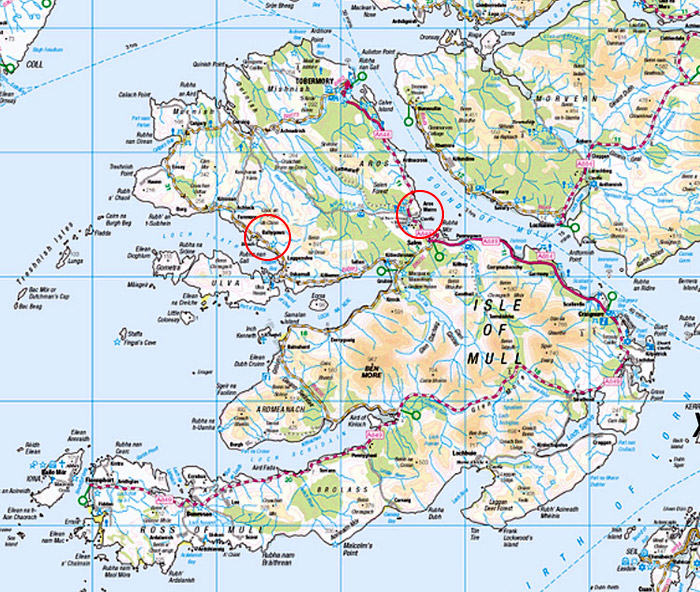 Young John Rankin seems to have been the family member who stuck to piping as his profession and in the 1745 event he was piper to the Glenaray Company of the Argyle Militia. The bills for his pipes, clothes and other necessaries are in the archives at Inveraray.

He next appears in 1752 when he took a new nine-year lease on the change house (inn) at Aintorran. Further more we also know what happened to his bagpipe after his death when in 1776 'MacLaine of Lochbuy' gave an instruction that John Rankin's pipes were to be given to young Neil Gillis alias MacLean who was going as piper with Captain Murdoch MacLean to the 84th Royal Emigrants in Nova Scotia.
This also means that the former Rankin bagpipipe was to 'fly' the most elaborate piper banner [top] ever made which included a complete Gaelic poem.
But to return to where Condullie Rankin came from, along with a connection to Aros. In 1690 an instruction was issued to the Governor of Aros Castle garrison that he at least one piper, and if possible a drummer, were to be kept in the garrison.
An account from 1690 to 1691 shows that the piper, unfortunately un-named, was paid £112 compared to the Ensign who got £126 and the ordinary soldiers at £28. The garrison were mostly from Argyles [sic] regiment and records also show that in previous years, from the 1660s onward, a number of regimental drummers, at a time when drummers and pipers were often lumped together under the heading of drummer, were called Rankin.
My original work on the Rankins was published in June 1990, but things have moved on a lot since then. The last thing that Roddy Cannon and I published was our re-transcription and evaluation of the 84th Pipe Banner [top]. As you can see from just the central portion with the Gaelic verse it was quite something.
More to follow on this interesting history. Read more on the Rankins and their connection with Canada here.
---