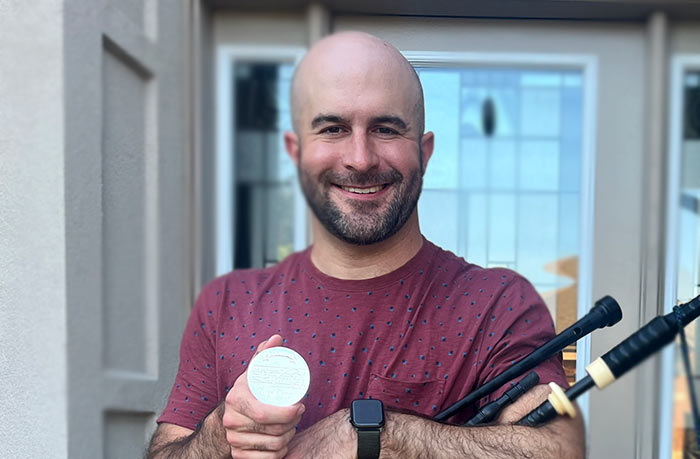 Margaret Houlihan Dunn reports: Please find attached the results from the 12th November 2022 'Live online' CLASP competition and also a picture of Charles-David Mitchell [above] who was the Grade 1 overall winner.
CLASP will run three 'live' competitions, using a Zoom platform setting, throughout the year. This format has continued from lockdown and allows amateur adult pipers to compete 'live' from the comfort of their own home and from anywhere in the world. Once the live video performance is captured, it is emailed to the judges for consideration. 
The 12th November 'Live Online' competition concluded the 2022 online league and the overall winners for each grade were:
Grade 1: Charles-David Mitchell (Canada)
Grade 2: Alasdair Beaton (Scotland)
Grade 3: Pierrick Monnier (Switzerland)
Grade 4: Sheila Stewart (Canada)
CLASP has launched another 'Live Online' competition series and also a series of in-person competitions, including some Highland Games for 2023. Dates confirmed so far can be found on the CLASP website www.theclasp.co.uk
---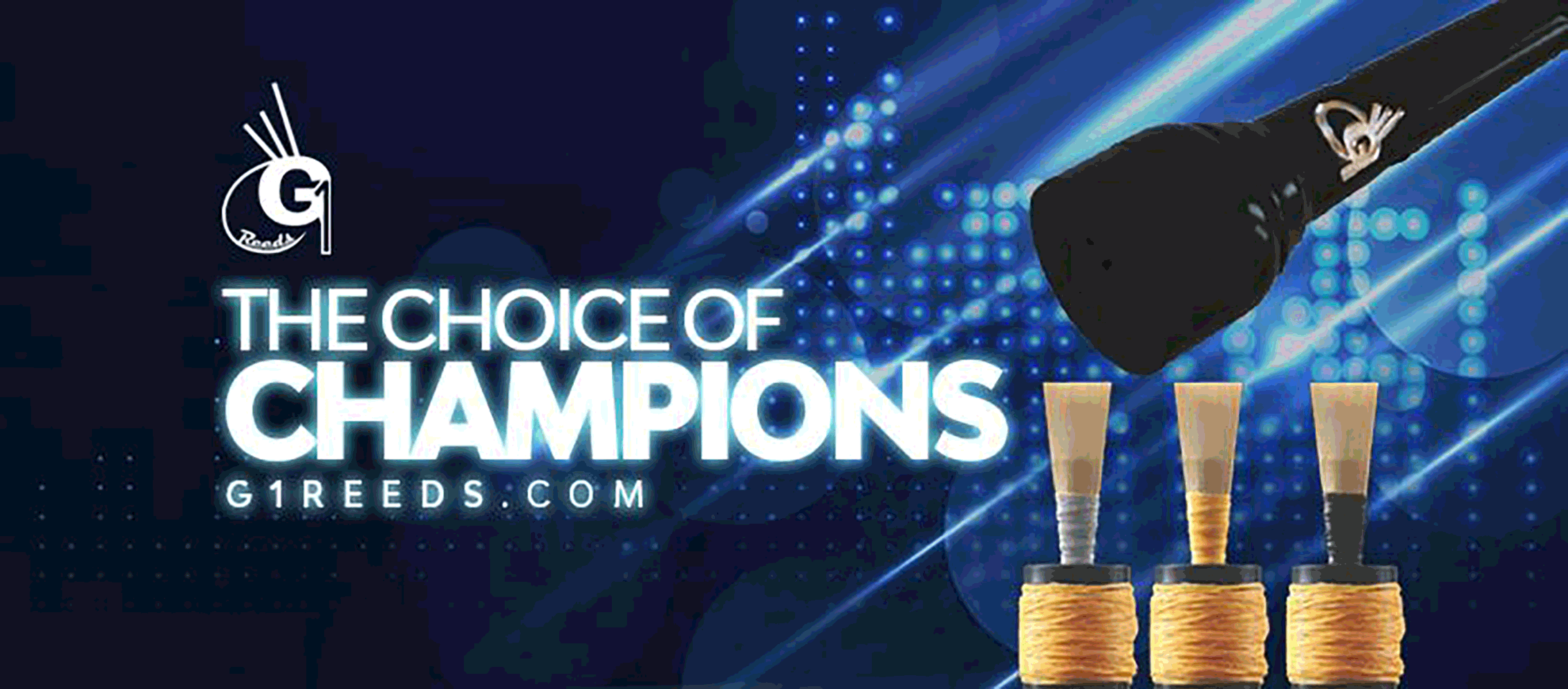 RGH-Heritage-pipingpress-800×300
MacRaeBanner '19

Ayrshire Bagpipes Nov 2020
Selcraft-UK—Piping-Press—Advert
2024_WW_Ad_PipingPress_Ani
---
I can also announce that the Sun Belt competition has expanded to an invitational amateur competition. The first two 'Live Online' CLASP competitions for 2023 will run on 11th February & 6th May 2023 and the Grade 1 overall winner of each of these competitions will win a flight and accommodation to compete at an new invitational amateur competition in Florida in November 2023. The competition will run alongside the newly launched Sun Belt Invitational competition in Florida, which is run by Eric Stein. 
The CLASP also plans to continue offering its members access to educational talks called, 'The CLASP in Conversation with ……' series. Using a Zoom group setting, expert pipers and experts in other relevant fields are invited to deliver talks for CLASP members only.
The next CLASP competition is an in-person competition on January 14th 2023 at The National Piping Centre, Otago Street, Glasgow. To become a CLASP member for 2023 please visit www.theclasp.co.uk
CLASP – 12th November 'Live Online' Results

Judges: Cameron Drummond, Matt Wilson and Ross Miller and the volunteer stewards were Gill Cairns, Collette O Connor, Sally Mason, Stephen Ross, Dan Nevans, Ailis Sutherland, Derek Doyle and Stephen McCusker.
G1 Overall: Charles-David Mitchell; G2: Hans Grothusen; G3: John Todd (Piob.Pref.); G4: Sheila Stewart
Grade 1
Piob: 1 Colin MacKenzie 2 Charles-David Mitchell 3 Con Houlihan 4 Colin Innes 5 Ben Hall 6 Andrea Jones
2/4 March 1 Ben Hall 2 Charles David Mitchell 3 Colin Innes 4 Patrick Macdonald 5 Craig Turnbull 6 Mic Trenor
S&R: 1 Ben Hall 2 Charles David Mitchell 3 Colin Innes 4 Craig Turnbull 5 Eddie Boland 6 Conway Buckle 
6/8 March: 1 Charles David Mitchell 2 Colin Innes 3 Ben Hall 4 Eddie Boland 5 Patrick Macdonald 6 Mic Trenor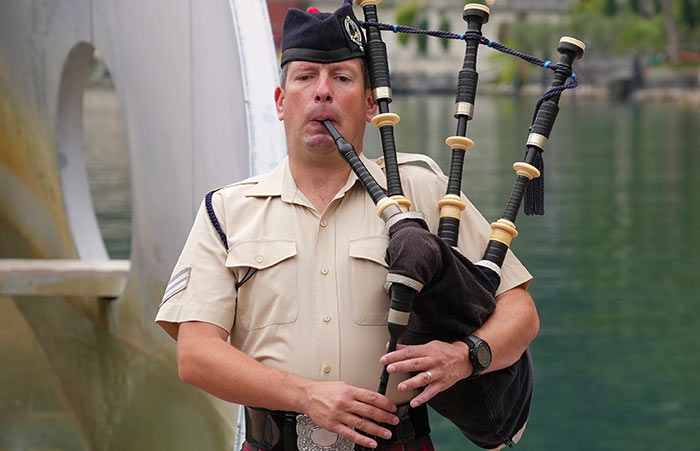 Grade 2
Piob: 1 Ryan Morrison 2 Sean Burgess 3 Donald Morrison 4 Laura McEwan 5 Alasdair Beaton 6 Mariko Arimoto
2/4 March: 1 Hans Grothusen 2 Alasdair Beaton 3 John Nevans 4 Christopher MacKnight 5 Donald Morrison 6 Kim Greeley
S&R: 1 Hans Grothusen 2 Sean Burgess 3 Ryan Morrison 4 Mariko Arimoto 5 Stuart Brown 6 Alasdair Beaton
6/8 March: 1 Ryan Morrison 2 Hans Grothusen 3 Stuart Brown 4 Sean Burgess 5 Mariko Arimoto 6 Anthony Kelly
Grade 3
Piob: 1. Sally Mason 2. John Todd 3. George MacIver 4. Raul Peinado Fuentes 5. Pierrick Monnier 6. Ken Maclean  
2/4 March: 1 Raúl Peinado Fuentes 2 Grant Walker 3 John Todd 4 Pierrick Monnier 5 Laura McEwan 6 Ken Maclean
S&R: 1 Raúl Peinado Fuentes 2 Grant Walker 3 John Todd 4 Laura McEwan 5 Pierrick Monnier 6 Philipp Burchardt
6/8 March: 1 John Todd 2 Ken Maclean 3 Raúl Peinado Fuentes 4 Grant Walker 5 Kathryn McEwan 6 Pierrick Monnier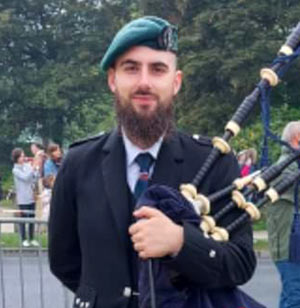 Grade 4
Full Piob: 1 Sue Kennedy 2 Vickie Gray 3 Julian Payne 4 Gavin Davis 5 Maureen Moore 6 Lou Lanaro
Piob Grnd. + Sing. : 1 Vickie Gray 2 Brian Gilley 3 Sheila Stewart 4 Alexander Kinkade 5 Gavin Davis 6 Maureen Moore
2/4 March: 1 Sheila Stewart 2 James Skinner 3 Alexander Kinkade 4 Monty Messenger 5 Vickie Gray 6 Lou Lanaro
S&R: 1 Sheila Stewart 2 Alexander Kinkade 3 James Skinner 4 Sue Kennedy 5 Monty Messenger 6 Vickie Gray
Jig: 1 Sheila Stewart 2 Alexander Kinkade 3 Monty Messenger 4 James Skinner 5 Lou Lanaro 6 Peter Hummel