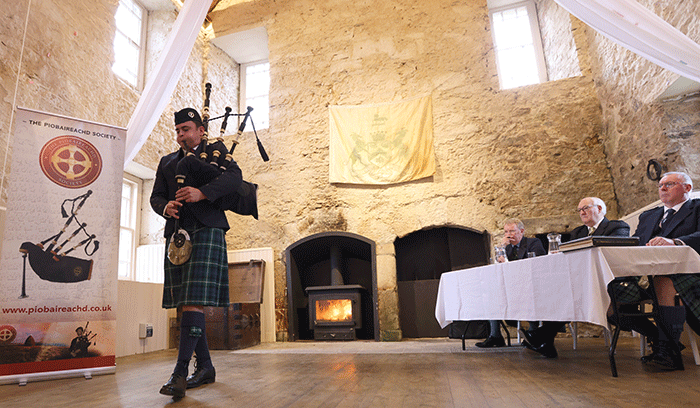 This was a very successful day at Lochnell Castle, Argyll. The audience was quite an increase on last year and all were treated to a sumptuous lunch courtesy our host Lord Archie Cochrane.
Overall winner with a first in March, Strathspey and Reel and a fourth in Piobaireachd was Ruairidh Brown, Dunblane. He is pictured above on his way to victory as the judges Derek Fraser, John Wilson and Willie McCallum look on.
By Robert Wallace
The seven invited young pipers (all under 22) provided a good standard of musical fare, particularly in the ceòl mòr. Here Andrew Ferguson must have given the judges their easiest decision of the day.
His MacLeod of Colbeck was outstanding and Andrew demonstrated a degree of control and concentration throughout John MacKay's masterpiece that some more senior pipers would envy.
Second prize went to local lad Gregor MacDonald. He kept his Pass of Crieff moving along nicely and a brighter chanter would have projected the fingerwork more. There was a marked lack of phrasing in his variations.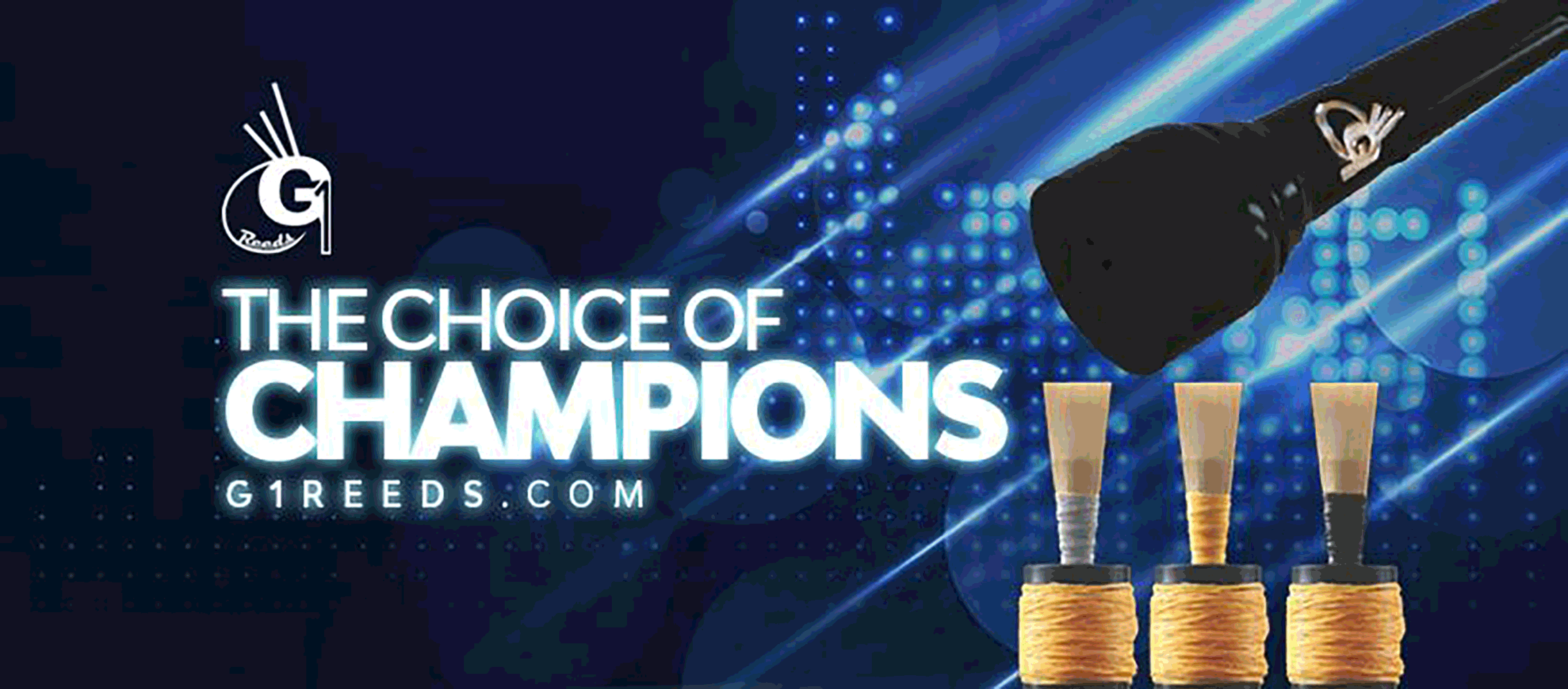 RGH-Heritage-pipingpress-800×300
MacRaeBanner '19

Ayrshire Bagpipes Nov 2020
Selcraft-UK—Piping-Press—Advert
2024_WW_Ad_PipingPress_Ani
---
Third went to Cameron May who was much too fast with the ground and ground doubling of Patrick Og. Settling down in Variation 1, he produced a very strong finish on perhaps the best pipe of the day.
Completing the list was Ruairidh Brown. His pipe wasn't quite set (cool room early on) and he could have shaped up Kintarbert's Fancy more, the better to bring out the melody.
Of the others, Brodie Watson Massey overextended at times in Donald Duaghal MacKay and lost momentum – the pipes going off can't have helped Brodie's cause. Luke Kennedy (Earl of Ross) and Angus MacPhee (Old Men of the Shells) didn't quite lock in the pipe and had stilted timing in places.
In the MSR there was a distinct lack of clarity in a lot of the fingerwork, poor tachums, weak birls, thin double Fs prevalent. Pipe band nippiness will not do for professional solo piping. An acceptance of that and a winter of practice chanter is the cure. These young talents mustn't allow their progress to falter at the alter of technical perfection.
Highlights for me in the ceòl beag were in the marches Allan Dodd's Farewell to Scotland (Ruairidh Brown), Abercairney Highlanders (Cameron May), Arthur Bignold (Gregor MacDonald), Duchess of Edinburgh (Brodie Watson-Massey) and Colin Thomson (Angus MacPhee).
Why all marches you ask? Well here the technique (apart from the tachums) was generally better and the 2/4 march idiom better understood. A few of the strathspeys lacked genuine lift and the reels could be over or under pointed.
Lochnell Champion 2022, Ruirardh Brown

Judge Willie McCallum makes a point as John Wilson and Derek Fraser look on. Picture courtesy Kevin McGlynn

Willie and Morag McCallum, Ruirardh and Andrew and Joyce McIntosh. Picture courtesy Kevin McGlynn

Cameron May performing. Picture courtesy Kevin McGlynn

Angus MacPhee tuning up

All the prizewinners
At the conclusion one my pleasant duties as MC was to invite on to the stage Morag McCallum and Joyce McIntosh to present trophies in memory of Willie McCallum Snr. and Jimmy McIntosh. Both ladies spoke eloquently and emotionally as they remembered their loved ones with fondness and admiration.
The trophies are superb. McCallum Bagpipes and Willie and Morag McCallum sponsored the striking metal practice chanter mounted on a plinth for the MSR and Joyce did her late husband proud with a solid Sterling silver cup.
Lochnell is growing in stature and discussions are underway about inviting overseas pipers to take part next year. As I said in my remarks to the audience, this sort of competition helps the young aspirant get over the post adolescent hurdle into the occasionally sunlit uplands of senior professional piping and for that the Argyllshire Gathering Trust and their sponsors are to be heartily congratulated.
---
Piobaireachd
1 Andrew Ferguson, £120, MacLeod of Colbeck's Lament
2 Gregor MacDonald, £80, Battle of the Pass of Crieff
3 Cameron May, £60, Lament for Patrick Og MacCrimmon
4 Ruairidh Brown, £40, Lachlan MacNeill Campbell of Kintarbert's Fancy
MSR
1 Ruairidh Brown, £120, Alan Dodd's Farewell to Scotland, Inveraray Castle, John Morrison, Assynt House
2 Angus MacPhee, £80, Colin Thomson, Kirsty MacCalman's Favourite, Broadford Bay
3 Brodie Watson-Massey, £60, Duchess of Edinburgh, Islay Ball, Traditional Reel
4 Luke Kennedy, £40, Hugh Alexander of Low of Tiree, P/M Hector MacLean, Cockerel in the Creel
If anyone would like to donate to the Lochnell Championship they can do so by scanning this QR code: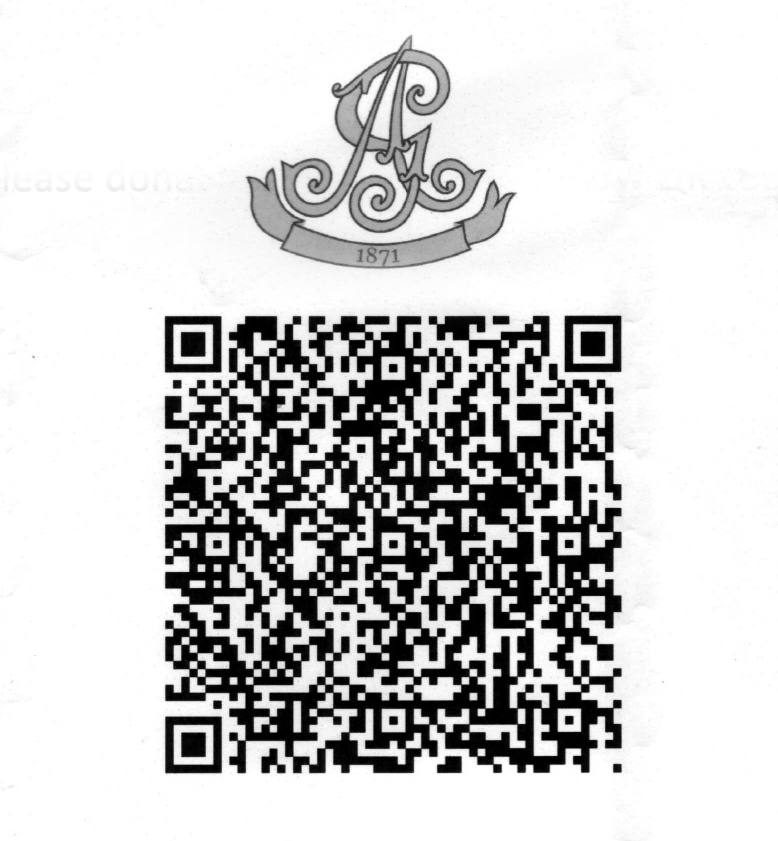 ---