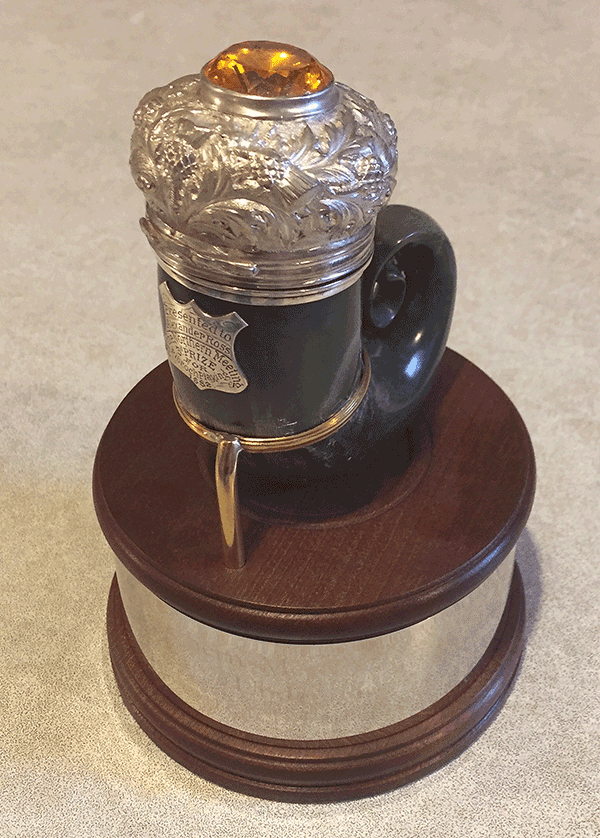 News from a very generous Piping Press reader…….
My name is Robert Baker, I live in Maclean, New South Wales, Australia. In 2018 I acquired, from Colin Ross, Ontario, Canada, two antique snuff mulls, belonging to his ancestors. I have included pictures.
I am a piper, as were my sister, father, great-grand father and great uncle (Murdo Mackenzie, Gold Medallist 1895). Much as I enjoy my mulls, I also felt they should also be enjoyed by the general piping community and the people of Scotland from where they came from. I also do not consider myself the owner, just the mere custodian.
The mulls I have were third prizes at the Northern Meeting: 1862 3rd prize, Duncan Ross, and 1882 3rd prize, Alexander Ross. So my plan was to 'gift' donate them to a relevant body, the Piobaireachd Society, the Northern Meeting, or the National Piping Centre. I contacted the Northern Meeting and received a reply from Alan Forbes the Piping Convenor. He would be delighted to have them.
Both trophies were slightly damaged but they arrived in Glasgow safely after I sent them and have since been repaired by the Piping Centre. One is now on display in the Museum at the National Piping Centre and the other is to become a perpetual trophy for the Northern Meeting Under 18 competition starting next year. 
In 1864 and 1865, Duncan Ross won a number of other prizes, so there are more mulls 'out there'. I know of four mulls that had either the shields removed or the engraving buffed out. I also noticed a dirk for sale on Ebay that was offered as a prize. 
Duncan Ross was the Duke of Argyll's piper and valet from 1875. He was instrumental in the formation of the original Inveraray Pipe Band (information in the new Campbeltown Pipe Bands book currently in preperation). He was born in 1844 in Achilty, Ross-shire in 1876. Alexander, his brother, also had an Argyll connection being the butler at Kilberry Castle from 1882.
---
[wds id="2″]