A bright sunny day greeted crowds who turned out for the 49th Annual Stone Mountain Highland Games, in Stone Mountain, Georgia last Saturday, October 16.
This second major competition of the Southern USA fall season saw 16 bands in competition and a slightly reduced, yet still healthy, turnout of soloists. A new layout of the Games site to reduce crowding due to COVID concerns was well received.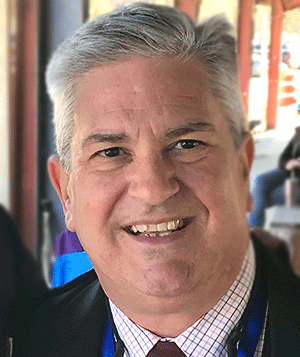 By Bill Caudill
In the band competitions, the Grade III competition saw the debut performance in Grade III of the Nashville Pipes and Drums, who won the event (the band is pictured below) with the local Atlanta Pipe Band Grade III unit taking second place. Judges for the event were Sandy Jones and Eric Ouelette (piping), June Hanley (ensemble) and Jon Quigg (drumming).
In the Grade IV event, the North Texas Caledonian Pipe Band of the Dallas area won first prize followed by the Chattanooga (Tennessee) Pipes and Drums in second and the Atlanta Pipe Band Grade IV unit taking third.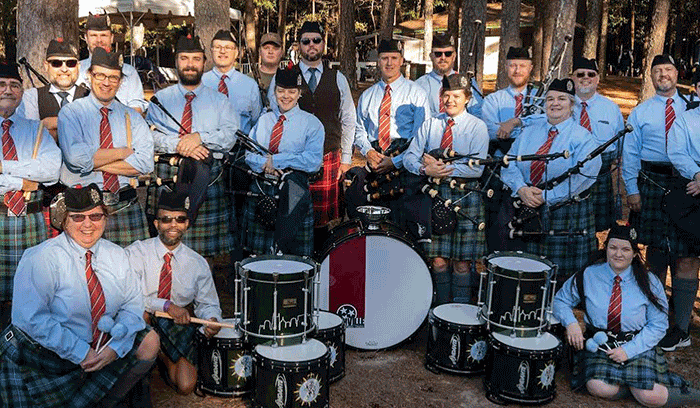 It should be noted that all three of these bands are either feeder programs for an upper graded band or have feeder programs with a lower graded band – boding for a strong future for these bands. Judges for this contest were Andrew Walker and Maureen Connor (piping), Bill Caudill (ensemble) and Scott Fletcher (drumming).
The Grade V contest was the largest contest with nine bands competing. This event had a very high standard among the prize winners, and again bodes well for future advancement of these groups in the post-pandemic era.
First place was won by the Harvey Ritch Memorial Pipe Band of North Carolina (below), which incidentally is named in honour of that late stalwart of the Southern scene who did so much to promote piping in the Carolinas from the 1960s until his passing a few years ago. This band also won the Southern Branch Championship for their Grade at the Scotland County Games two weeks previous in only their second outing since their formation in the fall prior to the pandemic.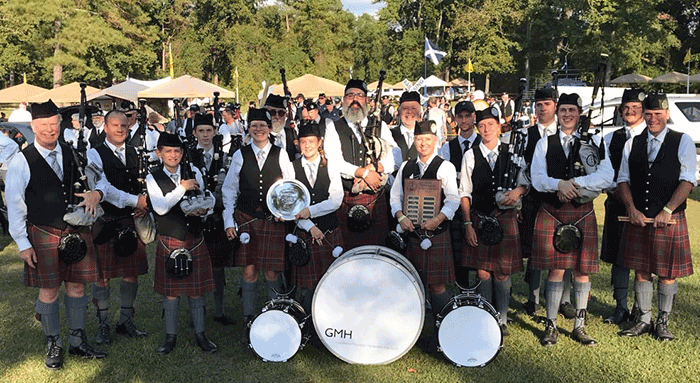 Second place was won by the North Texas Caledonian Grade V unit, and third place was won by the Baton Rouge (Louisiana) Caledonian Pipe Band who are a great testimony to the spread of piping and drumming in areas which only a few years back were bereft of quality playing of any sort. Judges for this event were the same as the Grade III contest.
Professional piping events were held on Friday night at the host hotel with a somewhat small entry but a good standard of play. In the March, Strathspey and Reel event Eric Ouelette was winner, followed by Andrew Walker in second and James Feeney in third. The light music was judged by myself.
This event followed a Piobaireachd competition judged by June Hanley where Andrew Walker edged out Eric Ouelette for first, and James Feeney in third. Andrew Walker was overall winner with Piobaireachd preference.
---
[wds id="2″]
---
Entries for the US-based World Online Piping and Drumming Championships are now open and can be accessed by clicking on the poster below.
The competition timeline is as follows:
November 3 at 1pm Pacific Daylight Time (PDT): Live Q&A on Facebook and Zoom 
November 17: Registration deadline
December 8 at 9am PST (Video entry deadline)
December 18 at 1pm PST: Awards Ceremony Live on Facebook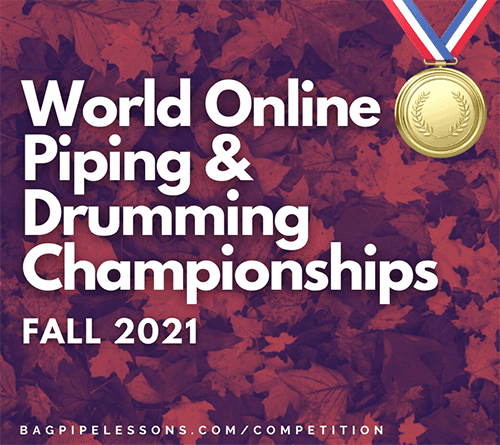 The organisers state: 'The World Online Piping & Drumming Championships is an exciting and fun way to compete against pipers and drummers from around the world. There's no need for travel. You can compete from the comfort of your own home! Every competitor will have the opportunity to compete for the title of World Online Piping & Drumming Champion and the chance to win prizes in several additional categories.
'Here's how the online competition works:
• Pick the events you want to enter.
• Register online by November 17, 2021.
• Make and submit your video recording by December 8, 2021.
• Our world-class judges will watch every video and write detailed comments for every competitor.
• The World Online Piping & Drumming Champions will be crowned and the complete results and videos will be posted online for the world to see.'
---
[wds id="9″]