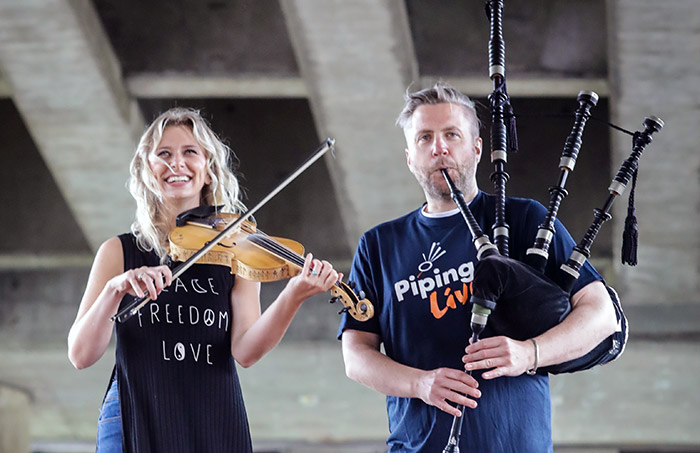 Piping Live! celebrated a welcome return and successful 18th year as it burst back onto the Glasgow events calendar last week, welcoming around 1,200 attendees across 52 events and streaming to 10,000 fans from 20 countries across the globe, writes Corrie Campbell.
The 2021 edition of the globally recognised event closed last night after a nine-day run of jam-packed world class performances, competitions, music sessions, recitals, book launches and workshops, all celebrating Scotland's thriving piping scene.
This year the world's biggest piping festival took a hybrid approach by offering in-person and online tickets, with people tuning in from countries worldwide including Malta, Japan, the US and Canada.
---
[wds id="2″]
---
Finlay MacDonald, Artistic Director for Piping Live!, said: "We're delighted that we were able to showcase the best the piping world has to offer at Piping Live! this year. The hybrid in-person and online approach was a huge success and we're glad that 10,000 people from 20 countries got to experience the magic virtually as well as all those who made it along to The National Piping Centre to soak up the magnificent sounds in person.
"There was a really exciting atmosphere at the festival this year as Scotland moved beyond Level 0 and we're confident it will mark a new way forward for the music and events industry. It felt really special to be able to host live entertainment for thousands of music lovers again, whilst keeping safety in mind. We'll take a short breath before we planning gets underway for an even bigger and better return in 2022 to official celebrate The National Piping Centre's 25th Anniversary."

There was also fierce competition from the piping world's greatest performers including Angus MacColl, who was crowned winner of the prestigious Silver Chanter 2021 with his performance of MacCrimmon Piobaireachd.
The best acts from Scotland's piping and folk music scenes took to the stage throughout the week. Highlights included an unforgettable performance from groundbreaking piping supergroup TRYST and high-energy performances from Scottish supergroup Mànran, multi-instrumental duo of Mairearad Green & Anna Massie, traditional music trio HECLA, neo-trad group Project Smok and folk favourites Kinnaris Quintet.
Callum Beaumont won this year's Overall Prize at the Masters Solo Piping Competition: Piobaireachd and Craig Sutherland took the crown at The Masters Solo Piping Competition: March, Strathspey and Reel.
Lincoln Hilton won the internationally renowned Gordon Duncan Memorial Piping Competition – the Australian piper beat competitors from Scotland, Ireland and Brittany, while The CLASP World Amateur Solo Piping Competition 2021 saw Scott Long crowned Grade 1 overall league winner, Eddie Boland named Grade 2 overall league winner and Colin MacKenzie win Grade 3 overall league winner.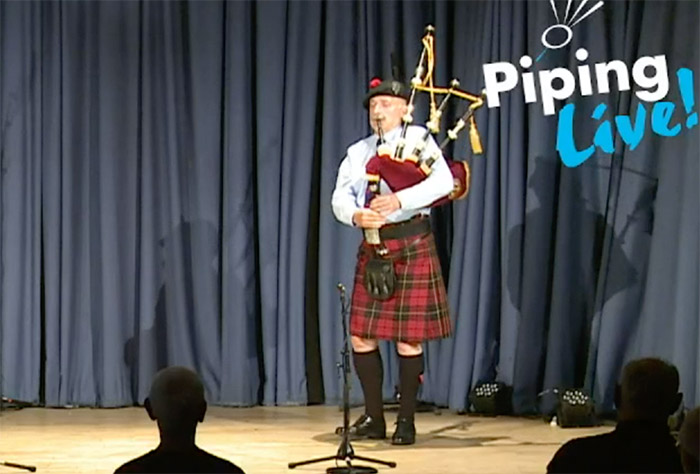 Other in-person performances included the popular Lunchtime Recital Series, sessions from emerging talent, Piobaireachd of the Day recitals and A Scottish Pipe Band Showcase, while the festival's educational strand, Learn@Live!, hosted a series of workshops and masterclasses throughout the week.
Online content included Come & Try Pipes sessions, international showcases, a concert from The National Youth Pipe Band of Scotland and Karafolkie sessions, curated by Jenn Butterworth, which gave people the chance to play along with some of the best musicians on the Scottish music scene.
The well-loved event normally welcomes more than 30,000 attendees to Glasgow to champion Scotland's native instrument. This year's ticketed events were seated and socially distanced, while online shows are available to view for one week after their first stream.
The Street Café also gave festival-goers the chance to sample the best food and drink Scotland has to offer.
Piping Live! will return in 2022 as The National Piping Centre officially celebrates its belated 25th anniversary. Sign up to the Piping Live! mailing list at https://pipinglive.co.uk.
---