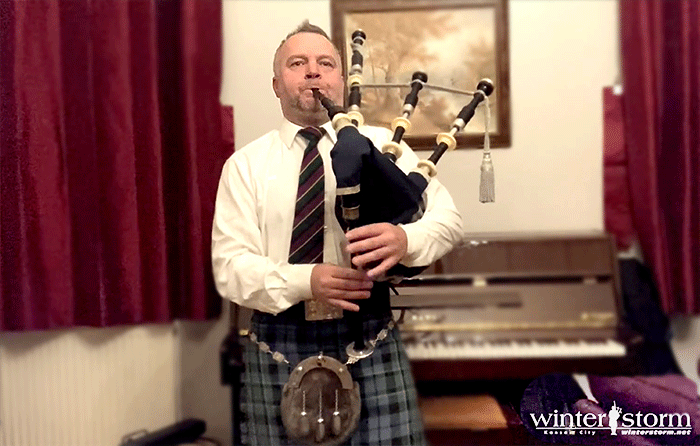 Murray Blair and Ken Eller have been working on an online show for the popular weekend piping and drumming festival 'Winter Storm' held each year in Kansas City, USA. The pandemic forced the cancellation of this year's live production which should have been held in January.
The show is scheduled to air on March 27 and features, among others, Stuart Liddell (pictured making his recording), Callum Beaumont, Jack Lee, and Fred Morrison, with drummers Steven McWhirter, Stephen Creighton, Eric Ward, Duncan Millar and John Fisher.
The guest band is St. Laurence O'Toole, and their set will include an original Alen Tully hornpipe from his 'Socru' collection. The show is over an hour and a half long.
The blurb reads: 'Winter Storm 2021 @ Home' is a show about the people and the music of the greatest annual event on the piping and drumming social calendar, held every January in downtown Kansas City, MO, USA.
'Over the 20 years since its inauguration, it has evolved into a world class few days of piping and drumming contests and workshops, culminating in a unique Saturday evening concert where the world's best perform on the same stage. This is their story – a glimpse of the people, the music, the volunteers, the sponsors – all part of the Winter Storm family.' More here.
Duncan Watson revealed in our Comment section a few days ago that P/M Andy Venters composed a piobaireachd in memory of his friend, the late Evan Macrae.
Duncan's message followed our story on Evan's new memoir compiled and edited by his son Duncan. Thanks to Roddy Livingstone we are now able to share a copy of it with Piping Press readers: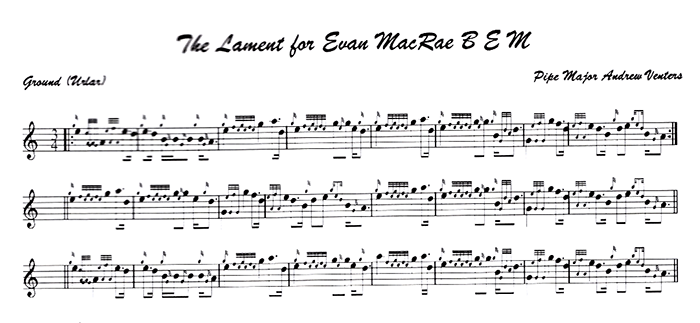 Andy pays a nice tribute to Evan at the end of the score: 'I wrote this tune as a tribute to the late P/M Evan Macrae. Evan was my Pipe Major when I joined the Camerons, and was an inspiration to me in all the years that I knew him.'
Read about Evan's recently published memoir here. If anyone has a recording of the tune please forward.
---