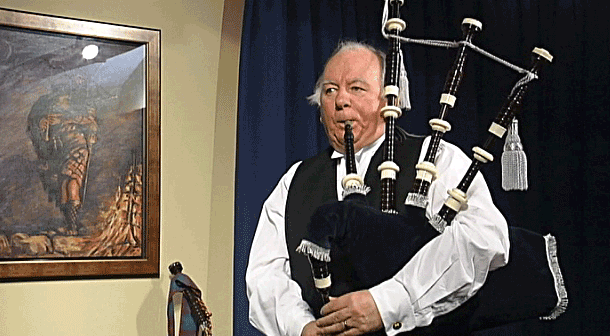 Rumblings on social media about two prominent pipers who have been denied a place in the Gold Medal competitions at this year's Northern Meeting and Argyllshire Gathering. Both were late with their entries.
Such is the pressure on places in these prestigious events – limited to 25 – that the authorities were clearly correct to exclude them. Once you start making allowances for sloppiness you never know where it will end.
How would you feel if you were on the reserve list at say, place 26 or 27, only to discover that two individuals who had broken the rules got in ahead of you?
Pipers usually show the greatest of respect for Oban and Inverness. If a few errant types have to be reminded occasionally of the esteem these venerable competitions are entitled to expect then so be it.
All the indications are that these contests will be going ahead (barring unforeseen setbacks). The dates are August 25 and 26 (Oban) and September 2 and 3 (Inverness). We've all been starved of live piping so I hope as many readers as possible will make the pilgrimage.
Our mission must be to repair the damage to the tradition caused by the pandemic. Rally to the cause!
The picture up top is of the late Speaker of the House of Commons, the Rt. Hon. Michael Martin, playing at the opening of the second phase of the College of Piping rebuild in 2009. This was quite an occasion for the College and it attracted the national press to Otago Street for the ceremony.
Michael had been a pupil at the College for 20 years taking lessons from P/M Angus MacDonald, Joe Wilson and myself. He did us proud on the day, his presence guaranteeing UK wide coverage.
I played the MacCrimmon tune, Salute on the Birth, which I suppose should have been re-named for the day Salute on the Re-birth. You can listen now as I wend my way through the crowd with some still talking in the background as the refreshments flowed:
---
Callum Mathers of 'Celtic Dance Music', Vancouver, Canada: 'I am a music producer based in Canada, with 20+ years as a competitive piper.

'I have been focusing on producing pipes, drums, and Celtic instruments in contemporary ways to keep players busy and practiced during COVID, as well as teach production to the community. I am composing backing tracks regularly for pipers to play along to as well. Enjoy some tunes at www.celticdancemusic.com.  Enjoy!'
Still in N Am, 'Colin' has emailed: 'Just wanted to reach out about an online Trio Competition we are holding to see if you had an event calendar it could be added to. Piper Now Online Trio Competition 5/25/21 Grade 3 and 4 Medley
More information can be found at our website: pipernow.org.'
---
It may have taken seven years but we finally have identities for the two pipers pictured below. The original query, dated November 5, 2014, from William Robertson, Stonehaven, read:
'Dear Sir, I came across this photograph recently of two distinguished looking pipers which may have been taken at Aboyne Games or the Braemar Gathering in Aberdeenshire. Would any of your readers know who they are and when, approximately, this picture was taken?'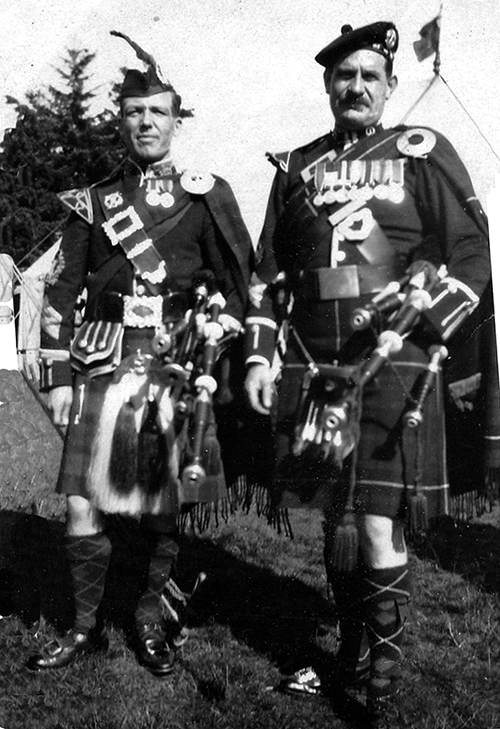 We have a result! Ross Johnstone of Johnstone Bagpipes writes: 'I'm replying to a question asked on your archive letters about two pipers. The two pipers in the picture are (left) P/M John Ross (my great-grandfather), 1st Battalion Gordon Highlanders, and on the right is P/M Willie Ross as Pipe Major of the Lovat Scouts.
'My family are pretty sure it was taken at Aboyne Games and it must have been between 1924 and 1933. John Ross was P/M of the Gordons from 1924 to 28 and Willie Ross left the Lovat Scouts in 1933.'

---
A new book about Galician piping, 'Temperando. The Galician pipe and its world', has been published. The blurb:
'A different book about the Galician bagpipe that since its launching in Spain it is startling not only professional and amateur musicians, but any other person who is interested in folklore.
'A luxurious and cared coloured edition with 376 pages where you can find not only a method for bagpipe but also really interesting chapters about many aspects that surrounds the instrument. The book is structured in three main parts: the instrument, the human being and the music.' See the short promo video above. More information here.
---