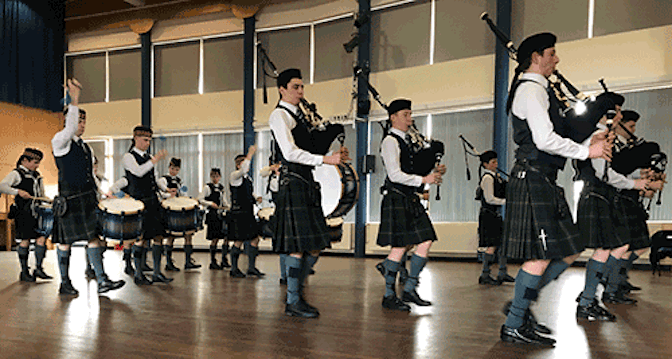 By all accounts the Glasgow Highland Club's Schools Championship of a couple of weeks ago, won by George Heriot's (above), was a great success. Such are the numbers wishing to take part that the event has had to be moved from an evening to a daytime affair. All good news.
However perusing the lists it struck me that there were no state schools represented! Why on earth not? Perhaps when the competition began there were no pipe bands in the state sector, but now we have the likes of North Lanarkshire Schools, Kintyre Schools, West Lothian, Oban and Preston Lodge. All good bands where the kids and teachers work very hard at their music, yet their names were nowhere to be seen on the GHC roster. If the contest was open to them I am sure one or two at least would have taken part.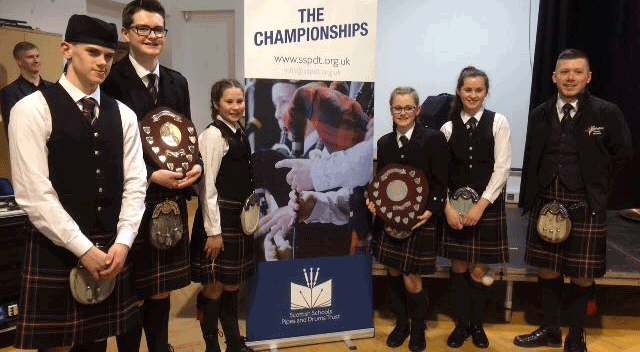 Is this an oversight by the GHC given that they are dedicated to promoting the Highland arts and have a fine record to prove it? I do not believe they will be deliberately discriminating against the state sector, however it is time to catch up gents and I hope that henceforth invitations/ entry forms for your championship will go out to all school bands fee-paying or not.
Incidentally the Highland Club Shield, the main trophy at the GHC contest, used to be for competition among the Glasgow Battalion of the Boys' Brigade Pipe Bands. My own band, the 214th Glasgow Company, won it time without number.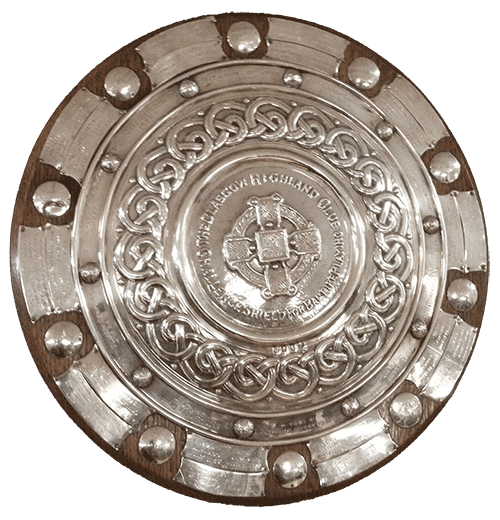 Let's keep on this tack for a bit. Spotted in one of our national newspapers the other day: 'The way to change things is through education. Why is it that if you go to a private school in Britain you'll be given the opportunity to join orchestras and choirs and learn music, but if you don't go to one, you won't?  To me, that is socially divisive.'
And as if to emphasise the point, the Educational Institute of Scotland's general secretary Larry Flanagan in the Scotsman: 'In recent years, there has been an ever-widening postcode lottery of instrumental music provision. A growing number of local authorities have made substantial cuts to their service with the loss of local instrumental music teacher posts and fewer opportunities for young people to access tuition. In much of Scotland it is becoming a case of 'who pays, plays'.
How true. That is why the Scottish Schools Pipes & Drums Trust is so important. Angus Tulloch and his team do tremendous work in supporting pipe bands and piping and drumming tuition in all schools. Also playing their part are the RSPBA. In Scotland there is a good chance there will be a wee Juvenile or Novice band not too far away that is prepared to take on any child and teach them for next to nothing. And bear in mind that the lamented College of Piping always had a rule that anyone who wanted to learn the pipes could do so irrespective of means.
In Scotland children who want to learn the national instrument or play in a pipe band should be given that opportunity. This should not be predicated on the school they go to, where they live or the size of their parents' wallets.
---
Class consciousness is not something we have to worry too much about in Scotland, though it still exists. Fortunately nothing like it did  in days of yore. How about this from the Aboyne Games programme from 1874: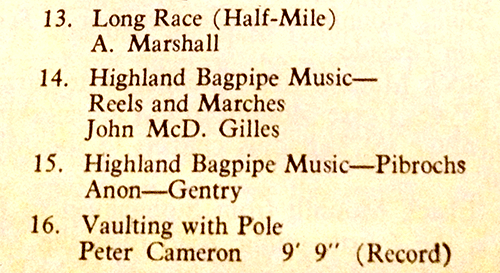 It seems that one of the nobs won the 'Pibrochs' but did not want to stoop so low as to have himself mentioned among the plebs like John MacDougall Gillies. You couldn't make it up. And Gillies must have had a bad day to be bested in the ceol mor. Thanks to Dr Jack Taylor, the Piping Convenor at Aboyne, for supplying the pic.
---
[wds id="2″]
---
Kurt Caderas, Regulator of the Swiss Massed Pipes and Drums, has written: Dear Robert, I want to send you some information about the Swiss Pipe Band Meeting, which will be held at the 26th of May 2018 in Schaffhausen, Switzerland.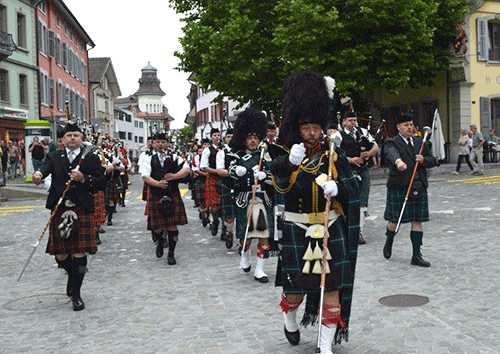 The Swiss pipe band scene is growing fast in the last couple of years. Today we have more than 30 bands and 21 are members of the Swiss Pipe Band Association. To introduce piping, drumming and drum majoring to people who are not involved with it, I organize the Swiss Pipe Band Meeting in my home town Schaffhausen. Until today roundabout 130 pipers, drummers and drum majors, from 15 different bands will take part at the Massed Pipes & Drums.
During the meeting, we will have a parade of the Massed Band through the town centre of Schaffhausen and a short concert at the Fronwagplatz. Tunes will be the usual Massed Band Tunes and the 6/8 march called The Swiss Drum Majors composed by P/M Ronnie Bromhead. The tune was presented to the Swiss Pipe Band Drum Majors at last year's workshop by our teacher. Afterwards the bands will play short concerts at different places in the town centre to show their musicianship.
I`m pleased to announce that I have been able to win two great people to lead the Massed Band. The Senior Pipe Major will be Graeme Bell, the Pipe Major of the Stonehouse Pipe Band, and Senior Drum Major will be Thomas Richard Lorenzen, Drum Major of the Police Scotland Fife Pipe Band. If any pipers & drummers want to join us please visit the webpage: https://www.swiss-massed-pipes-and-drums.org/ and send me an email. Last day for registration will be the end of April.
---
[wds id="10″]