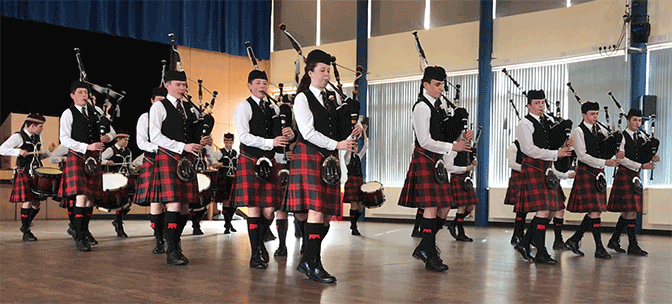 Wintry weather did not deter most bands and soloists entered for today's annual Glasgow Highland Club schools contest held in the city, writes Our Juvenile Grade Correspondent.
After the excitement of the large-scale Scottish Schools Championship last weekend, we had a smaller, more compact gathering, with nine bands listed to compete in a March Strathspey & Reel Competition at Hutcheson's Grammar School, Glasgow. Eighty-four soloists were listed over five competitions.
The band competition kicked off at 10am, with solo piping and drumming slated for the early afternoon. This long-standing competition was traditionally on a Friday evening, but in the past two years, with the evening timetable becoming very compressed, it became more difficult to get through a band contest plus solos by a reasonable hour, hence the change of time.
In a mixed 'grade' like this, with both RSPBA registered bands and those which aren't, there are variances in performance, but the enthusiasm  and commitment was there for all to see – and many of these players would have been on the road from very early on this Sunday morning.
Often before such competitions one wonders how some of these 'Grade 1 proxy' type contests will go for the tutors, mostly all recognised and respected Grade 1 players, pitting their tuition skills and young charges against each other.
One other format point – no adult Pipe Majors played with the bands as is allowed in RSPBA contests. Also, it was great to hear some less well kent, and less played tunes. Not the 'table d'hôte' we can often hear in some competitions.
Adjudicators included Joe Noble (Ensemble), a long time supporter of the Highland Club, now retired from RSPBA duties and P/M Ian McLellan BEM, similarly retired from the RSPBA.
Up first were George Watson's College (GWC) 'A', which we might assume to be their Juvenile band, or close to it. A brisk start to John MacColl's March to Kilbowie Cottage and tailored link into Dora MacLeod, neatly finished with Lochcarron. A strong performance.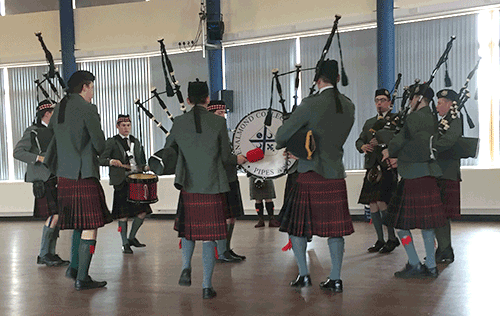 Second up were Glenalmond College, an unregistered band, with Pipe Major Willie Gray's Farewell to the Glasgow Police, Dornie Ferry, and The Brown Haired Maid. They gave the audience a reprise as they marched off.
Erskine Stewart's Melville were a no-show.
---
[wds id="2″]
---
Up stepped GWC 'B', most likely the Novice A or close to it. They had picked up the 'Schools' Novice A title a week ago and had impressed that day. The band was, I reckon, smaller in number than last week, perhaps by a couple, but quick marched into the second outing of the day for Pipe Major Willie Gray, followed Lady MacKenzie of Gairloch and then they swept into Lachlan MacPhail of Tiree. The flow of their set will improve as the season progresses and, for the younger less experienced players, stamina will build. The March Strathspey & Reel set – all four parts is a long blow for some of these youngsters to keep under control.
Fourth on came Dollar Academy (pictured top), the winners of last week's blue ribbon Juvenile Grade. A bigger band than 2017, with maybe three more pipers and two additional snare drummers. Remember the challenge for these bands. A significant wedge of the most experienced players leave school every summer and the conveyor belt of talent has to fill the gaps. The Argyllshire Gathering, the Shepherd's Crook, Major David Manson and a great tone from Dollar.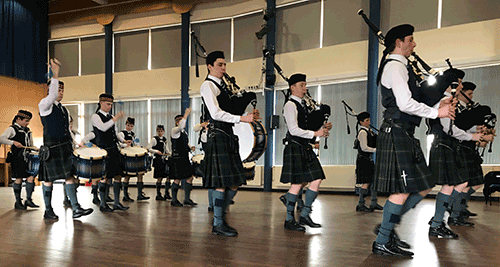 George Heriot's A, perhaps slightly off their best last weekend when compared with their 2017 season form, played Edinburgh City Police, Maggie Cameron and Lochcarron. We saw a considerably younger band than last year with new faces (that challenge of players ageing out and leaving school) particularly in the snare line, a line complete with new custom Andante drums.
Merchiston Castle School and Strathallan were no shows giving us a curtailed field, but with weather at a 'Yellow Warning' some schools clearly decided not to travel.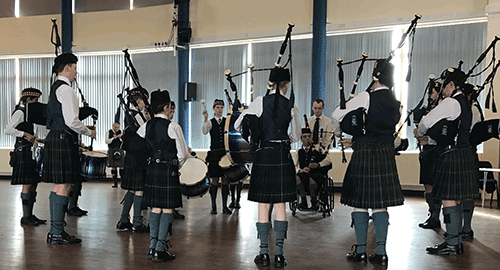 George Heriot's 'B' played Glen Caladh Castle, Dorrator Bridge, and Lexy MacAskill. With arguably the youngest average age on parade today, this band delivered a musical set, and some tidying up at the breaks will no doubt come with experience. The tempo was about right for them, but a few beats off the bigger and more experienced  bands' pace. Nicely done though and a good close to the contest.
In the Solos, having listened in to the Senior Piping, the quality at the top of the list was high. I know the Drumming judges would be  similarly impressed by the respective tops of their lists too.
In other associated 'Juvenile' news, the leadership of the National Youth Pipe Band of Scotland was hard at work listening to auditions of potential new members, and re-auditioning returning members, over the weekend. Not all candidates will be in Juvenile registered bands of course, with many of them in adult graded bands already. Another great example of the conveyor belt of talent.
Judges on duty were: Steven McQuillan, P/M Ian McLellan, Peter Hunt and Joe Noble: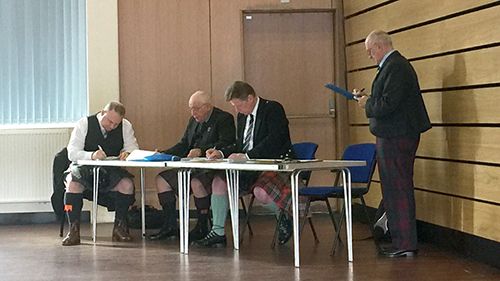 Results:
Junior Piping Solo (March):
R Blyth – Dollar
Intermediate Piping Solo (2/4 March)
1 C Happs, Heriot's
2 P Christie, Heriot's
3 R Brown, Dollar
Senior Piping Solo (March, Strathspey & Reel)
1 B Watson- Massey, Heriot's
2 C Wilson, GWC
3 K MacDonald, Dollar
Junior Solo Drumming (4 Part Match): T Jacquel, Heriot's
Senior Solo Drumming (MSR)
1 J Strachan GWC
2 R Fairlie Heriot's
3 R Power Dollar
Band Competition (MSR) (6 Played):
1 George Heriot's A
2 Dollar Academy
3 GWC A
Non RSPBA Trophy: Glenalmond College
---
[wds id="10″]