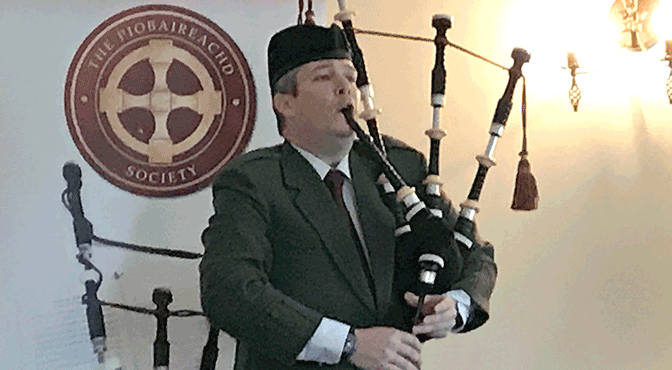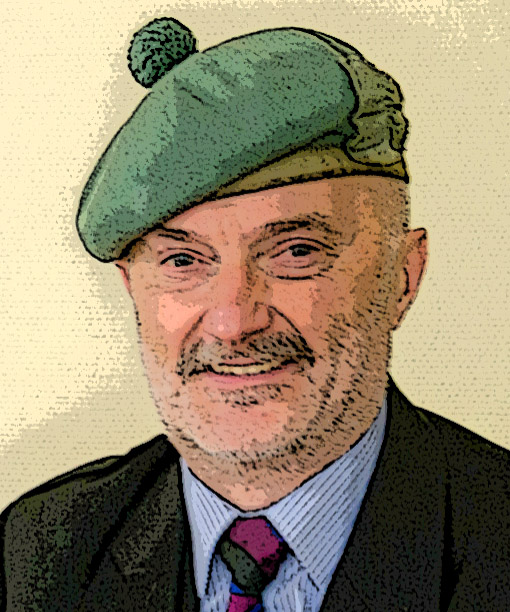 The highlight of the 45th annual Piobaireachd Society Conference was, for me, the talk given by John Shone. John has been a faithful at the conference for decades and in a cosily busy room at the Birnam Hotel late on Saturday he regaled us with tunes and tales of his teachers.
What a list. From beginnings in the Croydon BB there were lessons from JB Robertson, Donald MacPherson, Bob Nicol, Bob Brown and Ronnie MacCallum. John had a tape of Brown winning the Gillies Cup in London with the Lament for Mary MacLeod. Some thought  it slow but I thought spacious and perfectly balanced. Not enough time, unfortunately, to hear it all.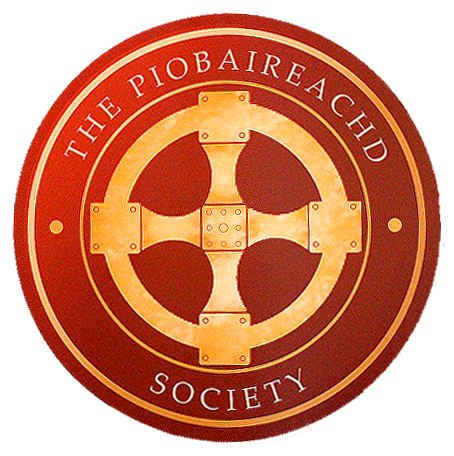 Then we had a discussion on JB Robertson and march tempi. Too slow today was the general feeling. This was something I had discussed recently with P/M Ian McLellan, one of the best march players of his day. He too agreed things had slowed (with the bands as well) and he referenced the PP recording of Ronnie Lawrie playing his own Glenfinnan Highland Gathering (gratefully received from the PS) and now available on our audio archive.
Glenn Brown and Dan Nevans were two competing pipers present who took an active part in the discussion and were clearly thrilled to hear some of John's tapes and gain first hand knowledge of the greats. John told us that JB was a hard taskmaster, that during his pomp he was near unbeatable. After his father was killed in WW1 he was sent from Fife to the Queen Victoria School where he started piping and from there it was to the Scots Guards depot where he blossomed.

Young JB's loss of his father clearly had a profound effect on him and till the day he died he carried a photograph with him at all times. JB's son, 'young Robbie', is now 80 we were told. Happy birthday Jim. John spoke of Bob Nicol and his (Nicol's) reverence for the teaching of John MacDonald of Inverness. President Jack Taylor told of his lessons with Nicol and often left with the master imploring him to 'spread the gospel'.
---
[wds id="2″]
---
I think the PS has done a pretty good job of spreading that gospel too, and early on the Saturday Professor Hugh Cheape and Dr Decker Forrest gave us depth and background on the origins of the music it has done so much to popularise. The early schools of piping, MacCrimmon, Rankine, MacArthur et al and their college systems, had roots in the Irish bardic tradition of the 8th and 9th centuries where memory was key and learning favoured all the arts and social legalities.
No longer competing, piper John Mulhearn, gave a robust rundown on the work of his group, the 'Big Music Society'. John bemoaned the lack of attendance at piobaireachd competitions (something which had already exercised us in committee). He wanted a connect to be made with the public and on video demonstrated that by arranging ceol mor differently, adding other instruments and chords, you could fill a hall, Murray Henderson with strings a case in point.
Lament for Hugh was enjoyable but at times the bass line and fiddles were, to my ear, out of kilter with the drones. Scoring for bagpipes is not easy. Still on video, Fraser Fifield improvised  pleasantly the main melody of the Old Woman's Lullaby and Rona Lightfoot's piobaireachd song 'Maol Donn' I found enchanting.
However, after all of that I was left with this: piobaireachd is for the bagpipe. The music and the machine enjoy a symbiotic relationship the one feeding the other. It is an acquired taste. It requires education to appreciate even moderately but once bitten you never go back. John Frater reminded us at dinner of David Murray's words 'I wonder what those who don't play piobaireachd do with their lives'. No more need be said. Good luck to John (Mulhearn) with his innovative approach. It will never replace the real thing but if it sparks some interest among the unbelievers then he will have succeeded.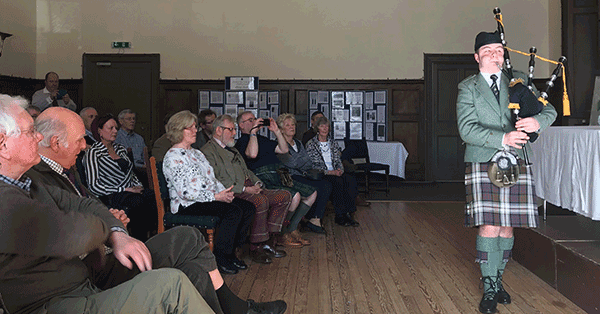 After lunch we had a well played Company's Lament from PS Bursary boy Bobby Allan. (Incidentally applications are still open for this year; write to Piobaireachd Society Bursary, The College of Piping, 16 -24 Otago Street, Glasgow G12 8JH). Then there were tunes from students of the Royal Conservatoire of Scotland and then Competing Pipers Association President Glenn Brown played part of the Lament for John Morrison, Assynt House, by way of introducing his youthfully exuberant colleague Dan Nevans who can't spell but who encouraged us all to play and teach modern tunes. If they are good enough Dan they will prevail, but I think you reminded us of our duty to support new music.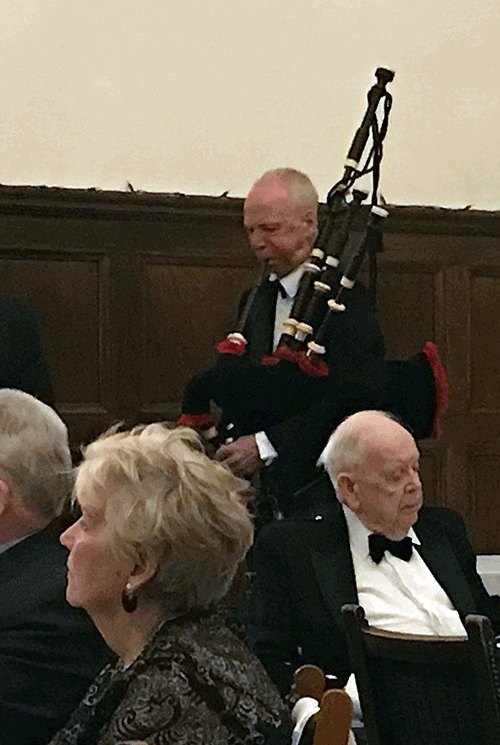 Attendance at dinner was down on previous years but there were enough pipers to sustain the ceilidh: Bill Wotherspoon (MacSwan of Roaig), John Frater (Lady MacDonald's Lament), Alan Forbes (MacLean's March), Decker Forrest (Grain in Hides on an outstanding pipe), Bob Low (Black Wedder), Walter Gray (Old Sword – D Glen), Bob Frater (Lord Lovat – Kilberry) and Jack Taylor (Park 2), all performed well, the evening efficiently pulled together by ceildh meister Roddy Livingstone.
To Sunday with demos of parts of the set tunes and thence the AGM. In essence: cash situation v healthy; membership 600 plus; books being re-worked; Aug 12 concert in train; new teaching programmes being considered; R Wallace and A Forbes re-elected as trustees. Departure into the spring sunshine buoyed by all of that and the genuine friendship one always encounters among good people.
---
[wds id="10″]