The New South Wales Pipers Society held their annual Silver Chalice competition last Saturday at what is considered a superb location, the Presbyterian Ladies College in Sydney, Australia.
The contest was the strongest for a number of years with the 'A' grade entry of 10 competitors including pipers making the journey from interstate for the prestigious event. The guest piobaireachd judge was Brett Tidswell from Adelaide.
Photo above shows: Garry Barker – MSR judge, Charlie Hunter, Jason Craig, Dennis Browning and Brett Tidswell – piobaireachd judge.
Silver Chalice Piobaireachd:
1st: Jason Craig – Scarce of Fishing
2nd: Dennis Browning – MacDougall's Gathering
3rd: Stephen Ross – I Gave a Kiss to the King's Hand
Judge: Brett Tidswell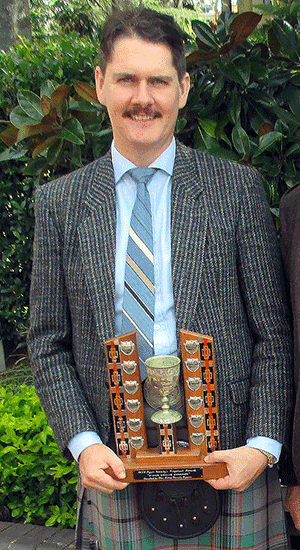 Ron Clement MSR
1st: Jason Craig
2nd: Dennis Browning
3rd: Charlie Hunter
Judge: Garry Barker
B Grade MSR:
1st: Graham Durant-Law
2nd Aiden Bestwick
3rd: Bede Patterson
Judge: Adam Wishart
C Grade March:
1st: Aiden Bestwick
2nd: Harry Brown
3rd: Ian Ticehurst
Judge: Garry Barker
D grade March:
1st: Angus Newman
2nd: Tiam-Li Mackenzie
3rd: Ben Guiney
Judge: Adam Wishart
---
Jimmy Banks reports: The latest heat of the Scots Guards Association Knock Out was held at Haymarket, Edinburgh, yesterday where Ben Duncan won against Dan Nevans. Ben will now go forward to meet Jonathon Simpson on 22 April at the same venue. All welcome.
---
[wds id="10″]