A very healthy entry at this competition which took place on Benbecula. Highlands & islands Young Piper of the Year was Sgt. Ben Duncan of the Army School of Piping. Ben is pictured above with his trophies. The competition was held at Sgoil Lionacleit, Benbecula, on Thursday 20 July  2017 and was followed by a prize giving ceilidh in the Dark Island Hotel.
Senior (30 and Under)
Ceòl Mòr:
1st Charlie MacDonald, Inverness – Lament for Mary MacLeod
2nd Ben Duncan, Edinburgh – MacDougall's Gathering
3rd James Dyson, Canada- The Piper's Warning to his Master.
4th Kate Kimove, Canada – The Earl of Seaforth's Salute
Judges: Iain Morrison and Willie Morrison.
Under 30 March
1st Ben Duncan
2nd Charlie MacDonald
3rd James Dyson
4th Katie Kimove
Under 30 S&R
1 Ben Duncan
Under 30 H&J
1st Kate Kimove
2nd James Dyson
3rd Ben Duncan
---
[wds id="19″]
---
Under 18 Ceol Mor
1 Angus MacPhee (The Old men of the Shells)
2 Calum Craib (The King's Taxes)
3 Finlay Frame (The MacLeod's Salute)
4 Hamish Drennan (Squinting Patrick)
Under 18 March
1st Angus MacPhee,
2nd Katie MacPhee
3rd Calum Craib
4th Finlay Frame
Under 18 S&R
1st Angus MacPhee
2nd Calum Craib
3rd Hamish Drennan
4th Finlay Drennan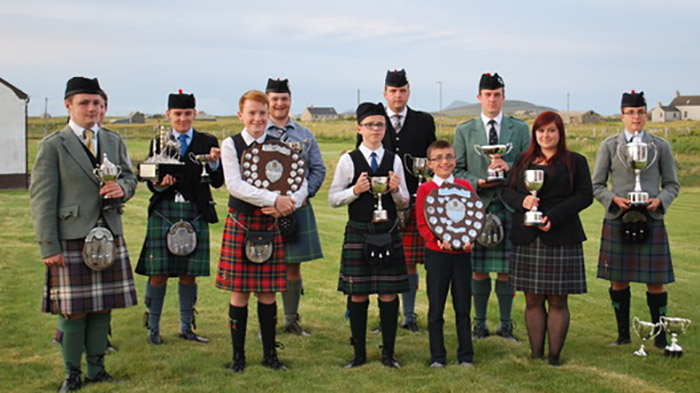 Judge for Under 18s: John Don MacKenzie
Overall Under 18 Winner: Angus MacPhee
Local Under 18 Winner: Calum Craib
Under 15 Ceol Mor
1 Bobby Allen, The Company's Lament
2 Eòsaph Caimbeul, Too Long in this Condition
3 Joseph Nicholson, MacDonald of Kinlochmoidart No 2
4 Eòsaph Galbraith, Lament for Mary MacLeod
Under 15 March
1st Brodie Watdon-Massey
2nd Christopher Happs
3rd Bobby Allan
4th Eòsaph Caimbeul
Under 15 S&R
1st Brodie Watson-Massey
2nd Christopher Happs
3rd Eòsaph Caimbeul
4th Eilidh MacPhee
Under 15 Jig
1st Christopher Happs
2nd Brodie Watson-Massey
3rd Eòsaph Caimbeul
4th Laura Robertson
Judge for Under 15s: Donald MacPhee
Overall Under 15 winner: Brodie Watson-Massey
Dress & Deportment: Eòsaph Galbraith
Open Chanter:
1st Anndra Monk
2nd Maggie MacDonald
3rd Ross Walker
4th Donald Henderson
Novice Piping
1st Innes Scullion
2nd Ryan MacIntyre
---
[wds id="2″]