The debate over moving the European Pipe Band Championships to Forres will continue, particularly among bands who just can't afford to journey up to the Moray Coast. Down the grades this is particularly inconvenient for Irish bands, few of whom, outwith Grade 1, attend.
The reverse holds true for the UK Championships in Belfast with many Scottish bands electing to stay at home for that one. It all points to the Central Belt of Scotland being the ideal geographical location for our pipe band majors. Everyone can get here with a minimum of fuss. It would mean that all major championships would be equally attended and that the final Champions of Champions tables announced after the Worlds on the second weekend of August, would mean so much more.
Something for the RSPBA directors to ponder when contract renewals come round. It never has been all about money with the Association. The award of contest rights does not always go to the highest bidder. Facilities have to be right (as they certainly are at both Forres and Belfast) and band officials must be able to work with their local council/ promoter counterparts.
But geography might need to come into the mix with a bit more weight. We want more Irish bands at the Euros and more Scots at the UKs. We call again for a major in Edinburgh and should Cowal be given another chance?
---
[wds id="6″]
---
Delight all round in the north with so many bands up there doing so well at Forres: Elgin, RAF Highland, Inverness, Lochalsh Juniors and the Ross & Cromarty Pipes & Drums School (pictured celebrating top). The band's Gail Laird has sent this: 'Ross & Cromarty Pipes & Drums School were delighted to be crowned European Champions after winning their grade at the weekend.
'RACPADS competed at the European Pipe Band Championships and saw them achieving a clear first placing in the Novice Juvenile A section. The competition was extremely high with them managing to secure the top spot in front of a number private schools.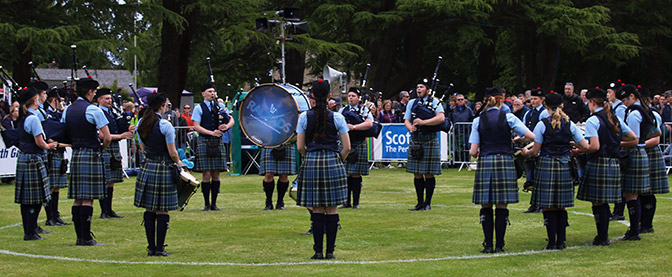 'They were only promoted to this grading at the start of the 2016 season and to achieve this in such a short space of time is an absolutely fantastic result for both the tutors and children alike. Pipe Major Niall Matheson said 'I am so proud of what the band has accomplished and can not praise the pupils enough for the commitment they have shown over the last couple of years, all their hard work has certainly paid off.'
'He continued by thanking the parents and committee for their continued support. The band are now very much looking forward to competing at the Scottish and World Championships in July and August respectively.'
---
I must say I agree with the comment by Craig Martin on Saturday about the pull of Scotland's 'quirky wee Highland games'. It is a concept alien to a few of our overseas (and home-based) competitors who just can't get their heads round the generally laid-back, organised chaos that we sometimes find at these contests.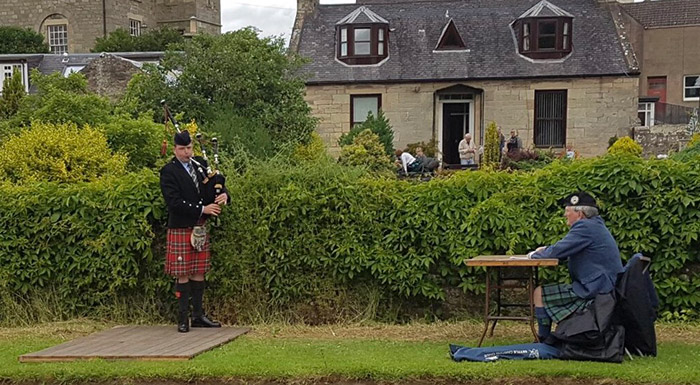 It's part of the attraction. Caught up in traffic you still get to play the organisers just glad you made the effort to support them. And many's the afternoon I stood in the rain, brogues muddied, feet wet but cheered on by friendly comments from fellow competitors despite blowing up in the last part of the reel. There is a camaraderie here you just don't get at the so-called premier events.
So I say to all pipers, there's still plenty of time to get out for a tune at the small, non-graded contest. They are worthy of your support and a hearty well-done to all those who give freely of their time to stage them, including those last Saturday at Ceres in Fife.
---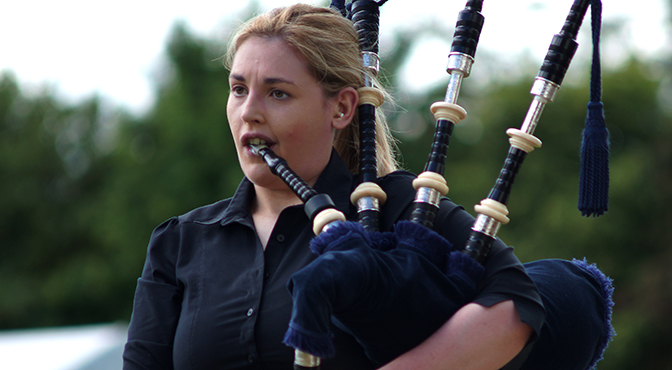 Thanks to Patricia Grant for the current placings in the John Milne Fine Arts Highland Games League after two contests:
Ceol Mor
1= Gordon McCready & Faye Henderson 4
2= Eddie Gaul & Ben Duncan 3
3= Calum Brown & Allan Russell 2
4= Bruce Macdonald & Alan Clark 1
Ceol Beag:
1    Calum Brown 17
2    Brighde Chaimbeul 8
3= Gordon McCready & Allan Russell 6
4    Ben Duncan 5
5= John Macdonald & Alan Clark 3
6    Eddie Gaul 2
Juniors
1 Liam Brown 12
2 Jamie MacRae 8
3 Angus Duffy 6
4 Angus Mackay Robertson 4
5 Tom Spencer 1
---
[wds id="13″]