Inveraray & District Pipe Band (pictured above courtesy Piping @ Forres) were crowned European Pipe Band Champions today after winning the Grade 1 contest at Forres on Scotland's Moray Coast. The result means that the Argyllshire outfit, under the renowned P/M Stuart Liddell, now move clear at the head of the Champions of Champions table with two majors to go. In a nice touch the Inveraray band played a tune dedicated to today's Chieftain, Major General Seymour Monro, at the March Past.
Close on their heels are P/M Richard Parkes and Field Marshal Montgomery winners of the UK Championships in Belfast only two weeks ago and the current World Champions. Impressive showings again from Scottish Power who placed third and also from Boghall and Bathgate who made the top six for the first time this season in fifth.
The full result in Grade 1 was:
1 Inveraray
2 Field Marshal
3 Scottish Power
4 SLoT
5 Boghall
6 Shotts
Drumming: Inveraray
G1 bands had to play an MSR drawn at the line from two sets. MSR was the requirement when Inveraray won the first major of the season at Paisley.
In the other grades Glasgow Skye re-asserted themselves in Grade 2 pushing great rivals Lomond and Clyde into second. Glasgow Skye impressed all who heard them and also won the drumming.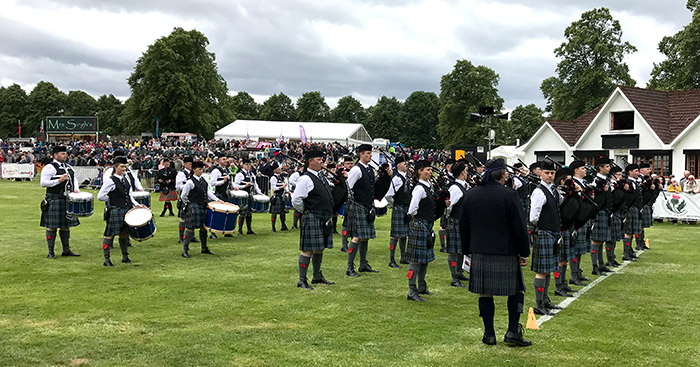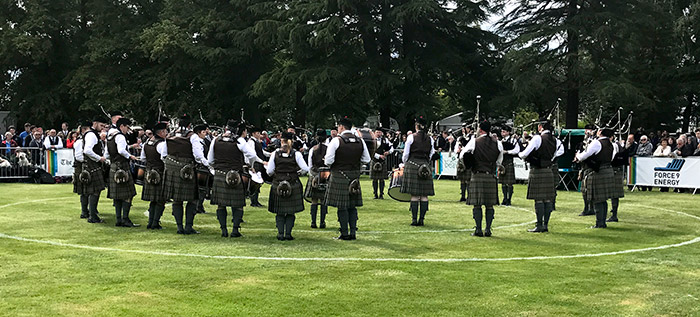 Grade 2
1 Glasgow Skye
2 Lomond & Clyde
3 MacKenzie Caledonia
4 City of Discovery
5 Balagan
6 Grampian Police
Drumming: Glasgow Skye
Other grades:
Grade 3a
1 Wallacestone
2 Inverness
3 Vale of Atholl
4 2622 (Highland) RAF
5 Stirling
6 Coalburn IOR
Drumming: Stirling
Grade 3b
1 The Highlanders (4 Scots)
2 Royal Burgh of Annan
3 Turriff
4 Milngavie
5 Ayr Society
6 Bothwell Castle
Drumming: Bothwell Castle
Juvenile
1 Dollar Academy
2 George Watson's
3 Boghall
4 North Lanarkshire Schools
5 West Lothian Schools
6 Preston Lodge High
Drumming: Dollar Acad.
Grade 4a
1 3rd Batt. Royal Regmt. of Scotland
2 Bowhill
3 Lochryan
4 Denny & Dunipace
5 Johnstone
6 Perth & District.
Drumming: Kinross
Grade 4b
1 Elgin & District
2 Kilmarnock
3 Rothesay
4 Isle of Skye
5 Venlo Cal. – Netherlands
6 Vale of Atholl
Drumming: Kilmarnock
Novice A
1 Ross & Cromarty Pipes & Drums School
2 Dollar Academy
3 George Watson's
4 Boghall
5 Oban High School
6 Stirling & District Schools
Drumming: Geo. Watson's
Novice B
1 Oban High School
2 Lochalsh Juniors
3 Dumbarton
4 Queen Victoria School
5 North Lanarkshire Schools
6 MacKenzie Cal. Juv.
Drumming: Queen Victoria School
Best band on parade (dress & deportment) were Inveraray & District. Next major pipe band championship is the Scottish to be held at Dumbarton on July 29. Click on the links for full summaries and videos of the G2 and G4a contests courtesy of the RSPBA. Stay tuned to Piping Press for more from Forres.
---
[wds id="6″]