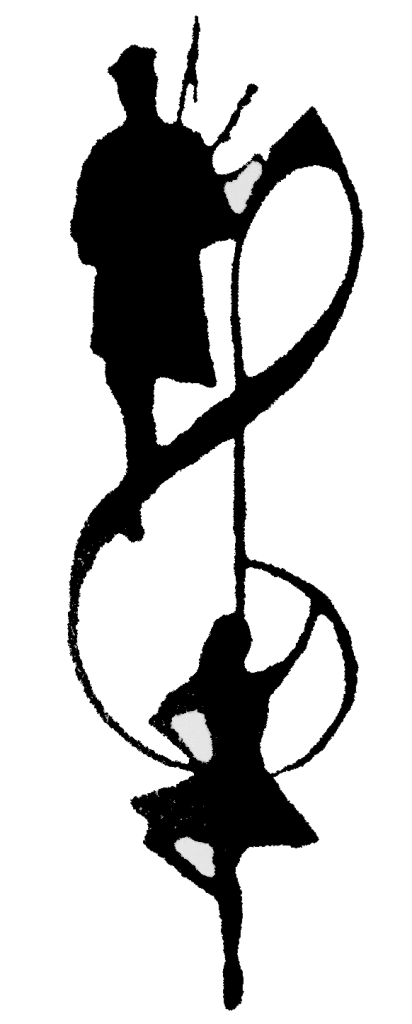 Riona MacInnes of the Highlands & islands Festival has sent this: 'We now have a Facebook page which is being regularly updated and if you have a look at that you will see that the syllabus is now available and the entries are to be in for 14th March. We are trying to be a bit more rigid this year about pipers changing their tunes at the last minute and I believe that it stipulates on the syllabus that once sent with the entry they cannot be changed. I always felt that I could be quite flexible about this until the tunes were given to the judges but it would seem that it's got a bit out of hand with sometimes tunes being changed more than once!'
The Highlands & Islands Festival is one of the highlights of the early season solo circuit so those wishing to play should get their tunes sorted out and have them in in good time. Remember the cut off date – March 14, less than a month away. Get the syllabus here. Entries are £5 per event for Seniors and £2 for Juniors and the good news for drummers is that there are contests for both junior side drummers and junior tenor drummers.
 Late last year the festival was honoured with a reception at the Scottish Parliament to mark its 30th anniversary. Read about it
here
.
Read a review of some of last year's piping
here
.
If you are organising the rest of your summer, don't forget to check out our
Guide to the Games
.
---
Sandy Hain's reminiscences from his time at the Army School of Piping under Willie Ross have been very well received and very widely read. Lack of space precluded our inclusion of Sandy's very detailed tune listings and manuscripts, all done during his time at Edinburgh Castle. Immaculate would be the only word to describe them. Here are a couple of examples: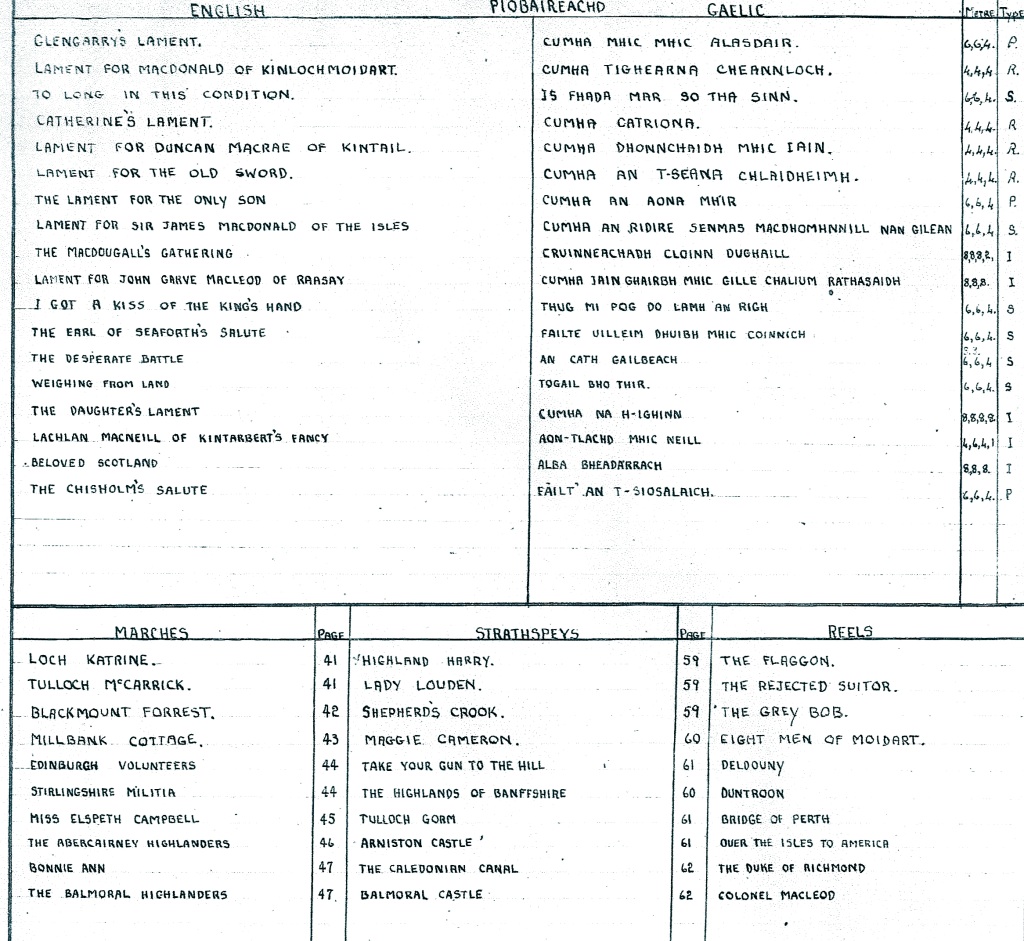 The piobaireachd, I Got a Kiss of the King's Hand, reputedly written extempore by Patrick Mor MacCrimmon on being gifted the honour by Charles ll pre-Battle of Worcester 1651: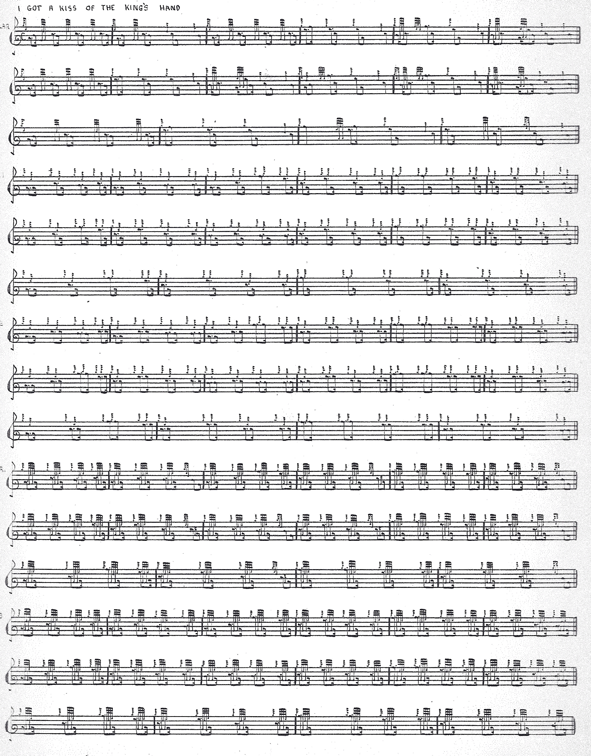 Every taorluath and every crunluath written out in full. I don't know if these disciplines are still imposed at the Army School but, in these days of computer generated scores and photocopies, I suspect the contrary.
---

Looking through old copies of the Piping & Dancing Journal as one does on a cold winter's day, we find the following results from 1935:
Aboyne 4th Sept
Piobaireachd
1 P/M Robert Reid 2 MR MacPherson, Inversion 3 RB Nicol, Balmoral 4 RU Brown, Balmoral
Marches
1 P/M JB Robertson, Scots Guards 2 J Wilson, Edinburgh 3 P/M Greenfield, Royal Scots 4 – tie Robert Reid/ P/M G Cruikshank, Aberdeen
S&R
1 J Wilson 2 P/M Robertson 3 P/M Cruikshank 4 – tie RUB Brown & RB Nicol
Royal Scottish Pipers' Society Silver Star for MSR (must have been for amateur pipers)
1 J MacPherson 2 J Brown 3 E Watt 4 W Collie
Inverness
Gold Medal
1 J MacGrady, Fort George 2 P/M GA Greenfield, Royal Scots 3 Owen MacNiven, Paisley 4 Lewis Beaton, Twickenham
Marches
1 MR MacPherson 2 Donald MacLean, Glasgow, 3 Duncan MacIntyre, Glasgow
Marches Confined to Boys under 17
1 RS Ross, Laggan (he of Binneas is Boreraig fame)
2 A Pirrie, Paisley
3 H Mackenzie, Tongue
Gold Clasp
1 P/M Robert Reid, Glasgow
2 John Wilson, Edinburgh
3 P/M JB Robertson, Scots Guards
4 P/M Charles Smith, Black Watch
S&R
1 David Ross, Rosehall (pictured top and a double Gold Medallist at Oban in 1925 and Inverness in 1929)
2 MR MacPherson, Invershin
3 Donald Maclean, Glasgow
Scottish Pipers' Association Amateur Contest
Piobaireachd for the Farquhar MacRae Trophy
1 R Hepburn, Newmains, Lament for Mary MacLeod
2 James MacNeill, Partick (later in life Seumas MacNeill)
3 Donald [Shaw] Ramsay, Avonbridge, MacCrimmon's Sweetheart
4 Leslie Craig, Lament for Mary MacLeod (later Dr Leslie Craig, Inveraray and Glasgow Highland Club)
Marches
1 J MacNeill 2 L Craig 3 M Lawther 4 D Ramsay
S&R
1 W Kinnear (later P/M Willie Kinnear, Kinning Park PB)
2 W Downie, Johnstone 3 A Braid, Clydebank  4 A MacIntyre, Port Glasgow
Oban, Sept 12
MSR
1 JB Robertson 2 J Wilson 3
Peter Bain
March
1 Donald Maclean, Glasgow 2 D MacIntyre 3 Richard Hepburn 4 P/M W Logie, Seaforths 5 Piper J MacGrady, HLI
S&R
1 Peter Bain 2 Angus MacAulay, Lovat Scouts 3 P/M GA Greenfield 4 Owen MacNiven 5 Peter MacCallum, Clydebank