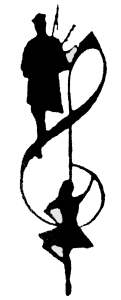 The popular Highlands and Islands Festival has celebrated its 30th anniversary at a reception held in the Scottish Parliament in Edinburgh, writes Robert Wallace
The festival began in 1983 as an idea floated round the kitchen table of former Chairman Neil Sinclair and his wife at their home in Oban. Since then it has enjoyed years of showcasing the best in Scottish music and dance. It has grown to such an extent that it attracts over a thousand  participants – mainly young people –  each year, playing for top prizes in piping, singing, accordion, fiddle, clarsach and dancing and brings in an estimated £3/4m to the local economy every summer.
The reception was hosted by local SNP list MSP Michael MacKenzie. He admitted, that though living locally, he had been unaware of the popularity and reach that the Festival had achieved since its inception. He pledged his future support and said he would do everything he could to promote it and ensure its future.
Publicity head Riona MacInnes spoke of the need to do more to market the festival and make everyone aware of its achievements and success. It was a jewel in Argyll's cultural crown and needed to be celebrated by both the local community and the wider public.
Piping has always been to the fore at what is now known succinctly as 'Hi-Fest', and the reception heard some fine playing from young Alastair MacLean, a pupil of Angus MacColl's, who now plays in the Oban band under P/M Euan Dewar. Here's a snatch of Alastair's performance:
'Hi-Fest' always features piping for all levels, from chanter classes for beginners to senior piobaireachd and light music. Read a report on this year's piping here.
Piper Donald MacPhee and his wife Christine were there representing the Highland dancers. Donald is a professional reedmaker and probably the world's top Highland dance piper as well as being a Gold Medallist and a multi-Worlds winner with Field Marshal Montgomery. He is now also an official adjudicator for the RSPBA.
Here is a clip of Donald playing for the dancing at the reception:
Next year's festival will be held from Friday April 29 until Sunday May 1. The piping will be on the Saturday in Oban High School so get your piping summer off to a great start by marking the date in your diary now. Entry forms will be available on Piping Press in due course.
---
[wds id="3″]