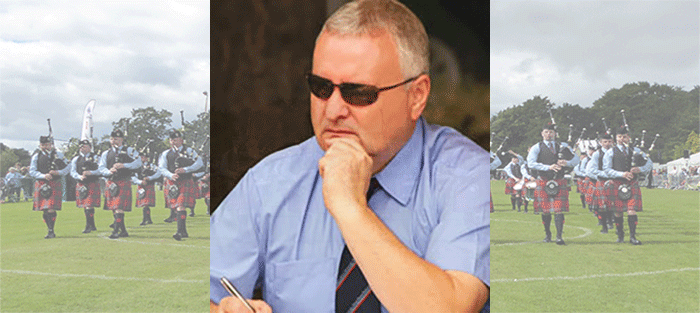 RSPBA Adjudicator Robert Mathieson continues his expert analysis of the Grade 1 Medley with particular reference to the first Major of the season, the British at Gourock. This article appears by kind permission of the RSPBA. Read part 1 here.
How do we encourage the evolvement of creative artistry in our medleys? The contest rules and constraints placed on the Grade 1 format has not changed or developed in over half a century. This is a surprising statistic given the evolution and substantial changes that can be observed in the current Grade 1 bands' make up.
I've been thinking about where medleys of the future might be heading. As I listened to each medley unfold at the British there was undoubtedly an underlying, frustrated staleness with the current format. It is very clear that the level of musicianship within the ranks is higher than it has ever been. The movers and shakers within these bands are far more musically educated than their predecessors, with an astute musical awareness and wider musical background.
By Robert Mathieson
The contest rules undoubtedly stifle the opportunity for creative musical presentation and originality. The medley is over-formatted and hidebound by rules and stipulations that serve little purpose in the modern pipe band. It's little wonder that the creative musicians in these bands use concerts to exercise their evolving art form.
As many bands approach the line in all grades there is often a perceived sense of trepidation and fear of what might go wrong, rather than how they can engage you, the listener, musically. There's a distinct lack of excitement or sense of fun. It has become a musical test audited by your peers, more like a sport than an art form. The competition format must evolve more!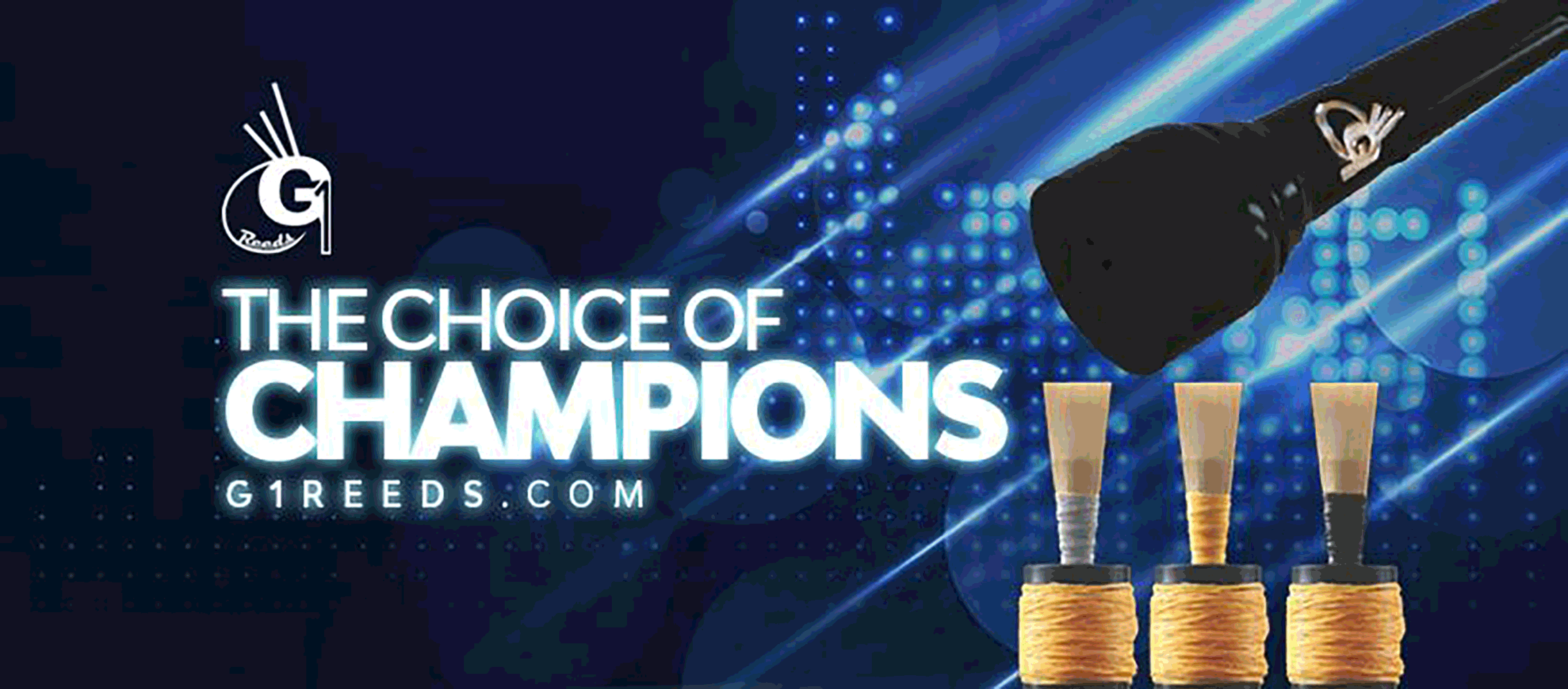 RGH-Heritage-pipingpress-800×300
MacRaeBanner '19

Ayrshire Bagpipes Nov 2020
Selcraft-UK—Piping-Press—Advert
2024_WW_Ad_PipingPress_Ani
---
Over the last few decades, the number of performers in Grade 1 bands has grown immensely. It's not that long ago that a pipe corps of 16 pipers was considered as being too ambitious and would negatively affect technique, tone and unison. The performers have proven the doubters wrong. Tone, technique and unison have seen a meteoric improvement in recent years.
The growth in Grade 1 band size is quite astonishing. (In some ways its lucky that big numbers were in vogue as we entered lockdown; it provided a bit of a cushion for bands whose members took this opportunity to call it a day.)
Have a look at these figures:
| | | | |
| --- | --- | --- | --- |
| | Pipe Sections | Snare Sections | Bass Sections |
| Then | 14 – 16 | 6 – 8 | 2 – 3 |
| Now | 19 – 21 | 9 – 11 | 5 – 7 |
| Percentage growth | 31% increase | 38% increase | 133% increase |
Like it or not, this is influencing our music and not always in a positive manner. It would not be unreasonable to suggest that we are no longer simply a pipe band, but have evolved into a 'pipe and drum band'.
Now let us look at some standard practices. The current two, three-pace rolls, followed by a standard introductory 'E', as a mandatory introduction, was a simplistic metric guide for pipers playing crudely set up instruments. The pipes of that era could be volatile with unwanted noise and squawks associated with a group of pipers trying to get started.
Back in the day the rolls had a functional role for marching in military units too. Continuing over the decades they have resulted in the evolving of 2/4 hybrid 'marchpipes' delivered with plenty of loud, aggressive, rhythmic attitude. However, a lack of freshness is now very evident with the rolls limiting the choice and tune style for the bands wishing to create musical impact.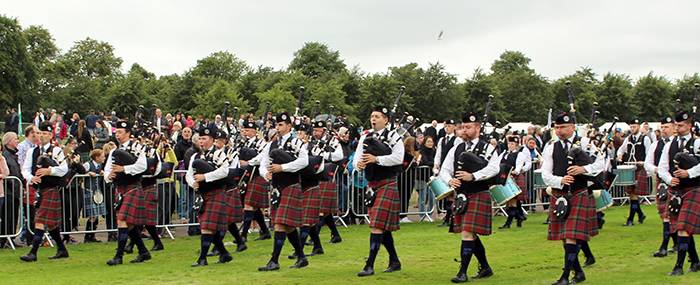 At our first major of 2022 I was grateful and pleased to hear three or four bands press the refresh button with their opening tunes. Hitherto, we have had 20 years of openers, with bands revamping the alternating two-bar phrase, arpeggiated motif and double tonic, question and answer structure. But with a standard palette of nine notes there are only so many permutations of this type of 2/4 opener that will catch the interest of the listener. 
Pipe majors are obviously well aware of this as they vie for attention by pumping additional musical trickery at the listener from the get go. At Gourock it was so refreshing to hear a couple of the better bands reverting to the traditional idiom but with a musical makeover, without drums and harmonies drowning the melody and the listener. 
There appears to be a trend to initialise lots of high value technique with elaborate execution in the walk up to the circle, delivered with intimidating style and bullish arrogance. Just in case that's not enough we often hear a complex harmony arrangement thrown in for good measure, syncopated tenor fills and maybe even a change in rhythmical time signature. All of this and we are less than a minute into the performance!
This requires focussed attention from the listener if he/she is to avoid feeling like getting hit by the kitchen sink. No easy listening music washing over you here, this after all, is a competition. Overloaded percussion content (mid sections please note) comes across as a desperate attempt to get attention. I fully understand this; this section of the band has had maximum growth but little official musical recognition either positive or negative. 
My listening at the British was static and towards the rear of the band. It highlighted the fact that from here large snare lines mask the tenor drum projection, contrary to listening from the crown of the circle where it can often be heard damaging the musical effect and tonal balance of the band. Drumming contribution has audio of 360 degrees and often 270 degrees is being neglected. Snare lines receive forensic analysis in terms of technical delivery, unison, and execution, but are often judged in isolation to the musical idiom or melodic mood of the piece.
As the medleys at Gourock unfolded it became very apparent that, other than a few exceptions, strathspeys and slow airs are the achilles heel of the pipe band drum corp. Strathspeys should be showcasing extreme contrast in note values with maximum compression on execution of piping and drumming embellishments, highlighting musical detail with precision and lift.
Unfortunately, in many performances group unison is being achieved by a slight averaging of note values exacerbated by open 12/8 triples in rhythmic accompaniment. This in turn pulls the melody line away from the essential cut and snap idiom, morphing into a jig disguised as a strathspey. 
A word of caution, harmony is a dangerous spice to add to the strathspey. It can be very effective but is more often musically pointless and perceived as a ploy to distract the adjudicator from the lack the authentic style of execution. You can almost feel some bands' sense of urgency to get out of this time signature so they can present the rhythmically charged jigs and reels, the part they obviously enjoy, and where they have employed their main arsenal of showcase effects and grandstanding techniques.
I could count in one hand the number of bands that displayed any macro dynamics at the British. By that I mean a defined change of mood and rhythmical presence from time signature to time signature. There was lots of forensically detailed micro dynamics within each tune that only fellow musicians and equals could fully appreciate. However, there was a distinct absence of dramatic 'landscape' dynamics that keep the listener on board. I often become aware of an audience starting to talk amongst themselves before the performance has finished.
You can sense very quickly the build up from all sections as they gear up for the final phase of the medley. There is almost a tacit understanding that no section within the band is going to give way. It soon becomes very crowded with no musical social distancing – close on 40 performers trying to exhibit how good they are technically. 
There comes a point where overworked execution in rhythmic accompaniment stops supporting the melodic shape and starts to compete with it, a powerhouse of complex snare settings getting punched back by tenor drums often playing above the band sound.
Internally I hear individual sections and individual drummers trying to be out front grabbing attention. But hold on a minute – now the harmony division has arrived! The melody itself has become a minor player at this point; in fact some might think he has retired from the battle. No longer is plain organum harmony (a part played above or below the melody) the weapon of choice. We often have pedal harmony, counterpoint, unresolved dissonance, counter melody and contrary motion, making a harmonic hotchpotch.
With each of the bagpipes delivering equal sonority many of the complex harmony arrangements fail to deliver the musical effect intended. The listener if left drowning in harmony soup. Many of my musically educated peers and traditional music graduates are quick to assure me that it's much better much than it sounds. 
A word of caution however to the pipe majors and musical arrangers. The cumulative effect of the listener hearing these heavily planted harmonies in band after band can often leave the simple naked melody fiercely attractive to the fatigued listener.
To conclude: My Wish List