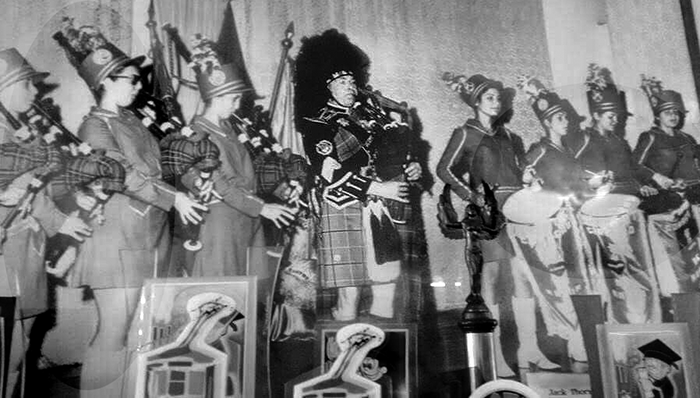 Reader Cristiano Bicuda has contacted us from Brazil about the above photograph. Chris writes: 'I wonder if you can help me to identify the Pipe Major in the picture?
'He seems to have visited Santos, State of São Paulo, in 1971 to play, or perhaps teach, these Brazilian girls from a local school. Maybe you will be able to identify him.
'He was probably playing at British embassy or consulate events and might have been the person who brought the sets of pipes for the girls.
'The girl band and their school no longer exist. Best regards from Brazil.' Please drop us an email if you can help Cristiano.
A Tribute for Norman
Norman Matheson's passing was not unexpected but, as ever, sad nevertheless. I got to know him playing for him at the games and then much better when we worked on the 'Masters of Piobaireachd' CDs over several years. This was a rocky road but we never let the inevitable differences interfere with our responsibilities to get the job done.
Norman was, as Duncan's obituary said, a perfectionist in all that he did. Modest though, and he talked little of his esteem as a surgeon. (He operated on Bob Nicol, his piobaireachd teacher, during Bob's last illness. This was unfortunate, said Norman, but had to be done.) Never afraid to speak his mind, he had, I am told, a fearsome reputation for professionalism yet he was revered among the medics and by families whose loved ones he patched up.
Norman was one of the last of the great amateur piobaireachd judges, following in a line from Sheriff Grant, General Richardson, Campbells, Kilberry, and Lt. Col. David Murray. His gimlet eye and acute hearing could spot a dodgy crunluath half a mile off and he made himself unpopular among some of the professionals by pointing out home truths. More than one left Braemar in the huff never to return after being given an honest assessment by the distinguished medical man.
But he was thoughful and considerate too. One year at Braemar when the piobaireachd finished early, Norman arranged for the Gold Medal winner, John Hanning NZ, to receive it from HM The Queen who was still in attendance. The handover and a brief chat and Her Majesty exclaimed, 'This man knew Brown!', referring to Bob her ghillie.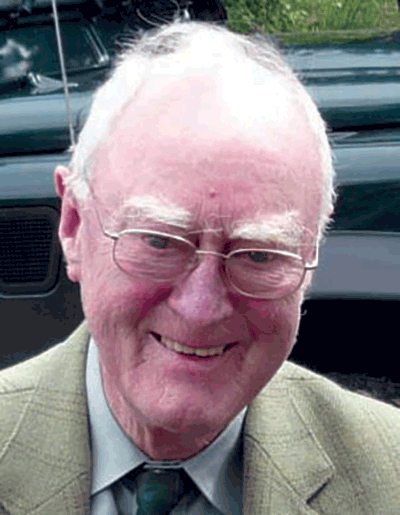 On one visit to his home in Milltimber I was given a tour of his prized garden. The rhoddies and azaleas were off the bloom, but latin name and fulsome description betrayed another great love of Norman's full and fulfilling life.
He could draw too and I can recommend his fishing books 'Speyside Odyssey' and 'Speyside Memories'. The bugger made me buy them. 'You can afford it and you'll appreciate them better if you've paid for them.' He was, as usual, correct. His art brought my 'Silver Chanter ' book to life.
There have been many tributes to Norman direct to PP. Logan Tannock wrote: 'A great man who gave me much advice about my playing over my competing career. His knowledge, and indeed his wry wit, will be much missed.'
Joyce McIntosh: 'Jimmy spoke so highly of Norman. What an amazing human being. Doctor, piper, recorder/historian, gardener, illustrator.  What gave these Scots from that generation the impetus to branch out like this?  He also seemed to have risen from common roots, yet look what he did with his life.'  
I will post details of Norman's funeral when available, but it is expected to be next week.
---
Dundee Pipes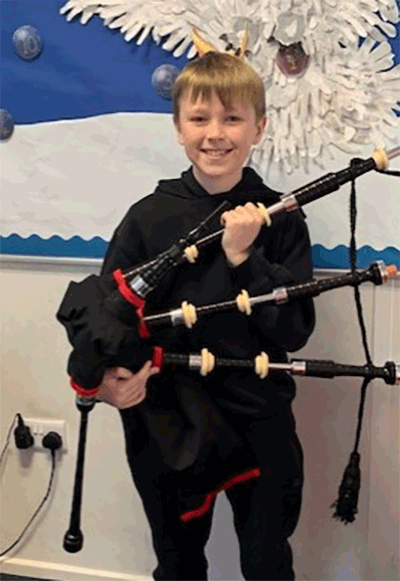 Alexandra Duncan of the Scottish Schools Pipes and Drums Trust reports…
Dundee pupils have received pipes on loan from the Trust. Maxi (l), Forthill Primary School, is one of thirty-five pupils benefitting from the award. His instructor Derek Potter comments, 'Maxi has been learning the chanter for three years, and can transition to the bagpipes now that he can borrow his first set. He's making great progress and is looking forward to joining his local MacKenzie Caledonian Juvenile Pipe Band in the future.'
Another pupil with a new set of pipes is Cameron at Barnhill Primary. Cameron's mum says: 'We are so grateful for the support. Cameron is delighted to be following in the footsteps of his great grandad, who was also a piper.'
The idea behind the lending scheme is to give young players time to get to grips with the pipes and time for their parents to raise funds to buy their own set.
---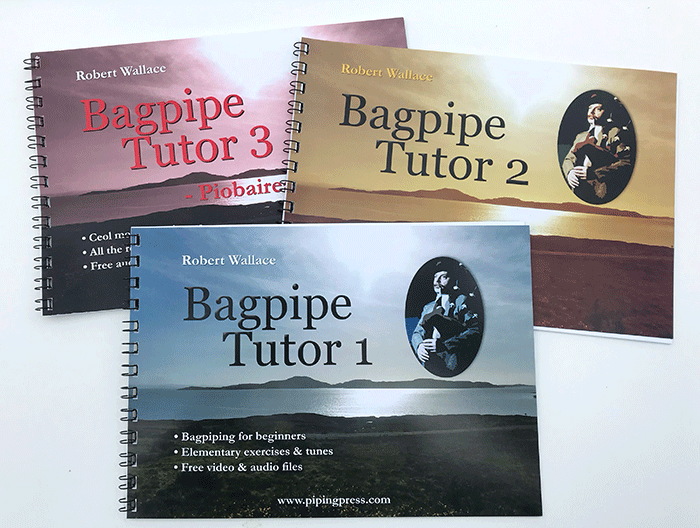 60 lessons in three outstanding tutor books taking the complete beginner to intermediate level and introducing the classical music of the pipes, piobaireachd. All books have free audio and/or video back-up fully explaining the exercises, tunes and the required expression. Since they first appeared in 2015 these books have sold hundreds of copies worldwide. Price includes mailing of £12.
Click here to purchase.
---