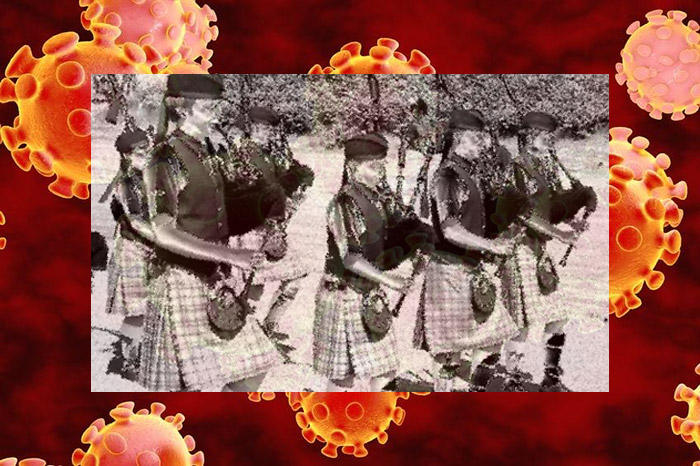 Pipe bag maker James Begg has used his monthly newsletter to severely criticise the dearth of pipe band and solo piping events this summer.
Jim points to the thousands of people attending large sporting events in the UK, yet here in Scotland we cannot even put on an open air piping contest.
Jim says it is a 'disgraceful outcome' for piping and pipe bands.
He writes: 'There were 66,000 football fans huddled together in Wembley Stadium which is 26k more than the last game. WHY?
'There are definitely double standards at play – not a mask in site with people cuddling and standing right next to each other. I like football as much as piping and my gripe has nothing to do with the result, although we always like to wish the English team all the best!

'The point I'm driving at is why can we not have Highland games with a fraction of the crowds? Even the Worlds at times hardly get to 30k although some imply higher figures.
'We have a great open space at Glasgow Green with lots of possible spacing. We are hardly even allowed to walk about with a beer as opposed to the tv watching fan zones. Surely it's totally wrong.
'I'm sure some smaller games will disappear next year. Even if they had a small reduced event it would have kept things ticking over. A little support from the so called Scottish supporting government would have been enough. We are talking a miniscule amount of support really.
'Whilst of course travel by bands and solo pipers on an international basis is badly curtailed, we could and should have done something on the domestic front rather than taking the easy way out and cancelling everything out of sight.
'Check out the forthcoming F1 at Silverstone – 140,000 expected – and we can't even manage a few hundred here and there in the great Scottish outdoors. It's a disgraceful outcome for piping and pipe bands.'
Do you agree with Jim? Please comment below.
---
[wds id="2″]