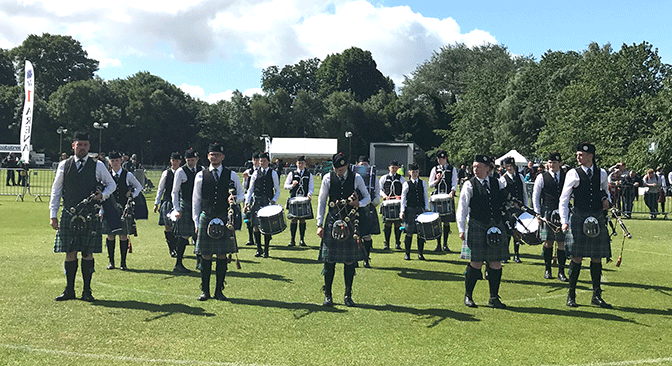 A big day of piping on both sides of the Atlantic. At Stormont, Belfast, the UK Pipe Band Championships are already underway. This is the second major of the pipe band season.
PP correspondent MacStig reported: 'From a cloudy sky and intermittent sun in Belfast, the early contests are off and running. A healthy crowd for the Juvenile contest kicked off at 1030am. Tuning might be tricky and showers are expected later.'
Pictured above at the line  are West Lothian Schools under P/M Greig Canning.
Here is the order of play and the judges in Grade 1 courtesy the RSPBA. This title has been won by local band Field Marshal Montgomery for the past four years – ever since it was created following the demise of Cowal as an RSPBA championship following the 2013 season.
Grade 1 – Final
1 13:15 Glasgow Police
2 13:25 Scottish Power
3 13:35 Lomond & Clyde
4 13:45 Dowco Triumph Street
5 13:55 Vale of Atholl
6 14:05 Denny & Dunipace
7 14:15 Fife Police
8 14:25 Glasgow Skye[polldaddy poll=10029688]
9 14:35 SLoT
10 14:45 Shotts
11 14:55 PSNI
12 15:05 Field Marshal
13 15:15 Johnstone
14 15:25 Buchan Peterson
15 15:35 Boghall
16 15:45 Inveraray
Adjudicators:
William Garrett,piping
Alan Ronaldson, piping
Gordon Craig, drumming
Peter Snaddon, ensemble
Results from Stormont around 6.30 this evening and full summaries from the RSPBA on their website.
---
[wds id="6″]
---
The United States Piping Foundation Maclean Macleod Memorial Piping Championships will be held today, 16 June, at the University of Delaware. 

Piobaireachd and March, Strathspey & Reel events are offered for Professional and Amateur competitors.  Professional competitions are open to all pipers domiciled in North America and classified as Professional by their home associations. Professionals submit six tunes of each type of their own choosing. There are 15 entries from the top players in North America.
Amateur competitions are open to all Grade 1 pipers. Amateurs will submit four tunes of each type of their own choosing. Judges for Professional Piobaireachd  are our Editor Robert Wallace and William Livingstone from Ontario. For Professional MSR the judges are former P/M of the City of Washington Pipe Band Mike Green and Michael Gray from Ontario. Amateur judges are Mrs Joyce McIntosh, South Carolina and Albert McMullan, Sarasota, Florida.
---
Last night's Donald MacDonald Cuach was won by Iain Speirs Edinburgh (pictured). Iain's tune was the Groat. He repeats his win of 2016.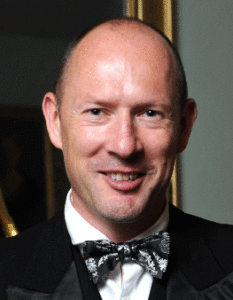 The judge was Allan MacDonald, Edinburgh. Other pipers playing were Craig Sutherland, Callum Beaumont, Glenn Brown and Alasdair Henderson. Iain takes home £2000 first prize with the other pipers each receiving £1000. Sponsor is the US-based Glencoe Foundation. Organiser is  Dr Angus MacDonald
---
[wds id="6″]