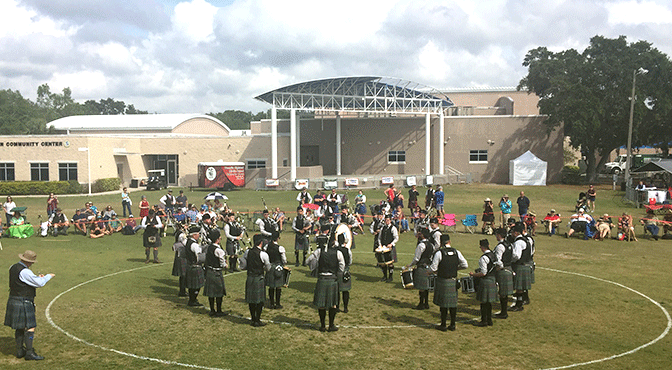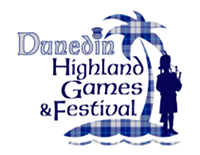 From the Sunshine State of Florida, our Special Correspondent reports on the Dunedin Highland Games…….
Now arguably one of the larger solo and pipe band gatherings in North America, Dunedin, that west coast Florida town with Scottish roots (twinned with Stirling), packs a real punch with an ever-growing and burgeoning Highland Games.
As the solos kicked off at 9am so did a few thousand 5k runners in the humid, high 70 degree heat at an early hour (it peaked out at 87 later). The sky was mostly blue with clouds moving in and out through the day. The forecast storm did not appear until right on cue at the end. Timing is everything.
In the morning, competitors for the solos were scattered around the main arena and adjoining area. A great job by the local stewards and organisers for making it all run very close to time – from experience, only the RSPBA and Maxville surpasses. In the afternoon two circles ran concurrently and spectators had bleachers (small stands like North Berwick and Bridge of Allan) to view Grades 4 through to 2 in various contests. Grade 2 was both Medley and March, Strathspey & Reel.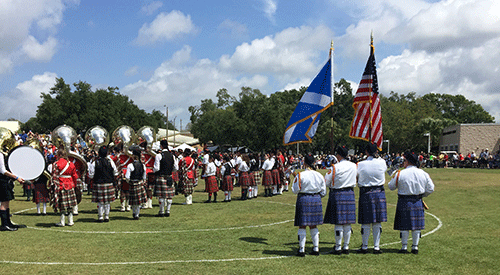 Aside from the competitors, the quality of adjudication really makes a success of things and you have to say that the promoters pulled out the stops, with several band World Champions and highest solo winners on the bench and some big names on the field too. There can be mutterings about bringing people in, but the event must surely be enhanced with such recognisable names.
---
[wds id="6″]
---
Also Dunedin used this as a mentoring weekend to get more people qualified. For instance, we saw Derek Cooper of Inveraray & District snare line shadowing his lead tip, Steven McWhirter in solos. RSPBA adjudicators Gordon Parkes, Robert Mathieson were there, as were Jack and Terry Lee. Mike Cusack made a judging appearance in the morning, before playing in the band contest later in the day.
In piping we had several of the most recent greats judging, and what a thrill for some of the local students in the widely acclaimed Dunedin School programme to face up to these people. In the Open Piping Ian K McDonald almost made a clean sweep winning the light music categories and Nick Hudson the Piob. Ian K took the Professional 'Open' title.
In drumming, former Field Marshal tenor Kyle Heaney, now in his second year at the St Thomas Episcopal band swept the discipline and his snare colleague Blair Brown, took both H/J and March, Strathspey & Reel. Eric MacNeil, the Dunedin lead tip, placed second in both.
And so to the band competition. Grade 2 was an obvious eye catcher with the third and fourth ranked in the world competing. St Thomas Alumni (pictured top), with what sounded like a new bag and maybe even new reed set up, and Ian Donaldson's City of Dunedin, the latter with many well-travelled and steady hands complementing the young coming through from the school programme. Eric MacNeil has put together a formidable line in his third year, and the mid and bass sections are always great value. The bass is a great watch.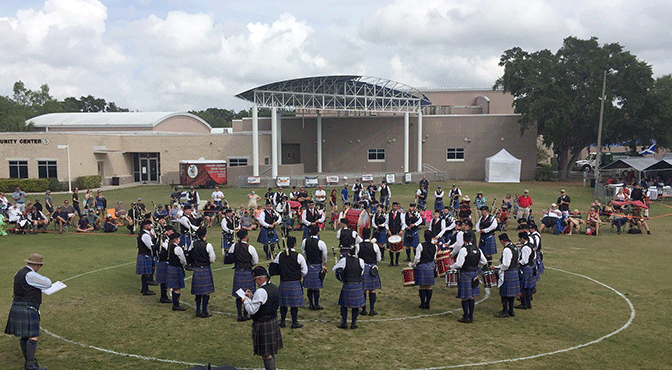 In St T, Graham Brown got down to business with his near old-school Shotts & Dykehead sounding snares in their Lord Alexander Kennedy. The judges had a tough job but with Dunedin drum corps winning both the MSR and Medley. In piping the tone of each was very strong, yet distinctly different, coping with intermittent cloud, humidity and heat in the long afternoon.
Again the judges were split, with Ensemble Preferences giving a win to each. St Thomas just nudged it in an MSR preference to win overall. Not so much as a wafer between these two and both with very promising Medleys so early in the season. There were minor issues for both bands – a transition to reel for one clunked a bit before finding gear, and for the other, the attack might be on the P/M's list. For being this early ahead of an attempt at the big one in Glasgow though, both are well underway.
MacMillan, under the handy Andrew Donlon, stepped up a gear from last year even though it was with a smaller pipe corps, and it is a pity they won't be in Scotland in August. They'll be at Maxville for the Glengarry Games however. MacMillan were third in both MSR and Medley. Atlanta is a solid band too, maybe just lacking the sizzle that both St T and Dunedin brought to their Ensemble. Both took a third and a fourth.
In the other competitions, the stand out was the quality in the Dunedin school bands from the youngest to seniors, and we can only wonder when they will be taken to Scotland to try their luck against the big battalions of Juvenile bands like North Lanarkshire, George Watson's, Heriot's, Dollar Academy and the like. As we have seen in many instances, the quality of teaching and coaching is key to bringing on young talent. It is certainly reaping dividends down in Dunedin.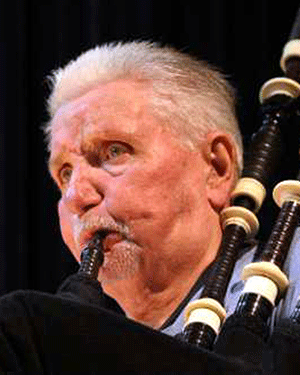 It is great to see the late Sandy Keith's legacy being taken to the next level in his memory by this new team. It is certainly going places; Virginia and Maxville, before Glasgow. For those who follow Grade 2, this will be a very interesting year for these two bands heading to the Green in August. The likely locals like Mackenzie Caledonia, Manorcunningham, Closkelt and others take note – in both Dunedin and St Thomas Alumni, 'The Americans are coming'.
Solo results:
Open Tenor (Pro): Kyle Heaney (St Thomas Alumni) 1st in both MSR and H/J
Open Snare: Blair Brown (St Thomas Alumni) 1st in both MSR and H/J
Piping – Piob
Nick Hudson

Ian K MacDonald

Andrew Donlon
March Strathspey & Reel
Ian K MacDonald

Andrew Donlon

Nick Hudson
H/J
Ian K MacDonald

Nick Hudson

Andrew Donlon




---

[wds id="10″]