Both Les Hutt and Barry Donaldson make some very good points about the demise of our mining communities and their contribution to piping and pipe bands and the lack of recognition thereof.
It is apposite that their comments should come in the week that we saw the closure of the last deep coal mine in the UK – an industry which at its zenith, in 1913, employed a million men, men who fuelled an empire. But times change and it would be an error to over romanticise what was a brutal and often fatal existence. Thousands died hewing that black stuff out of the ground, working close to hell both metaphorically and biblically – and I have yet to meet anyone of mining stock who would have kept out of the pit if he could.
Given this life of hardship and toil we can never underestimate what these men did for piping. They put their money where their hearts lay, sponsoring the music that they knew was their birthright, their heritage. That same generosity of spirit still exists today with men and women throughout the land giving freely of their time in local community bands.
The need they fulfil is something the Scottish Government continues to ignore, though they can find money when it suits them. Their policy of looking at the funding and support for piping and drumming tuition selectively, rather than in its entirety, is wrong and it is something that should be of concern to everyone reading this.
As Barry Donaldson reports, the teaching of piping and drumming in state schools in our capital city Edinburgh is practically non-existent and the current round of cuts announced by the Scottish Government on Thursday will see even less money for arts and culture – plus a £300m cut to local authority budgets. Pity the poor state school piper or drummer.
It is against this background that I view with considerable optimism the work of the newly established Scottish Schools Pipes and Drums Trust and the National Juvenile Pipe Band Fund established by the RSPBA last year. Both offer hope for less well off children who want to learn the pipe band art….that and the dozens of other tutors, parents and enthusiasts who, like the miners, will continue to do what they do for piping come hell or high water.
---
The Vale of Atholl Pipe Band (pictured top) have launched a recruitment drive and at the same time announced that they will be the feature pipe band on BBC Alba's Hogmanay Show. The band's Fiona MacKay has sent this: 'The Vale of Atholl Grade 1 pipe band is currently looking to recruit experienced pipers and drummers to strengthen its numbers in all departments prior to relaunching itself for the new competition season. Any interested pipers, drummers or tenor drummers should contact Pipe Major Adrian Cramb with a brief outline of playing experience or for further information if required.
'The Vale practises in Perth. However, there is the opportunity for groups of players from other parts of the country to have regional practices, making good use of digital media and reducing the need to travel to some of the Perth practices. The band has been competing in Grade 1 since 1983 and has a strong reputation for pushing the boundaries, playing an innovative repertoire and working with leading new composers. It has performed in many concerts over the years, regularly contributing to prestigious events such as the Ryder Cup and playing in overseas music festivals. Closer to home, the band will perform live this year in BBC Alba's live Hogmanay Ceilidh. Although primarily the Vale is an aspiring competition band, these performances provide the band with opportunities to continue to be creative away from the competition circuit. If you are interested in joining the Vale of Atholl Grade 1 Pipe Band please contact PM Adrian Cramb at info@thevale.org.'
---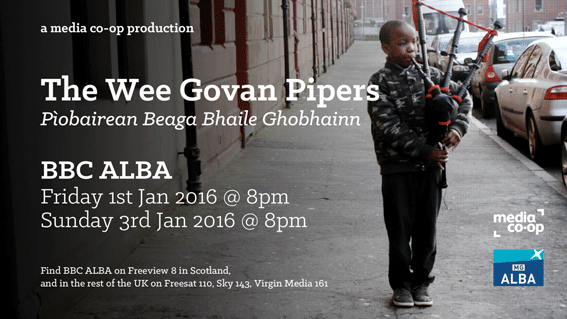 The latest clip from the film 'The Wee Govan Pipers' can be seen here.
---
Tickets for the Field Marshal's World's Week contest 'Impact' are now on sale. Hurry!
---
The Spirit of Scotland Pipe Band, an occasional grouping that features some of the top pipers and drummers from this country and abroad, will be competing at the World Pipe Band Championships next August and perhaps other major 2016 championships as well. This year the band will feature former Shotts drummer Jim Kilpatrick as leading tip. The last time the band played at the Worlds (2008) they managed a very creditable 11th place in a final of 14 bands – a significant achievement given that they had only been together for a few months beforehand.
---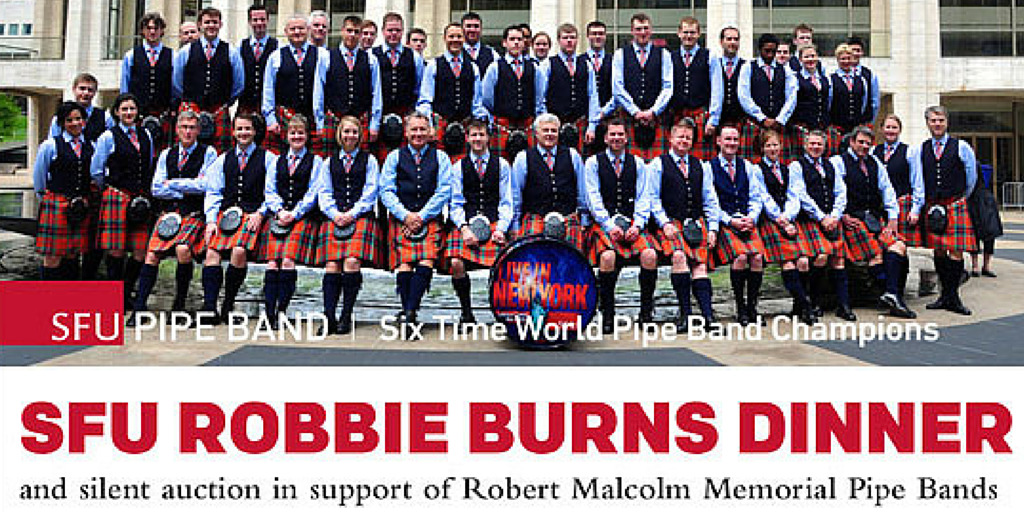 Simon Fraser University PB will be holding their fundraising Burns Supper, or as they call it 'Robbie Burns Dinner', on January 23rd. Here's the blurb: 'Enjoy music of the highlands and the hospitality of the Scots. Six time World Champions, Simon Fraser University Pipe Band, joins four-time World Champions, juvenile pipe band, Robert Malcolm Memorial, to host their annual fundraiser Robbie Burns Dinner. This is the annual fundraiser to raise funds to send the SFU Pipe Band to Scotland for the World Pipe Band Championships. This year will celebrate the great achievements that the SFU Pipe Band has made to the SFU legacy.' If you are in the area it will be well worth supporting. Details here.
---
[wds id="3″]