Vice President Hugh Anderson reports from Saturday's SPA Knock Out: 'We had a really good night despite high winds and heavy rain all day. You could hear the wind gusting in the hall fortunately it was at the back so did not affect the players or the sixty-odd audience. Chris [Armstrong] won the toss and played first and played really well then after the break it was Stuart's [Liddell] turn and he marched in playing before delivering another splendid performance. When the votes were counted Stuart was the player chosen to go forward to the next round. Overall we had a good night with bar taking well up on recent events so we are in a good place to move forward with this event with over 200 viewers on Livestream.'
---
Welcome on board to our latest advertiser, Kilberry Bagpipes of Edinburgh. Proprietor there is P/M Douglas Murray of the Fife Police band. Douglas tells me the band is working hard over the winter to build on their solid 2015 season. Kilberry Bagpipes are in St Mary's Street, Edinburgh, so if you want to avail yourself of the services of an expert, why not call in and see Douglas.
---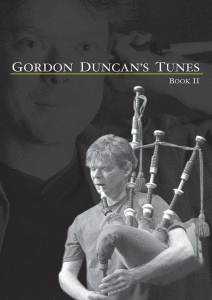 The new Gordon Duncan book (right) goes on sale at the Celtic Connections 'Just for Gordon' concert on 24 January at Glasgow Royal Concert Hall. The book was crowdfunded and those who contributed to this have had copies sent out. What a great idea. Bands, folk groups and dance bands will be poring over the book as I write, looking for more of the late Gordon's gems. I am told it contains everything from a piobaireachd to 'Thunderstruck'! Have you ever heard anything like this last? And whatever the purist might think, has there ever been a piper in history who could match Stuart Liddell's finger? The composer certainly and Gordon Walker; perhaps the late Alasdair Gillies too. We are fortunate these days that we can record this amazing dexterity for posterity, a benefit denied geniuses of the past.
Stuart will be one of the stars at the concert. Here's the blurb: 'January 2016 marks just over a decade since Gordon Duncan's tragic passing, but his inspirational influence still reverberates throughout the Celtic world. Although his instrument was the bagpipes, together with the whistle, and it was in that arena, from pipe bands to solo competition, that his revolutionary impact was first felt, Duncan's peerless, prolific compositions and arrangements have shared his gifts far more widely. Both these dimensions of his unique legacy, and more, are abundantly exemplified in this commemorative and celebratory line-up, anchored by Duncan's very first teacher on the chanter, elder brother Ian, and son Gordon Jr. 
'Appearing tonight are the The Tannahill Weavers who count the man himself among past members, while Galicia's Susana Seivane reflects his pioneering embrace of wider Celtic traditions. Other featured keepers of the flame include Ross Ainslie, Ali Hutton, Jarlath Henderson, Angus McColl, Allan MacDonald, Stewart Liddell[sic], Duncan Chisholm, Julie Fowlis and the National Youth Pipe Band of Scotland.'
Get your tickets for what will be a great night here.
---
Upgrade work on the PP server will mean 20 minutes of possible downtime this evening (from about 9.30pm BST). Don't worry though folks, once through the Lament for Donald Ban and the world's favourite piping magazine will be back with you once more.
---
Reader Ewen Binnie: 'Hi Robert, Re: Run Rig Tune letter from Ron Aitkenhead, Caithness, requesting music for 'Chi mi'n tir'. I would also appreciate a copy of the music for this tune.'
Here it is Ewen both as PDF I See the Land and jpeg: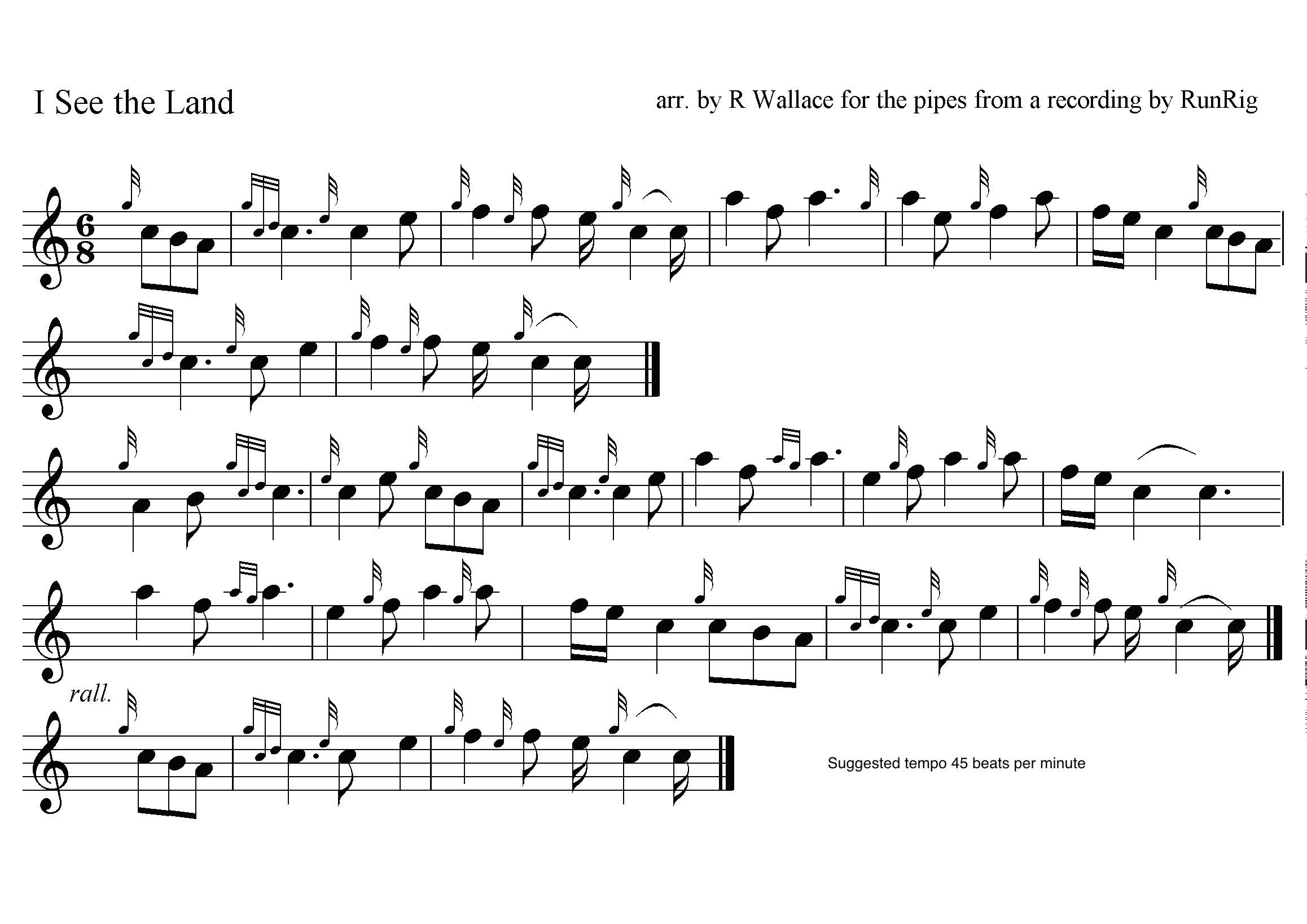 ---
Check out the new Schools Pipe Band Championships website which is on March 13, 2016, possibly at Broughton High School, Edinburgh. (www.thechampionships.org.uk).
The Trust behind the Championship are doing important work behind the scenes on the funding of pipe band tuition in our schools and we wish them well with that.
---
[wds id="3″]