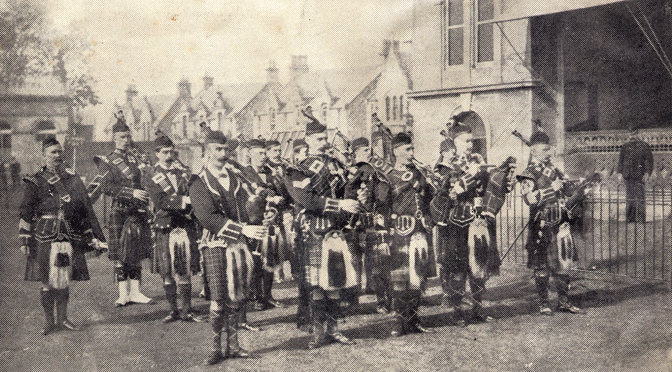 A week from now we will have the first Piobaireachd Society Conference since 2019. It can be difficult to re-kindle enthusiasm after so long a gap, easy-option Zoom meetings making us all lazy and complacent.
But the benefit of human contact and a face to face welcome cannot be underestimated, and the Conference has been part of the furniture in the piping world since as far back as many can remember. It is unique.
First mooted by John MacFadyen, with the support of Seumas MacNeill and Genenral Frank Richardson, it sprang up just over half a century ago, in 1972 to be exact.
The first, held in Minard Castle on the shores of Loch Fyne, attracted both professional pipers, judges, and amateur enthusiast. At John's invitation, I attended my first Conference four years later, 1976, at Middleton Hall, Midlothian.
One of the first speakers at Minard was DR MacLennan, GS's half brother. Here he is showing the audience an old photograph from the 1903 Northern Meeting [above]: 'On the far right, is Charlie Dunbar DCM. I never met him. He emigrated to Canada. He was Pipe Major of the Gordon Highlanders.
'There's Angus Macpherson; Jim Taylor at the back (the tall figure); I think old Bob Meldrum, and I think G.S. McLennan is there at the back somewhere. That's taken just outside the stand.
'Remember that when the Games used to be on the field we used to have to form up outside the Northern Meeting Rooms and march down over the bridge to the Games field, and woe betide you if you couldn't answer your name and play, for you weren't allowed to compete if you'd missed it…This next picture is Oban in 1906, and that's the famous John MacDougall Gillies playing piobaireachd…..'
The conference has always been a satisfying mixture of historical reflection, intelligent study, camaraderie and tunes. This unwritten format will continue next Friday when we gather in the Royal George, Perth. We are expecting 50 souls or more. Saturday lunch and attendance is free, and the day is open to non-members.
---
Northern Ireland Bands
Gilbert Cromie: 'The 2023 local competition season will kick off in Cookstown on June 3rd with the Mid-Ulster Championships which will act as a warm up for the UK Championships in Lurgan a week later. Discussions are being finalised for a contest on June 17th which will act as a warm up for the European Championships in Aberdeen on June 24th. The All-Ireland Championships are on July 1st in Ballymena, and the Ards & North Down Championships in Newtownards on 22nd July ahead of the Scottish Championships at Dumbarton on July 29th.
'A contest on Saturday August 5th is being discussed, and the local season will close with the Ulster Championships and Champion of Champions in Antrim on 12th August giving our bands and drum majors the best possible send off to the Worlds in Glasgow on the 18th and 19th August.
'The programme has been designed around the RSPBA Major Championships with input from band representatives and a very productive P/M's and L/D's meeting, For the first time in the branch's 72 year history there will be no competition in May due to there being no British Championships. The RSPBANI Executive acknowledges the major contribution of local councils for their continued support. Updates will follow over the next few weeks on the branch website www.rspbani.org.'
---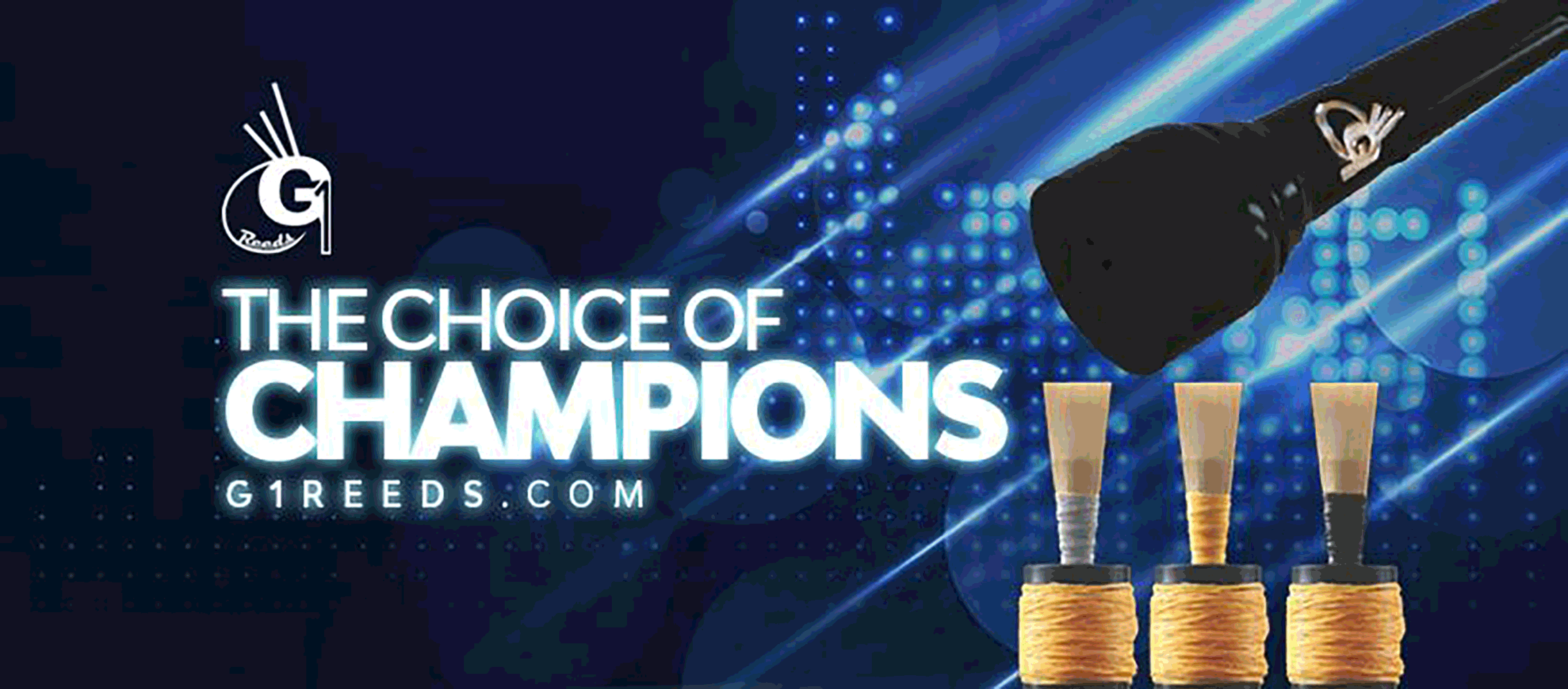 RGH-Heritage-pipingpress-800×300
MacRaeBanner '19

Ayrshire Bagpipes Nov 2020
Selcraft-UK—Piping-Press—Advert
2024_WW_Ad_PipingPress_Ani
---
D.R.'s Pipes
Clive Douglas, who gave us the interesting piece on Willie Fergusson and the Australian Ladies: 'I have another story. It relates back to the photo of DR and mention of his wedding on PP recently. I bought DR's pipes from Brian Donaldson. I sold them to Jimmy McIntosh and used the money the buy Angus' father's pipes.
'The pipes were Henderson, and unusually the silver had two date stamps on the hallmarks, some 1927 and others 1928, I think! I sold the pipes about 25 years ago and never heard anything about them again.
'Then a few years ago I was looking through Jim McGillivray's web site and there were the pipes. It was the hallmarks that caught my eye, but there were other unique things about the pipes too.
'I emailed Jim to let him know about the possible connection to DR, and through Brian Donaldson it was confirmed that these were DR's pipes. (It could never be proved that this was the set that DR had played to win both Gold Medals in 1956. [Oban, Earl of Seaforth's Salute; Inverness, Queen Anne's Lament.]
'It was hard to see in the photo of DR, but the pipes did have silver bushes on the drone caps, not ivory. In the photo it does look like silver bushes. Bit of a long shot, but I just thought it might be the pipes.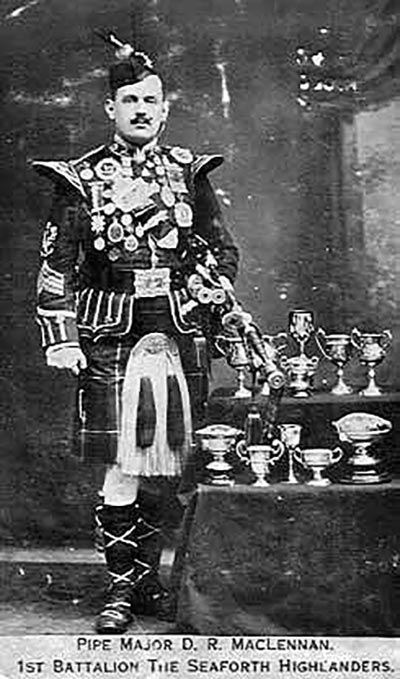 'Just a wee aside. DR's wife was from Argyll, I think she was from Dalnahassaig. I assume that's where GS got the name for the strathspey?
'The second part of the story happened at the Argyllshire Gathering, again about 25-odd years ago. I played DR's pipes for a few years and that day at Oban I went forward to the judges table to play in the marches. Before I could start to give my tunes, John Burgess who was judging, said. 'Is that DR's pipes you've got there'. All proud, I replied that it was indeed. John then looked at me and said:
'Oh they're beautiful pipes. If you're ever thinking of selling them please let me know. I'd love to buy them – just so I could put them through the mincer and then tell everyone that I had destroyed DR's pipes.' Then he gave me a wee wink!
'I was never all that sure what the issue was between them, but someone told me that John had a grudge with DR about him not giving him a Clasp at Inverness when DR was judging and John thought he should have won.'
---
Missing Trophy
Martin Kessler: 'What a nice surprise to be addressed directly! I have always enjoyed to compete up north and do not know if I would have qualified for the Glass Chanter at some stage.
'In my day it was not on the go any more. In the mid 1990s the story was that Alasdair Gillies had not returned the trophy on the basis of his numerous wins over the years.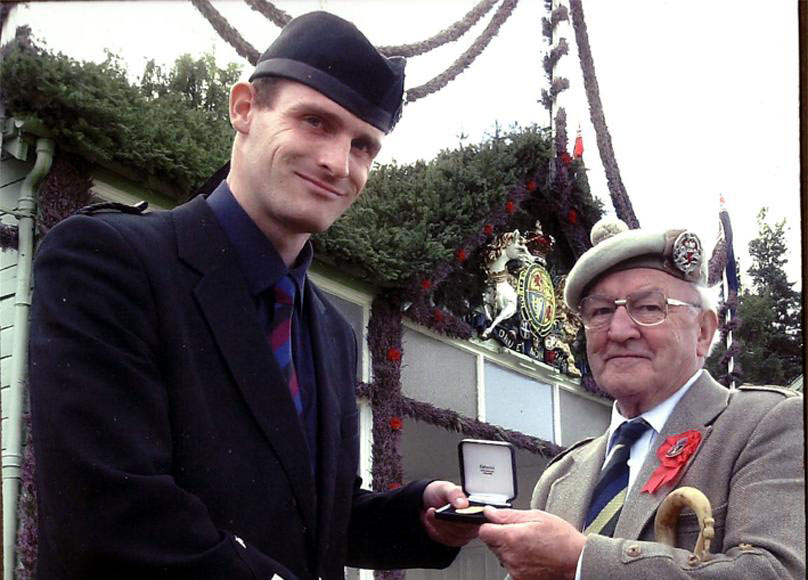 'Another story was that the organisers had accepted this and were to supply another Glass Chanter that could be kept after five years of overall wins up north.
'Perhaps others can add to this or correct the lore from the mid -1990s. Alasdair was not just a man of outstanding ability, he was also a man of integrity, generosity and honour.'
See last week's Notebook for the original story.