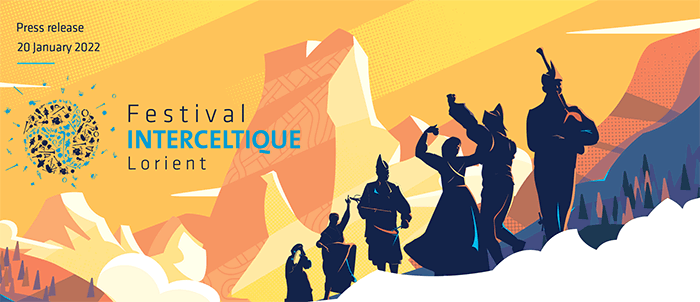 Thankfully this summer is shaping up to what we had back in the good old days of 2019. Lorient Festival, probably the biggest celtic music festival in the world, have sent their 2022 poster celebrating the 'Year of Asturias'.
The blurb reads: 'THE PEAKS OF CELTITUDE! [sic] Immerse yourself in the valleys and mountains landscapes of Asturias. A southerly wind is blowing towards Brittany, spreading the warmth of the south to the interceltic capital! A palette of bright colours evokes the warmth of the southernmost Celtic nation. There are also splashes of blue, echoing the Asturian flag.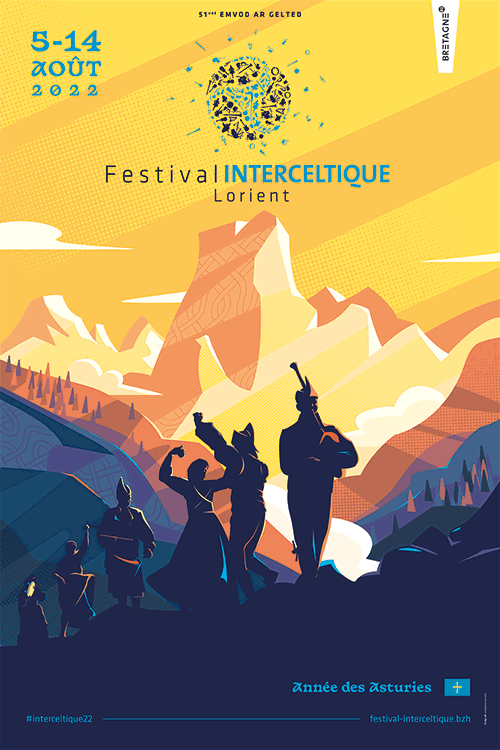 'In the foreground, standing on the ridge, we can see the silhouettes of a typical gaïta band and dancers. Can you hear the beat of the drums and the playful tunes of the gaïtas? Admire the dancers' colourful dresses as they wave their arms in the air. Clap your hands in time with the southern Celtic music as the banda makes its way towards Lorient. Most importantly, let's be there to welcome them!'
There were six facing me as I sat down at a big round table for 12. One distinguished looking man leaned forward, keen to welcome. 'From the kilt I see you must be one of Norman's piping friends.'
'Yes, I knew him very well over the years. We worked together on the series of archive recordings mentioned in his eulogy.'
'I like piping but can't follow piobaireachd.'
'It needs to be explained.'
'I suppose so, but the archive…..what was the point in standardising an oral tradition, making everyone play the same?'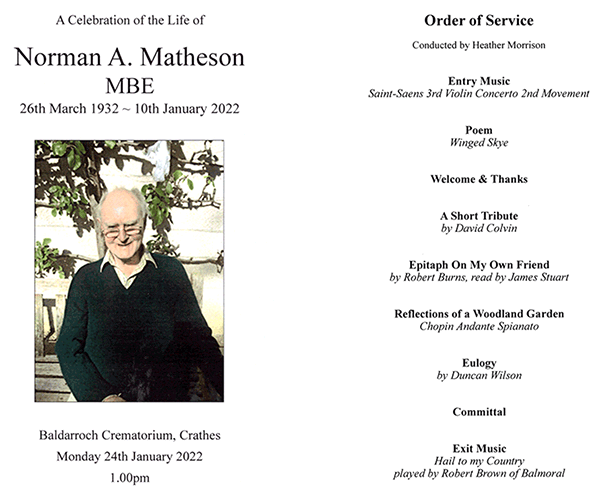 He made a valid point said I, and he was not alone in his view. Of course anyone could parrot Masters of Piobaireachd recordings or any other ceòl mòr source but that was not their purpose.
They provided a skeleton (I thought my learned interlocutor would appreciate the medical metaphor), the sinews of tradition to which the muscle of individual taste and emotion could be attached.
That seemed to satisfy him and he turned away to engage on the sharpening of scalpels or whatever it is a Royal surgeon discusses with his peers.
---
Duncan Watson on Jack Churchill's pipes mentioned a few days back: 'They were full silver mounted and were made by Robertson, Edinburgh. They had been purchased at the expense of the Norwegians as some kind of reward for his wartime efforts/adventures with his bow'n arra!
'At one stage in the more recent times, perhaps 10 or so years ago, maybe more, Campbell MacGougan had them and there was a price of £6,000 on them as I recall. There was a chance that they might have been returned to the Norwegians, but am not sure if that took place.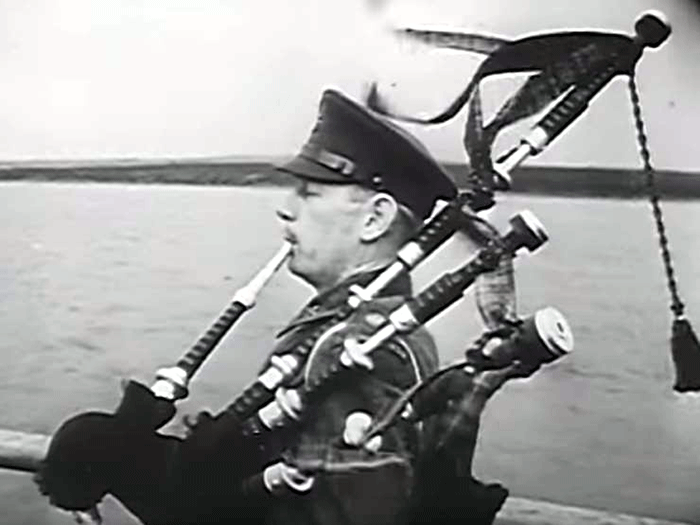 'Campbell is now in a care home in the Alness area. He had another set of outstanding pipes which were MacRae drones as I recall. I think Angus MacColl had use of them for a while, but Campbell took them back when Angus obtained what he has now.
'I have never seen the Churchill bagpipes, but I understand they are an outstanding looking instrument.'
---
Andy Hunter in Brittany: 'When I was corresponding about the traveller pipers story I forgot to ask if you had any info on the piping scene in Melbourne in Australia.
'I have an old friend there who was with me in the Aberdeen OTC band when I was P/M and he would like to meet some fellow pipers.'
Can anyone help? Email the usual address.
---
Reminder once more about next month's Florida Pipe and Drum Academy. Here is the registration link.