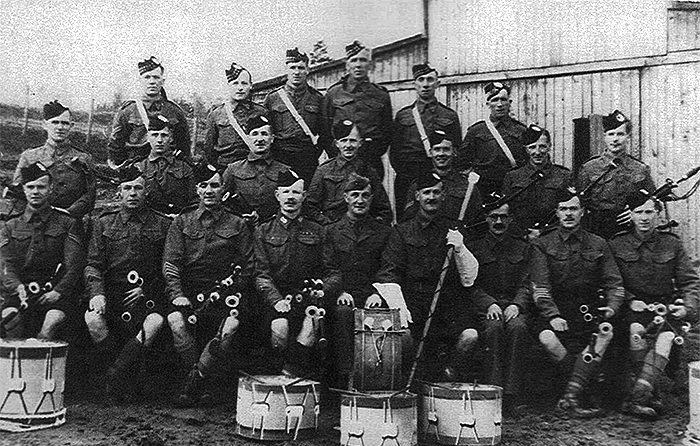 Reader Bob Ash has kindly supplied the above photograph. He writes: 'Here's a photo of WW2 pipers and drummers in the Stalag 383 PoW Camp.
'In the middle of the seated front row (4th from left), is my first pipe major, when I played with the 57th RAMC (T.A.) Pipe Band in the 1960s, P/M Bob Hill (Argyll & Sutherland Highlanders and Scots Guards) and, also in seated front row second from the right, is my piping tutor P/M William MacLeod of Elgin (Seaforth Highlanders).'
One well-known piper who left an account of his time as a prisoner was John Wilson of Edinburgh, writes Jeannie Campbell. He was born in 1906 and was taught firstly by Pipe Major Robert Thomson of the Argyll and Sutherland Highlanders in 1915, then by Pipe Major AR MacLeod in 1916 and then by Roderick Campbell from 1917 onwards.
Despite a childhood accident in 1918, when he lost major parts of the thumb, forefinger and middle finger of his left hand in an explosion when he was playing with part of a detonator, he became a successful competitor, at first as an amateur and juvenile and later as a professional piper winning many top prizes. In 1979 he published his autobiography 'A Professional Piper in Peace and War'.
In August 1939 he volunteered for the Army and became the Pipe Major of the 4th Battalion Queens Own Cameron Highlanders. This is his own story as written in his autobiography:
'I went round the games again in 1939 and was in good form and resumed my winning ways. At Fort William we got news that the Skye Games had been cancelled, so I made my way south to Birnam and competed there.
'This was the last games that year, for war was coming and I was at a loss what to do. Then a thought struck me: if I volunteered for the Army I could get into a pipe band and still continue my piping. I immediately went up to Edinburgh Castle to see Brigadier MacLean, whose father had that lovely march MacLean of Pennycross named for him.
---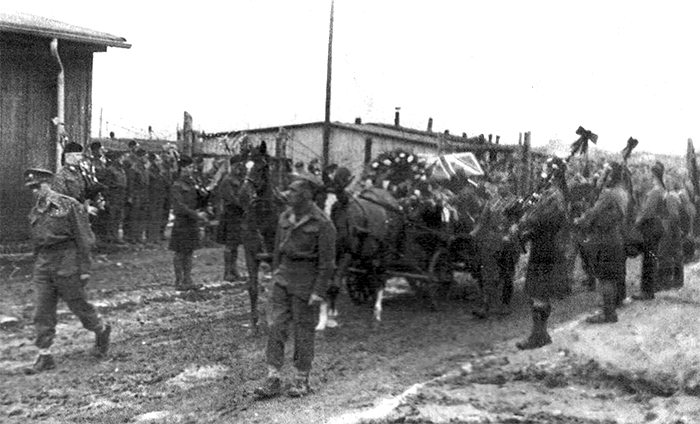 ---
'Brigadier MacLean had served as a Lieutenant with the Cameron Highlanders in India from 1918 to 1921 when my brother Willie had been a piper in the band under P/M W Cruickshank. Brigadier MacLean was a fine Highland dancer and a piping enthusiast and we knew each other from meeting at Highland Games.
'I told him that I wished to volunteer as a piper for the Queen's Own Cameron Highlanders and he advised me to do nothing until I heard from him. A couple of days later he sent his batman down to my home with instructions for me to proceed to Inverness and join the 4th Battalion QOCH and this I did that very day.
'The 4th/5th Territorial Battalion had been split up into two battalions, and Pipe Major William Young had remained in Inverness with the 4th. He was too old for active service and he was getting out, and the plan was for me to takeover as soon as my appointment as Pipe Major came through.
'I had had no thought of being Pipe Major when I volunteered, I just wanted to be a piper, however I went along with the arrangements and Willie Young was very nice and very helpful.
'He advised me to send a lot of spare parts of bagpipes from the stores to Sinclair of Leith to get new parts added to make up six sets of drones and with six new chanters and bags make them complete. This I did and Sinclair made a fine job of them.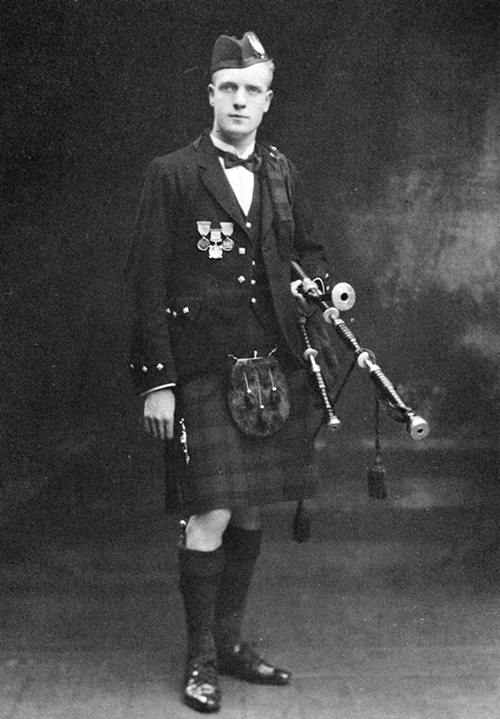 'I was billeted in the Cameron Barracks and soon met the RSM Jock Sleigh. I told him I had no previous military experience and asked if he wanted me to do the usual recruit training on the square. He said that wouldn't be necessary and advised me to spend my time learning all the tunes which were played in the band.
'After two weeks my appointment came through and I was now Pipe Major of the 4th Battalion Queen's Own Cameron Highlanders. I enjoyed playing with the band. It was a completely new experience for me.
'When I had my medical examination at Inverness the doctor looked at my left hand and said 'You may be the finest piper in the world but you are only B3 in my book.'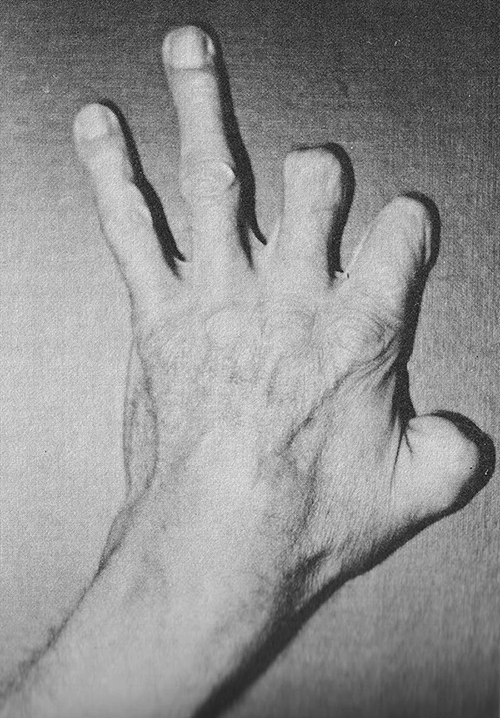 'There was another medical examination with a different doctor when we moved to Aldershot and this time the doctor never noticed or chose to ignore my left hand and I didn't draw attention to it. He put me down as A1.'
The 51st Highland Division held a piping competition at Aldershot in December 1939:
Open Piobaireachd: 1 P/M J Wilson, Camerons (Moladh Morag) 2 CSM N MacLennan, Camerons (Earl of Seaforth's Salute), 3 P/M Cruickshank, Gordon Highlanders (Lament for the Only Son), 4 Cpl D Lamont, Argylls (Mary's Praise for her Gift) 
March, Strathspey and Reel: 1 P/M J Wilson 2 Cpl MacLeod, Seaforths 3 Piper K Lawrie, Argylls, 4 Piper A Wilson, Argylls
Jig: 1 P/M J Wilson 2 P/M Cruickshank 3 Piper D MacIntyre, Camerons 4 Piper Mathieson, Seaforths
---