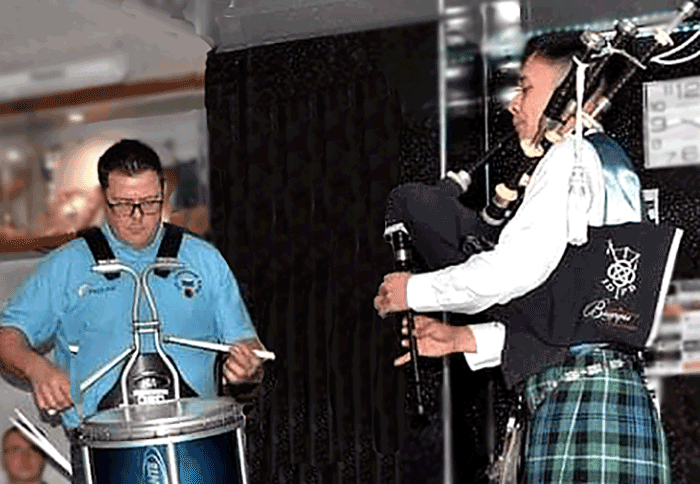 My last judging outing was to the Scottish Schools Pipe Band Championships at Kilmarnock on the 8th of March 2020 so when my good friend and colleague Jim Baxter invited me to adjudicate at his 'LIVI INNvitational Solos' on Saturday, the 13th of November, I was more than delighted to accept.
The day's events took place at Deans Bowling Club in Livingston and comprised two competitions: an MSR and an 'anything goes' freestyle competition.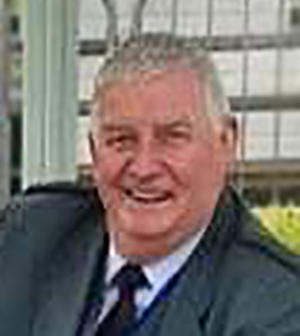 By Peter Snaddon
There was a very large crowd and a great atmosphere as pipe band supporters and colleagues met up for the first time in many months. The bar did a fine trade and the £12 admission was considered very reasonable considering the talent on offer and the fact that all proceeds were going to a deserving and worthwhile charity.
The drumming judges were Gordon Craig, Stuart Coils, Lee Innes and Paul Turner. Together with former Boghall & Bathgate Caledonia piper, Ian Bowden, I was tasked with awarding the first three places to the best pipers in the March, Strathspey and Reel section.
From the adjudicator's point of view, the piping competition was unusual in that the competitors were accompanying their drummers for a change rather than the other way round. At least, that was the role I adopted on the relatively few occasions during which I myself played as accompanist for competing solo drummers, somewhere in my distant past.
---
[wds id="2″]
---
With that in mind, I understood that the pipers might not be able to portray the same freedom of expression and rhythmic flexibility that they could otherwise in their normal solo piping styles, and I took that into consideration during my adjudication process.
There were seven participants playing for nine performances. Two of the pipers played twice and were adjudicated twice which added a slight complication.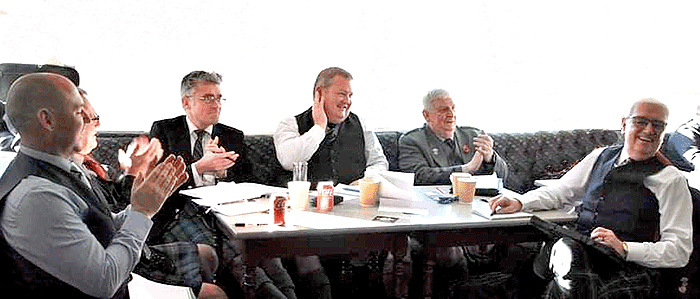 Another was that some pipers stood to the right of their drummer and others to the left which meant that tonal projection from drones pointing away from the audience tended to be obscured by the intensity and volume of sound from the side drum.
The less tonally robust pipe chanters also tended to be overpowered. As one would expect from the level of competitor on this occasion though, all gave excellent performances.
Ian and I judged the competition independently and came to a consensus that one of those performances was outstanding.
There was a disagreement in only one case but that, perhaps unfortunately, is not all that uncommon in the absence of a conferring process.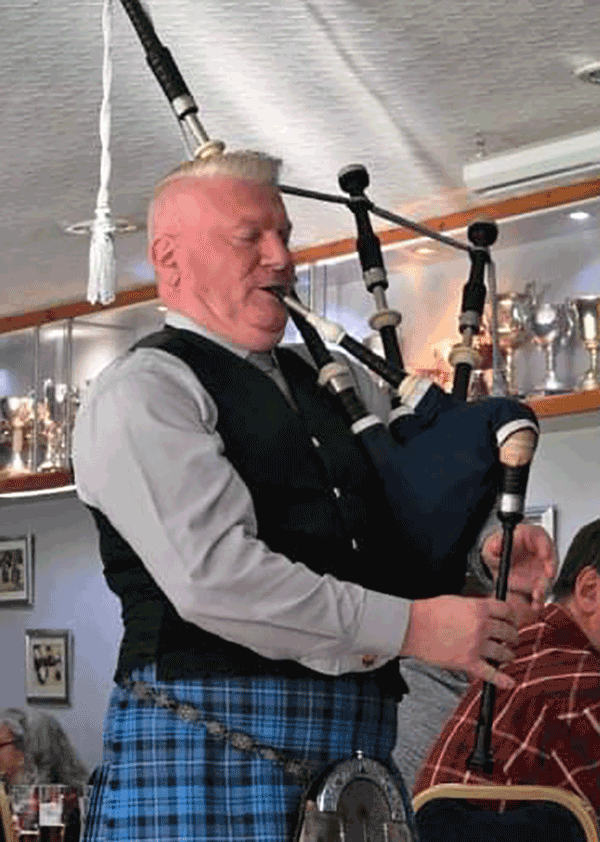 For administrative reasons, i.e. checking-in and driving to and from my hotel, I missed a good deal of the afternoon's freestyle competition but the part I did see was very entertaining. A bugle was introduced into one programme and another included an interpretation of Beethoven's Piano Sonata No.14 'Moonlight'.
The performances were loudly received and applauded by a lively and very enthusiastic audience who judged the competition by popular ballot.
Many items, some of high value, generously donated by sponsors were auctioned off or given away as prizes in the raffle that followed with proceeds going to the charity Enable Scotland which has been the beneficiary ever since Jim Baxter inaugurated the event at his local watering hole, The Livingston Inn, in 2014.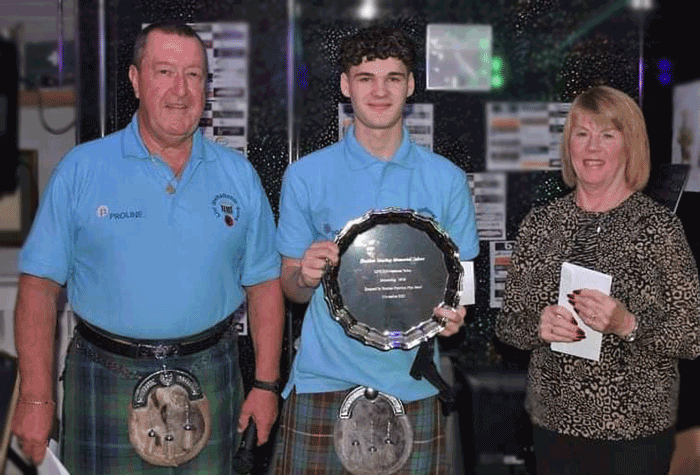 The party at the bowling club carried on well into the evening and the whole day seemed to have been enjoyed immensely by all, including this writer.
Jim, his wife Cecelia and team of very able volunteers, are to be congratulated on their excellent organisation of this fun event which was a refreshing departure from the usual cut and thrust of pipe band competition.
It would be remiss of me to finish this article without mentioning the Heather MacKay Memorial Salver donated by Buchan Petersen Pipe Band which was awarded for the first time to this year's winner of the MSR drumming. A very nice touch by the band in memory of a lady who did so much for pipe bands in the north-east.
Results from the LIVI INNvitational Solo Drumming 2021:
MSR Drumming (Heather Mackay Memorial Salver)
1st Kerr McQuillan – Boghall & Bathgate
2nd Willie Glenholmes – Lomond & Clyde
3rd Aaron McLean- Police Scotland & Federation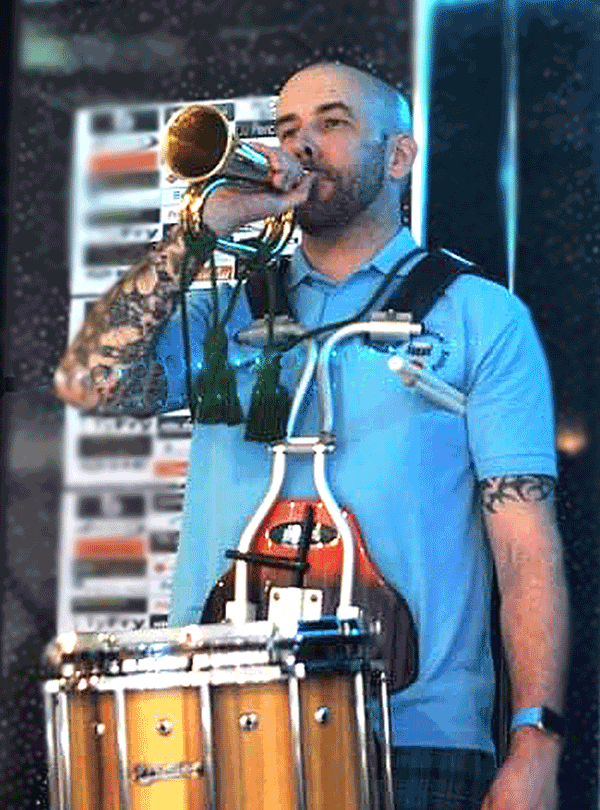 MSR Piping (P/M Alex Samuel Trophy)
1st Calum Brown – Inveraray & District
2nd Keith Bowes – Johnstone
3rd – David Clunie – City of Edinburgh
Freestyle Drumming (Livi Invitational Trophy)
1st – Les Galbraith – Johnstone
2nd – Simon Grant – City of Edinburgh
3rd Willie Glenholmes – Lomond & Clyde
All photos courtesy Stewart Gardiner.
---