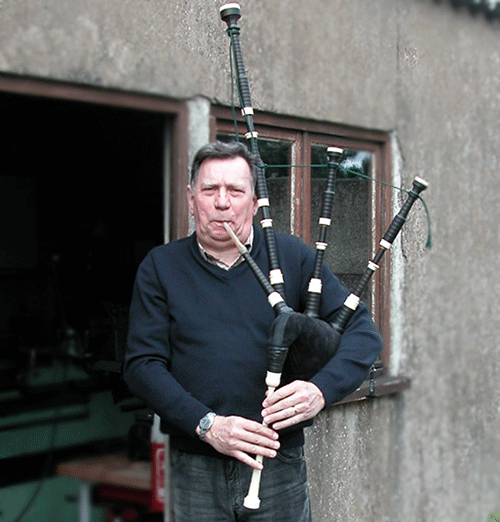 Breton pipe-maker Pierre Blanchet has died after a short illness. Pierre featured in Piping Press recently. He made a significant contribution to piping in Brittany and was renowned for his replicas of antique instruments.
Pierre started playing the pipes at the age of 11 in 1958 in the Saint Nazaire region learning by ear. A piper from the La Baule Bagad (pipe band) showed him the rudiments of Scottish fingering, gracenotes and doublings, and also some elements of music theory.
Pierre made tremendous progress and, in 1967, being called up to the military, he joined the 41st infantry regiment of La Lande d'Oue which had at the time a military bagad.
He soon became pipe major of the band. Service over and back in civilian life, he joined the Saint-Nazaire Bagad where he received tuition from Jakez Pincet who was a permanent teacher at the time in La Baule.
Pierre's progress was spectacular! Eventually the bagad became a pipe band and took the new name of Rederien Ar Mor Pipe Band.
Pierre was appointed pipe major and led them to the Worlds in 1976 where they were placed seventh out of 35, and won the Overseas Trophy.
As far back as 1976 Pierre had a growing interest in pipe-making. In this he was helped by a friend from the city of Nantes who had already made a few sets of pipes as a hobby.
It was this friend who encouraged Pierre to study the treatise on acoustics by Ernst Chladni and his theory on wind instruments: with all of them it is not the material that makes the sound, but the shape and dimension of the air column.
Pierre followed this principle in his pipe-making. His first instrument was a replica of a set of pipes made by Robert Gillanders when he was working for the MacDougall brothers after the departure of James Center for Australia.
Pierre's replicas are renowned for their quality and are much sought after. They include a Donald MacDonald set of 1806, a Duncan MacDougall 1870, and a John Center 1900.
Pierre was the kindest of men and always ready to help pipers wherever they came from. His passing will be a huge loss to piping in Brittany and the world and our thoughts are with his family at this time.
Patrick Molard
---
[wds id="2″]