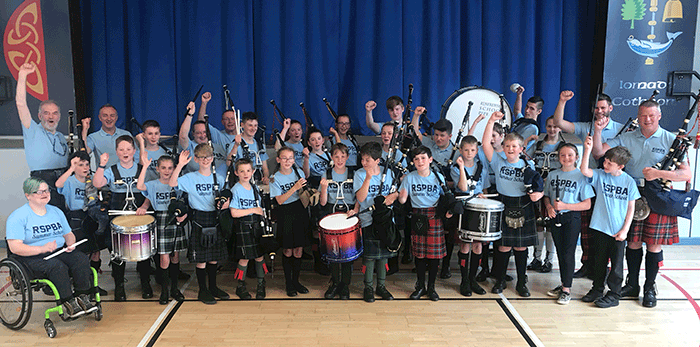 I see that the RSPBA are holding elections for the jobs of Piping and Summer School Principals. This is a statutory procedure which will be carried out at the first Pipe Band College AGM in November. I understand John Nevans is standing again for the summer school job. In my view it would be remiss of the Association's member bands and branches not to re-elect him.
In John they have the ablest of the able and he has proved it over what must be 15 years or so. His was the only RSPBA activity this summer and from what I hear his very efficient online teaching set up was carried out to great effect, the internet giving him a global reach.
I have worked with him at the school and seen him in action so perhaps I am not an impartial observer, but an easy manner, enthusiasm, knowledge and experience are hard to find in any one individual.
The postponed PBC AGM is scheduled for Saturday 13th November 2021. Incidentally John is the father of Dan, the author of the recently published book, 'Piobaireachd is for Everyone'.
---
[wds id="2″]
---
Wasn't that a very interesting story from Archie Maclean yesterday? I've probably mentioned this before, but as a boy I remember his father John judging us round the various contests in the Glasgow area in the 60s.
I was with Archie in the 214 BB pipe band and we both played at our first contest at the Worlds at Ayr in 1964. Hector Russell, another 214 boy, has sent on this graphic detailing our success. It covers my years with the band from age 12 in '64 until '70: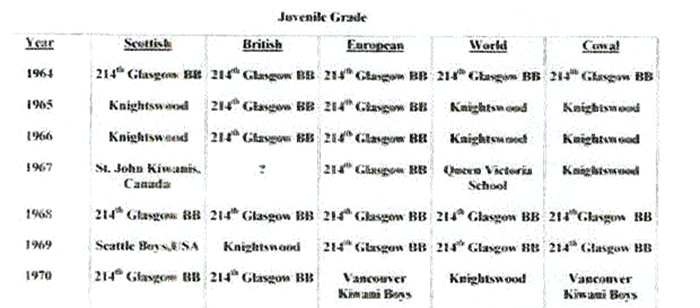 Note that these contest are not in chronological order. Back then the first championship was always the British followed by the Worlds, the Scottish, Cowal and then the Europeans.
Look at the bands listed. Hundreds of boys (less so girls back then) went through these training organisations. Knightswood were our rivals and produced excellent pipers and drummers. I remember the Vancouver Kiwanis too. What a shock they gave us. So well dressed and healthy looking!
They also played like champions and foretold of the emergence of the likes of Port Moody, CP Air, City of Victoria, Triumph Street and ultimately SFU and the Lee dynasty.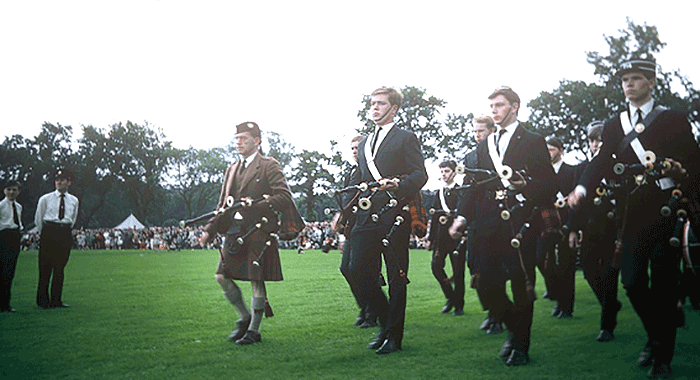 ---
The positive comments on our Focal Dystonia articles keep coming in. Thanks to everyone who has responded. Here's more on the author, Norman Matheson:
Having spent his boyhood in upper Speyside, in 1964 he became a Consultant Surgeon at Aberdeen Royal Infirmary. During a busy surgical career, he was also active in laboratory research both in Aberdeen and in Sweden. Apart from keen interests in piping, salmon fishing and deer stalking, he founded the Grampian Hospitals Art Trust which aimed to enhance hospital amenity with visual art. GHAT became known nationally as a flagship organisation of its type. In recognition of this voluntary contribution, he was awarded MBE in 1998.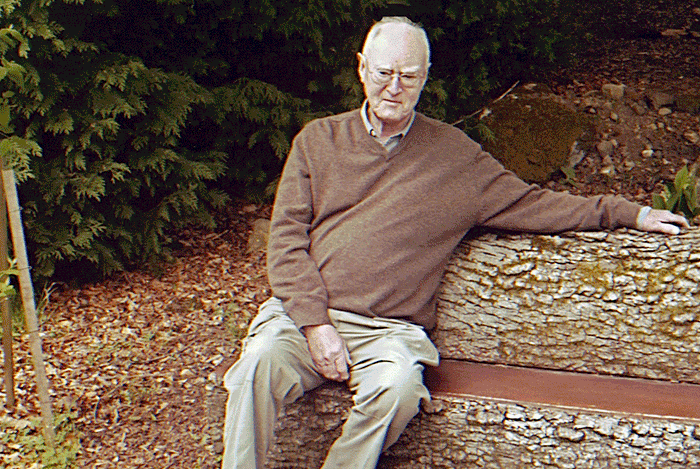 He retired in 1992, and lives in Milltimber, near Aberdeen, where, over several years, he has created a large, much admired, woodland rhododendron garden which has featured on television. During retirement he had fun as a cartoonist, illustrating children's and other books, including Young MacCrimmon and the Silver Chanter. He also wrote and illustrated two much admired books, A Speyside Odyssey and Speyside Memories. A Speyside Odyssey was endorsed by a gracious foreword from HRH Prince Charles.
He began piping as a teenager. Aged 19, when both were competing at a local highland games, Bob Nicol invited him to come for piobaireachd lessons, an invitation that blossomed into almost thirty years of instruction and friendship. In 1970 Nicol introduced him to judging and, in time, he became recognised as a judge of piobaireachd locally and nationally. After having judged at Braemar for more than 40 years, he was elected an Honoured Life Member of the Braemar Royal Highland Society. In 2016, at the Ballater Highland Games, his long service to piping in Deeside was recognised by a presentation from HRH Prince Charles.
Over four years in the 1970s he recorded Nicol's oral interpretations of all relevant tunes in the Piobaireachd Society collection, reflecting his many years of instruction from John MacDonald, Inverness. These recordings were exchanged with piobaireachd societies world wide for recordings of Bob Brown's playing. The resulting oral and instrumental archive was published as Masters of Piobaireachd, a highly successful compilation of ten instructional CDs, which comprehensively enshrined John MacDonald's interpretations as faithfully disseminated by his two major pupils by far.
---
Reader Tommaso Gattuso is looking to buy the following books: 'His Complete Collection' by Duncan Johnstone, Seumas MacNeill Books 1 & 2, The Royal Irish Rangers settings, and George MacIntyre's 'Minard Castle Collection'.
Please email editor@pipingpress.com if you can help.
---