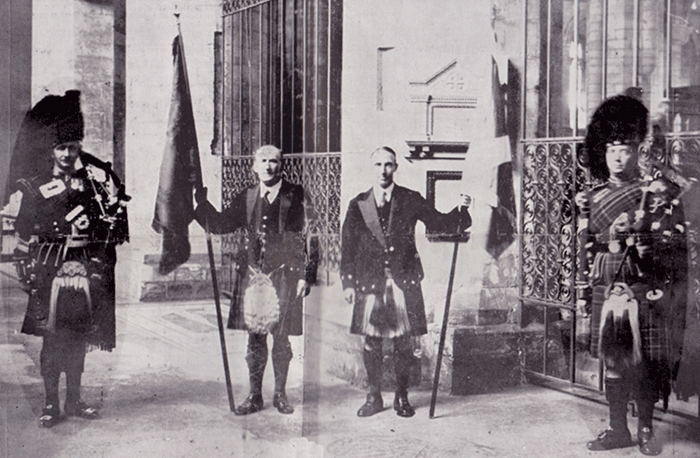 I was interested in the Piping Press article (6th Sept. Donald Morrison Archive) regarding the Northern Meeting piping competitions 1930, which mentioned my father John Maclean (North Uist). Only minor error in the newspaper's report was that my father was in fact Pipe-SERGEANT, not Pipe-Major. He was later Pipe-Major 2nd Btn. HLI.
In the Gold Medal he, like Nicol, played Cille Chriosd (Glengarry's March). His fellow Guardsman, Malcolm 'Baggy' MacMillan was also in the prize-lists.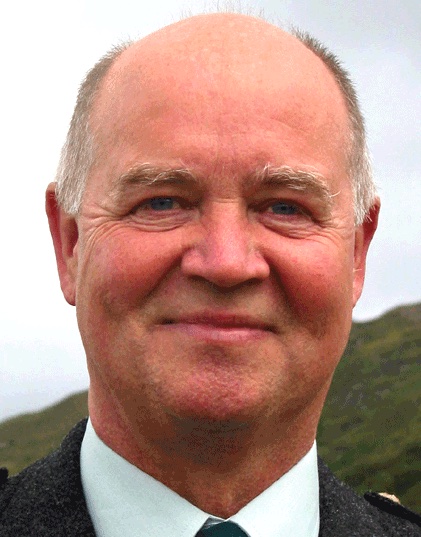 By Archie Maclean
When the downpour occurred, piping judges and competitors abandoned the field. The remaining light music competitions were held in the grandstand under the shelter of its roof!
The Strathspey & Reel results for that day were as follows:
1 RB Nicol (Piper to King George V)
2 Pipe-Sergeant John Maclean (1st Btn. Scots Guards)
3 Pipe-Major Robert Reid (7th Btn. HLI)
4 Pipe-Corporal Malcolm MacMillan (1st Btn. Scots Guards)
[The results of the Gold Medall and Marches were in the original article. Click on the link above.]
---
[wds id="2″]
---
I thought history-minded readers might be interested in the two attached photos from the previous year, 1929 [first one above].
They are extracts from 'The Peterborough Advertiser', commemorating the burial of Mary, Queen of Scots in Peterborough Cathedral.
Six months after her execution at Fotheringhay Castle in 1587, her remains were interred in the cathedral by order of Queen Elizabeth I.
In 1612, Mary's son, King James I, had her remains removed from Peterborough and buried in Westminster Abbey.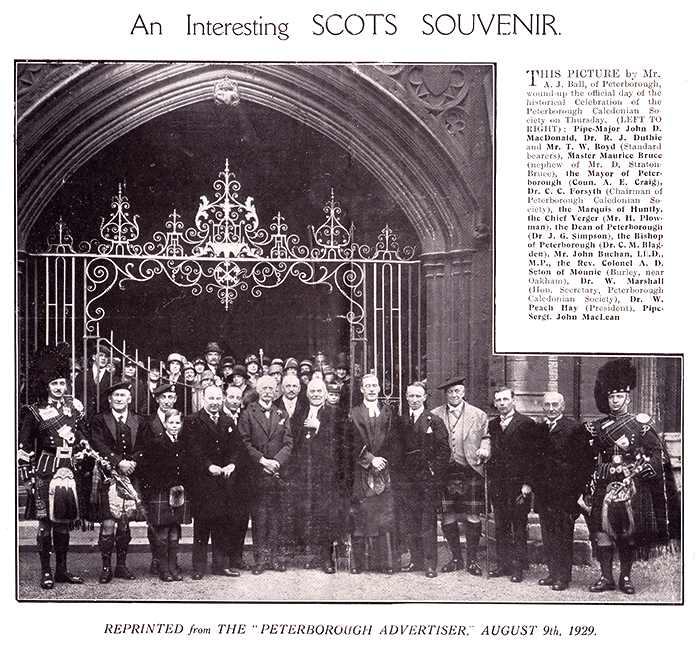 The 1929 commemoration was organised by Peterborough Caledonian Society. In both photos, my father is the Pipe-Sergeant on the right, and his Pipe-Major, John D. MacDonald (Melness), is on the left.
Inside the cathedral, they played The Garb of Old Gaul as two Scottish standards were placed at the site of Mary's former tomb.
In the group photo of dignitaries, the gentleman standing fifth from the right is John Buchan – lawyer, MP, and famous author of 'The 39 Steps' who was the guest of honour and guest speaker. He was later Governor General of Canada.
---