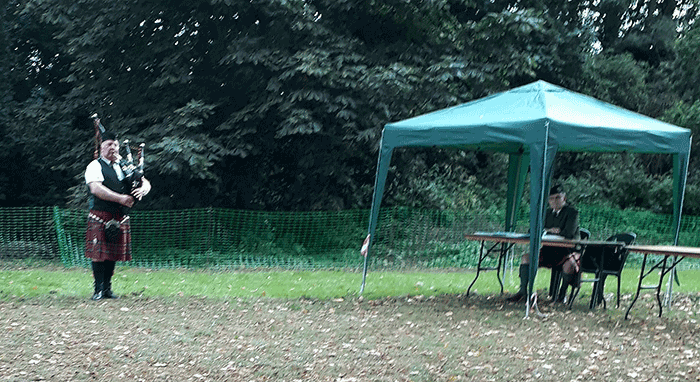 Harpenden Highland Gathering, Sunday 12th September, 2021. The Lions showed their teeth against all things covid and gave a platform to pipers and drummers in the south of England for band and solo performances, writes Roger Huth.
Pictured above is competitor Graham Waller playing for judge Roddy Livingstone. Billy Wardrope from the Scottish Piping Society of London showed his immense worth to that organisation by expertly and easily convening the solo piping single handedly whilst also taking part in all the Amateur himself.
Treasurer of the Piobaireachd Society and Secretary of the Solo Piping Judges Association, Roddy Livingstone, was the heavyweight judge of all the Open and Amateur contests.
Happily, after all the risks and crossed fingers, we were blessed with fine weather and fine performances. I was on hand as a general help and I heard very good performances from the amateur pipers. They had my feet tapping and I admired their good quality pipe sound. In my opinion, it was a good contest.
---
[wds id="2″]
---
Great playing and bagpipes then followed from the professionals in the Open Piping who all received professional dissection from the piping judge. It was a well-fought contest with well-earned and well-deserved prizes. Congratulations to everyone for taking part and making our day a good one.
Results:
Open Piob
1 Steven Cusson, Desperate Battle
2 Fraser Stewart, Cabar Feidh gu Brath
3 James Stewart, Colin MacRae of Inverinate's Lament
Open MSR
1 James Stewart
2 Fraser Stewart
3 Steven Cusson
Open H&J
1 Steven Cusson
2 James Stewart
3 Graham Waller
Open 6/8 March
1 Steven Cusson
2 James Stewart
3 Fraser Stewart

Amateur 6/8
1 William Wardrope
2 Alan Vaughan
3 Laura MacEwan
Amateur MSR
1 William Wardrope
2 Matthew Kirkwood
3 Philip Duthie
Amateur Piobaireachd
1 Matthew Kirkwood, Beloved Scotland
2 William Wardrope, Too Long in this Condition
3 Philip Duthie, Sir James MacDonald of the Isles' Lament
---