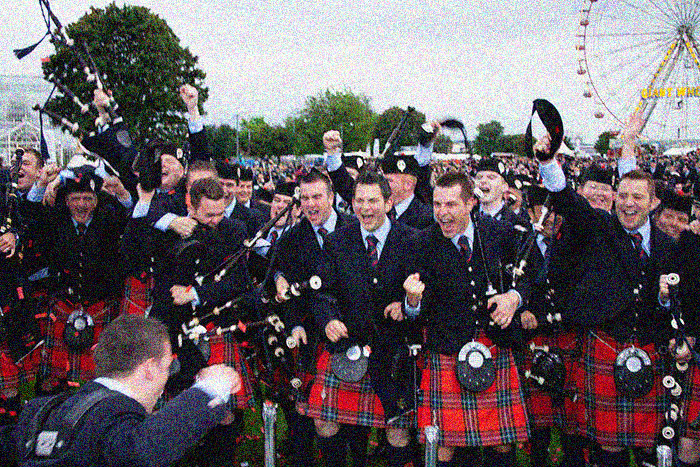 We conclude our editor's reports from the Worlds in 2011 with a detailed review of the Grade 1 Medley and some general thoughts on the competition….
Tunes are back. This was the first, most noticeable feature of the medley competition. For many, certainly the top two in this discipline, out were the old hand-knitted variety of 'composition' and in were the Hen's March and Train Journey North and other traditional staples with some melody about them.
First on were Scottish Power. Other bands march to the flags with a 3/4; the Power play one as their opener. The problem is that there is no statement of intent when you do this. None of the 'listen to us' about it. Let's hope they ditch Castle Dangerous for next year and keep it for their victory parade which one year, undoubtedly, will be theirs.
My notes read: 'Good playing throughout but a lot of tuneless tunes.' The Power are a class act make no mistake but they need better material with which to show off their talent.
6/8s aren't a good intro either. Too laid back. Maybe that was the intention of the LA Scots. Their sound drifted as they progressed but occasional seconds restored interest at times. A very competent, but not yet outstanding, band.
SLOT were a different band in the medley. I couldn't believe it when I saw the summaries and they had been marked so far down. This was the form of last year. I wrote: 'First class entertainment; will be first or second with this.' 4/4 is a poor intro time signature too unless there are heaps of notes to the bar.
---
[wds id="2″]
---
Dowco Triumph Street, sponsored by an emigre Glaswegian with a steel business in BC, did not hit you with the wow! factor from the off. Nor did they with their jigs. There was a flattish delivery here not rescued by seconds. A simpler medley will show off this band's undoubted gifts to better effect. Over-elaborate bridge work should be left to dentists on the make.
Culleybackey had a much better sound in the second run and they played with more punctuation too. The effect of their slow air was ruined by what I suppose you could call counterpoint. It just didn't come off. Thereafter there were some ropey tunes that need to be ditched pronto. Boghall were another band that did not find favour with the judges, though I thought they did very well – at least as good as in the MSR. Still readers must remember that I am in the stands and the judges ringside. They will hear things we in the audience miss. Nevertheless Boghall made sixth overall and won't have to go through the agonies of qualifying in 2012.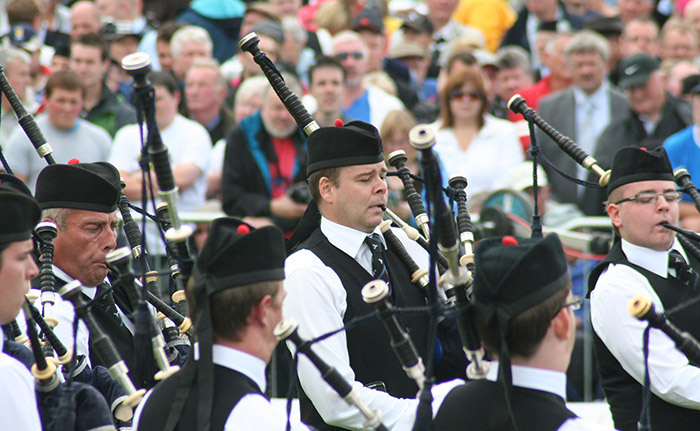 Strathclyde Police had a fine opener in John Scott's Dolina MacKay played as a march; very effective. Thereafter they had a string of really listenable tunes not burdened with unnecessary harmonies and bridge building. I thought they had a much better sound here too. Surprised they didn't do better. Cracking start from SFU with Donald Cameron's Powder Horn as a hornpipe. Real impact and a stronger sound too. This was a great medley full of good tunes, perfectly executed. I wrote: 'It will  take something special to beat this.' It did. 
Shotts' piping lacked precision at times but they did have a better sound in the medley. The drummers – the brilliant Jim Kilpatrick took the corps championship – seemed to play in a closed coven of their own and I wonder if this is affecting unison and integration with the pipers. Let's all hope this proud band with an even prouder tradition can turn things round for next year. Oran Mor came on again with the same big, bold sound. Well schooled, they accomplished their task well with a lack of clarity in some fingering letting them down. And I own up: I couldn't follow the melodic line in the final tune. Fife Constabulary took things too cautiously. They play well but need to go to the edge at this level if they are to impress. Better hung for a sheep as a lamb. Then we had FM. Feel the silence….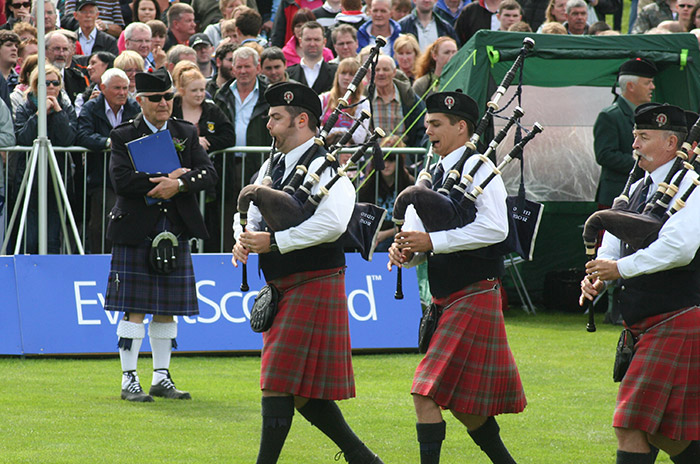 It fell to Manawatu to follow. All tunes were well fingered and controlled. The drones began drifting in the strathspey. Enjoyable, but they were on a hiding after Field Marshal. Last band: Inveraray. They proved that a good finish can shape opinions. Their final reels were a triumph and made you forget about the chanters being slightly thin on top. Other than that it was hard to fault Stuart Liddell's superb young musicians. 
Judges Alan Ronaldson, Jennifer Hutcheon, Denver Cardwell and Harry Russell produced the following result: 1 FMM 2 S Power 3 Inveraray 4 SFU 5 SLoT 6 Dowco Triumph St giving a combined reckoning in the Grade 1 World Championship of 1 FMM 2 SFU 3 S Power 4 Inveraray 5 SLOT 6 Boghall.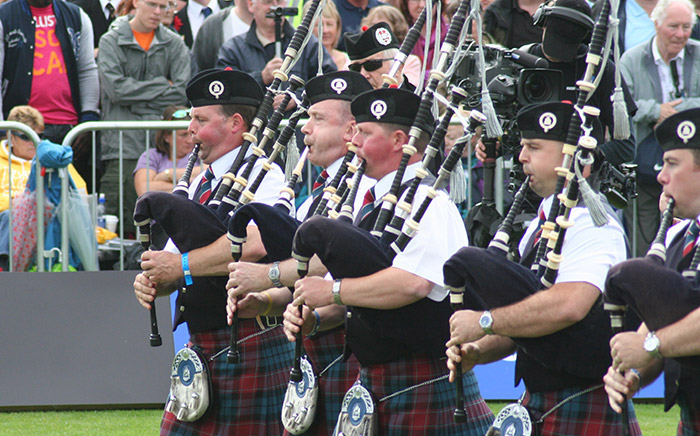 Overall impressions? First, all bands played to a high standard. There were very few false starts, note errors and the other sort of mishaps you usually get when the pressure is on. Second, too many bands were set too sharp and lost the high A as a result. In his post contest interview P/M Richard Parkes said that in his opinion bands were getting too high pitched and losing breadth of sound as a result. He deliberately lowered his pitch this year. Bands, ignore his lead at your peril.
Third, don't judge a contest via television, radio or the internet. There is no substitute for actually hearing the unadulterated sound for yourself. I listened to the qualifier via the web and all the bands sounded about the same.
Fourth, dirty hands and uncut fingernails. More than one reader made this comment. With the cameras homing in on the hands, pipers and drummers in G1 must make sure they get their manicure as smart as their uniforms – get someone else to re-tie those muddy brogues before you go on. 
Fifth, well done to the BBC for providing superb coverage at no charge to the thousands of pipe band enthusiasts scattered round the world and who could not make it to Glasgow Green. We now need the Beeb to exert some pressure on the bands to change the usual circle formation to something more camera and audience friendly.
Sixth, the RSPBA ran a slick championship. Very slick. But 230 bands is too much for one day. Two days beckon. Everyone should support Chairman Gordon Lawrie in this. Some officials were out on their feet come the close of play having been on duty since early morning.
Finally a word for the judges. In the MSR they were exemplary, each holding the same position for every band, never closer, never further away, one piping judge left, one right, ensmble listening to the drums through the pipes. In the Medley it wasn't so good with only the drumming judge and one piping judge holding their position. The other two moved about quite a bit but to their credit more or less held to the same walking routine for every band.
*For all results from the 2011 Worlds go to click here. For the first two reports in this series type 'Ten Years After' into the search box.