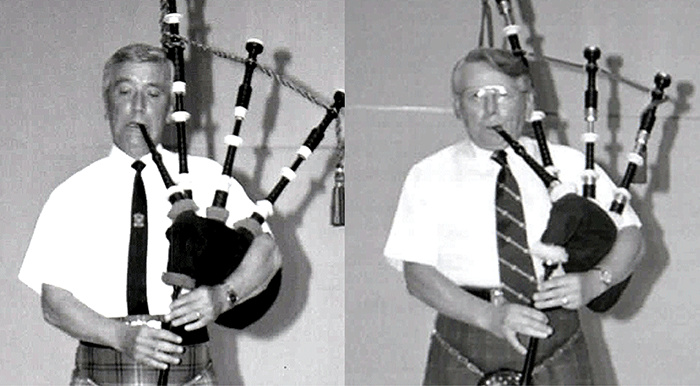 In the past six months we have lost two giants of piping, P/M Iain Murdo Morrison, Lewis, and P/M Jimmy McIntosh MBE of Pittsburgh and latterly South Carolina. PP reader Avi Bloomenstiel of Dallas, Texas, has kindly agreed to share his memories and historic photographs of the time he spent studying with them at a school in the US in the 1990s….
Attached are several photos that were taken at Balmoral summer camps over a three or four year period about 25 or 26 years ago. I had the chance to learn from many great players in those summers, but the instructors with whom I most cherished my time were Jimmy McIntosh and Iain Morrison.
Jimmy was very kind to let me photograph him while he taught. Iain, however, politely declined. Iain was somewhat retiring, preferring one-on-one sessions to class settings. I have a lot more photographs, but these are the ones that have interesting stories to them. Looking through them brings back a lot of memories.
By Avi Bloomenstiel
Every day, when Jimmy would come in to teach, he would put his Naill practice chanted and bound Piobaireachd Society book on the table and then write three words on the blackboard: 'Phrasing, Shading, Rhythm'. They were his mantra, and he would repeat them constantly when giving critiques.
Jimmy saw technique as essential, of course, but also something that could be acquired with time, practice, and repetition. He didn't comment on it much, but would occasionally point out a technical issue, correct it, and then move on.  
However, 'Phrasing, Shading, Rhythm' had to be pursued endlessly, whether the player was a master or a beginner.  This photo was taken just as we were leaving a class. On the blackboard behind Jimmy, you can see the words 'Phrasing, Shading Rhythm':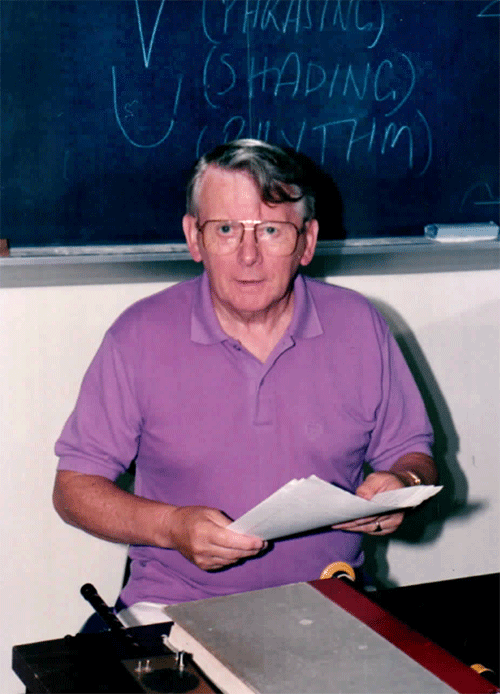 One summer we were doing the Piobaireachd of Donald Dhu (Black Donald's March), and the student playing the first line of the ground just hammered it out squarely. Jimmy held up his hand to stop the playing, then silently turned around in his chair and put an '!' on the blackboard after 'phrasing'.
---
He then turned around and said 'try again and watch my hands!' and proceeded to conduct the first line, signalling the phrase ends with a firm downward 'chop' of his right hand. When we got our tunes going on the pipes, Jimmy would move us outdoors and conduct us through the tunes.  These a few photos are of Jimmy conducting: 
One day, I helped Jimmy take a few sets of pipes in from his car and I noticed his licence plate.  Here in the US, posting photos of licence plates on the web is frowned upon, but this is about 25 years old, so I don't think it is an issue. This was Jimmy's licence plate – no joke – and it says everything about him: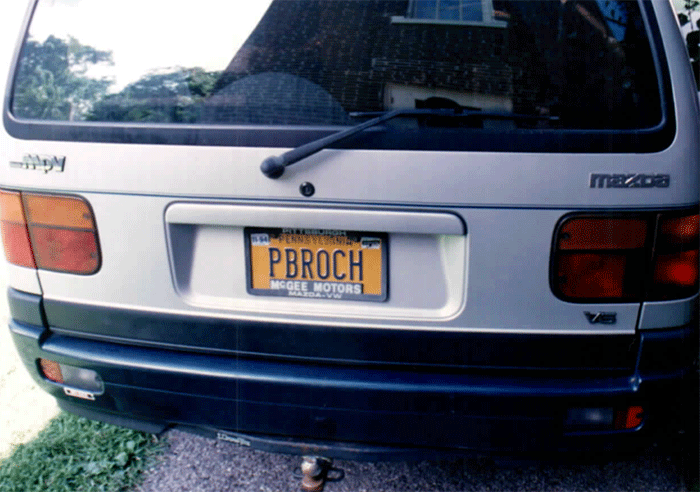 Iain was only at one of the summer camps I attended, but I stayed in touch with him for a few years afterwards. In the late 90s I sent him a cassette tape of my first Grade 2 competition set.  I didn't hear back from him till after the games though.  
To my surprise, he didn't write back, but sent me a cassette of him playing through my reel on the practice chanter with some comments as to how it could be improved. That leads to an interesting point. Iain put a lot of emphasis on reel playing.
That summer I did two piobaireachds with him, but several reels. I later found out that he had everyone at camp playing reels. Iain insisted that reels should not be played with a stiff metronomic 'up and down' beat. Instead, he said that reel playing involved more delicate and subtle rhythmic attention than strathspeys.
Specifically, he taught that the first beat of each measure in a reel was played strongly, but the  second beat had to be 'eased in' or 'massaged' a bit. Five years or so later, I spoke to a friend who had gone to Iain several times at Lewis to polish up for the summer games.  
Iain also had him doing reels, and apparently told him that reels are good training because they demand much more musical sensitivity than they are usually given. 
Iain was, to my ears at least, the best piper I had ever heard. Musically, no matter what the tune or genre, his playing was always lyrical and had a peculiar sense of rhyme to it.  His technique was sparkling and clear. Every single note of his doublings could be heard crisply and cleanly. As a teenager, I remember thinking 'what I wouldn't give to play like that!'

These pictures, and the two at the top of this article, are from a joint recital given by Iain and Jimmy in either 1993 or 1994:  
Jimmy played mostly light music in this recital. I think he ended with the ground of Lament for the Children, but that was the only piobaireachd. His light music playing was, like his piobaireachd, meticulously crafted with lots of attention to phrasing.

Here is a photo of Jimmy and Iain together, saying goodbye to the students at the end of that summer: 
This last photo (L to R) is of Jimmy Anderson (smallpipes instructor), Iain Morrison, Andy White [the Glasgow session and pipe band drummer who played on the Beatles' first hit 'Love Me Do'], Jimmy McIntosh and Scott Walker. It was taken on the side of an annoyingly steep hill, hence the reason everyone is leaning to their right!: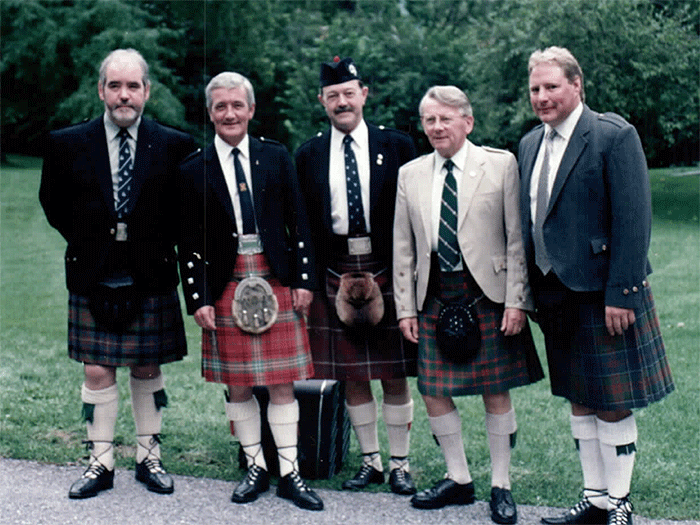 I will finish with an observation about Jimmy McIntosh. I stopped piping in the late 90s (a decision that I very much regret), and didn't return to it for almost 20 years. In the intervening time, I attended university and a music conservatory in Baltimore and finished with degrees in music composition and performance. I was fortunate to study with a lot of great musicians and fantastic composers.
However, none of these musicians ever made an impression on me quite like Jimmy. Jimmy was, like other great musicians, a master of his instrument and a student of his art. However, Jimmy believed in his music with a conviction that other musicians lacked.
He believed in the greatness and immortality of ceòl mòr and could communicate that belief to his students. No other musician with whom I studied conveyed anything close to Jimmy's aura of devotion to, and belief in, the music that he taught. Our small corner of the musical world was fortunate to have Jimmy for the 96 years that he was with us. It may have seemed like a long time, but with his passing it now seems that it wasn't long enough. 
If you would like to leave a message of thanks to Avi for sharing these historic pictures and stories please do so below.