Brittany's Lorient Festival have issued a 'show must go on' message in face of the Covid-19 pandemic. In a statement they say: 'August needs to become the month of celebration and revival of enthusiasm! 'Let's celebrate together the 2020 festival, which opens the doors to the future. We welcome you with open arms to Lorient, the Interceltic capital!'
Scottish organiser Tom Johnstone said: 'Still all systems go for the 50th Lorient Festival. The line up is due to be announced next week.' The festival promotes solo piping contests for piobaireachd and for the lucrative MacCrimmon Trophy and a band contest.
The statement from Brittany, France, goes on: 'The teams of the Lorient Interceltic Festival (LIF) have reorganized themselves and are now working hard to set up the 50th edition. The LIF invites you from August 7 to 16, 2020 to celebrate the Year of Brittany together.
'During these times of COVID-19 crisis, quarantine and anxiety, the festival wishes to express its solidarity above all with the sick and their loved ones, but also with caregivers and rescue teams for all their professionalism, generosity and empathy that we will never forget.
'Our support goes out to all the festivals and cultural activities that had to be cancelled and which severely penalized the artists, producers, technicians etc. as well as all creative and cultural professions. Without forgetting the volunteers whose personal investment, effort and passion contributes largely to keep the culture alive.
'The LIF organization (its President, its Director, its Board of Directors, its permanent staff and the 1,700 volunteers) is attentive and does not minimize the current situation but remains confident. The hold of our festival remains unquestioned.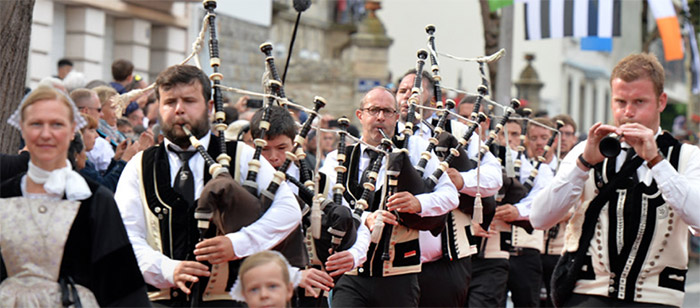 'The programme will be announced on April 16 at 8pm on the festival website and on all its social networks pages. As always, it will be one of the most awaited moments for festival-goers. From this moment on, you'll be able to proceed to the exchange of your vouchers or purchase your shows tickets on the internet.
'We anticipate that the festivities will take place at the Interceltic Festival of Lorient 2020 for our 50th edition! Come and meet us there to celebrate the year of Brittany together!
'We count on your positive energy to sing and dance this summer with us, as every year! Music and culture bring emotions, happiness and help to keep a healthy mind.'