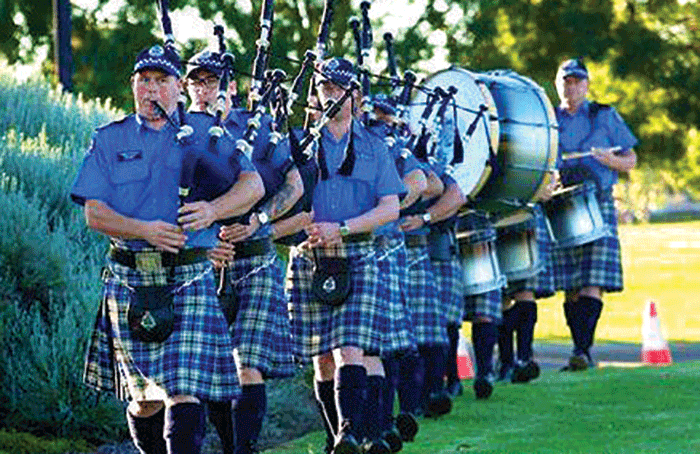 The Western Australia Police Force have sent this….
James Murray has recently resigned from his role as Pipe Major of the WA Police Force Pipe Band and will be taking on a piping tutor role at Scotch College in Perth.
Although Jim's last official day as a WA Police Force employee will be Sunday 6 October 2019, his last day in the office and final performance as Pipe Major will be this Friday's Police Remembrance Day on 27 September.
Our current Pipe Sergeant Stuart Robertson will be taking on the Acting Pipe Major from Saturday 28 September until the vacant position is officially advertised and permanently filled in the new year.
Sgt Ian Stewart APM, the WA Police Force Pipe Band Officer in Charge said 'I would like to take this opportunity to sincerely thank Jim for his huge contribution and dedicated service to the WA Police Force Pipe Band over the past seven years. Since his move from Scotland to Perth in August 2012, he has made a massive impact not only to our band, but also to the pipe band community here in WA and all around Australia.
In addition to the 240 policing and community engagements the band perform each year, he has lead the band musically through two National Championships wins in 2014 and 2016, as well as our Jubilee concert in 2016.
His new role at Scotch College will provide our young WA musicians with some of the best piping tuition there is available today and with his skills, passion and experience in piping, I have no doubt his new role can only bode very well for the many future generations of young pipers in Western Australia, it has been a pleasure to work with him and I wish him all the very best for the future'.
Jim said: 'It has been a pleasure serving as Pipe Major of the WA Police Force Pipe Band over the last seven years. The variety and diversity of the pipe band executing its role has allowed me to meet some great people and lead to new experiences throughout Australia.
'I would like to thank the WA Police Force, band members past and present for all the support given to me as Pipe Major. I look forward to a new challenge at Scotch College Perth and I wish the WA Police Force Pipe Band all the best and a great future.'
The vacant Pipe Major vacancy will advertised internationally in due course, but any immediate expressions of interests from suitably qualified and experienced Grade 1 Pipe Majors or Grade 1 pipers, should forward their full pipe band and employment Resume to Officer in Charge – Sgt Ian Stewart APM at Ian.Stewart@police.wa.gov.au