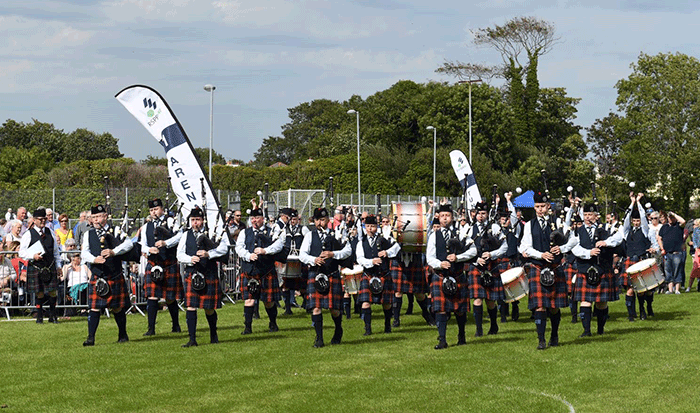 Speaking to a piper who plays with Closkelt (above) over at the All Ireland's. He told me that P/M David Chesney is very strict about who he lets into the band hence they never have that superabundance of pipers that seems to be de rigueur with today's Grade 1s.
I hope David's band don't suffer a visual deficit when they stride on to the big arena next year. Everyone is impressed by the big bands as, in multiple ranks and files, they approach the line. But is their sound any better than the full tone David gets? Does power always have to trump sweetness and clarity?
We urgently need a cap on numbers. Can someone tell me what was wrong with the 12 pipers, four sides, two tenors and a bass set up? (Okay for today's audiences let's increase that to 18 pipers and six sides in G1.) Until, with glacier-like speed, change happens, I'd put judges back in tents. Not that they won't know the band they are listening to, but they are more likely to be influenced by quality than quantity.
P/M Jimmy Banks MBE has sent details of the upcoming Scot Guards KO competition to be held in the SG Club, Haymarket, Edinburgh. Here's the line up:
27 October 2019 Brighde Chaimbeul v Jamie Elder
24 November 2019 Lewis Russell v John Dew
26 January 2020 Angus McColl jnr. v Calum Wynd
23 February 2020 Calum Brown v Bradley Parker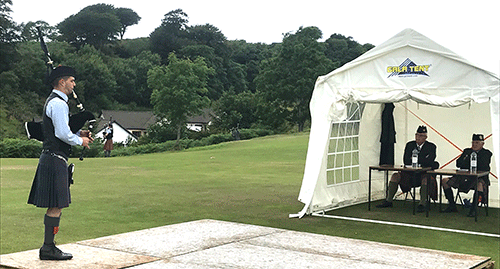 Start time is 4pm. Each piper plays for half an hour and their selection of music must include an MSR and the ground of a piobaireachd. £100 to each piper. The audience votes for the winner, though there will be selected judges for the final. A draw for the semi-finals will be held on February 23, 2020. Call Jimmy on 07855641121
Kilmarnock Pipe Band's AGM last night confirmed the appointment of Dave Harling as their new Leading Drummer. 
I hear that work is almost complete on the new RSPBA HQ in Washington Street though it will be a few months yet before the place is fully operational. It should be well up and running well in time for next year's Summer School however.
I did a piobaireachd class in parallel to this year's school and very enjoyable it was. I saw at first hand the fine work John Nevins, Keith Bowes jnr. and snr. and the other instructors do. The closing concert was well attended by parents and friends of the kids. Here's a picture: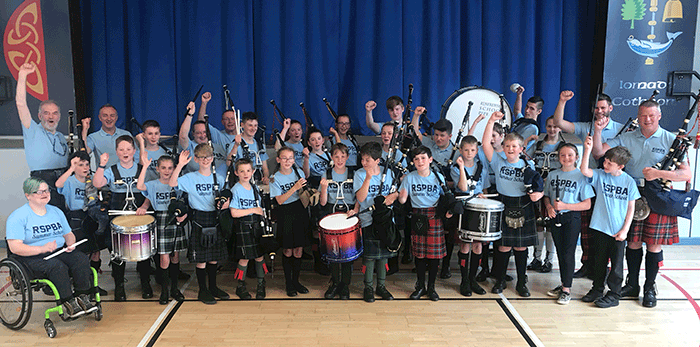 Well done to Ross Campbell and the Queensland Highland Pipers Society for keeping their piobaireachd class going. Here's the latest communication via their newsletter: 'We had a successful morning when the following tunes were played: Too Long in This Condition, The Field of Gold, Melbank's Salute and The Red Speckled Bull. During the morning we studied Duncan MacRae of Kintail's Lament and its bigger setting Colin MacRae of Invereenate's Lament. 
'We are working towards our annual recital day that is scheduled for the 3rd of November at Rochedale High School. The list of participants is nearing completion, so if any of you like the idea of taking part, you had better contact Ross Campbell pretty soon to be sure of a place. The tunes listed so far are as follows: 
'The Munros' Salute, Struan Robertson's Salute, The Piper's Warning to his Master, The McIntosh's Banner, The Old Men of the Shells, Scarce of Fishing, Duncan MacRae of Kintail's Lament, Lament for the Children, Lament for Hector Roy MacLean, Lament for Donald Duaghal MacKay, The King's Taxes, Clan Campbell's Gathering, Lady Doyle's Salute, and Corrienessan's Lament. 
'If you are interested in playing piobaireachd or just listening, you would be welcome to come to our monthly meetings held on the 1st Sunday from 10am until 1pm. Don't be shy. ross_campbell@mac.com or phone 4632­6932 or mobile 0488­952­520.' 
Patricia Grant of the Grampian League: 'I have now completed the John Milne Piping League for 2019. I am led to believe that the standard of piping, expecially in the Seniors, was very high this year and I hope that this will continue.
'It is encouraging to see that the Games within the Grampian Games Association attracted 26 separate placed Juniors in the Light Music and 12 in the Piobaireachd. This is encouraging and hopefully the interest will continue to expand.
'The Light Music in both sections was won by the respective players before Braemar however the same cannot be said for the Piobaireachd. Greig Canning's fourth place gave him one point which secured the Senior section however there is a three way split in the Junior Section.'
Senior Piobaireachd
Greig Canning 11
Allan Russell 8
George Taylor 7
Ben Duncan 7
Anna Kummerlöw 6
Calum Brown 5
John MacDonald 4
Gordon McCready 4
John Dew 4
Matt Pantaleoni 4
Jonathon Simpson 4


Senior Light Music
Calum Brown 44
Ben Duncan 30
Allan Russell 24
Gordon McCready 20
Greig Canning 16
Jeffrey Lawson 13
George Taylor 10
Colin Gordon 8
John MacDonald 7
Craig Black 6
Ross Shand 6

Junior Piob
Christopher Happs 6, Jake Robertson 6, Liam Brown 6, Craig Mitchell 5, Rory Robson 4, Campbell Wilson 4, Kyle Cameron 4
Junior Light Music
Jake Robertson 40, Liam Brown 20, Christopher Happs 11, Eosaph Caimbeul 10, Keiran Walker 10, Travis Gordon 8, Campbell Wilson 8, Hazel Walker 7