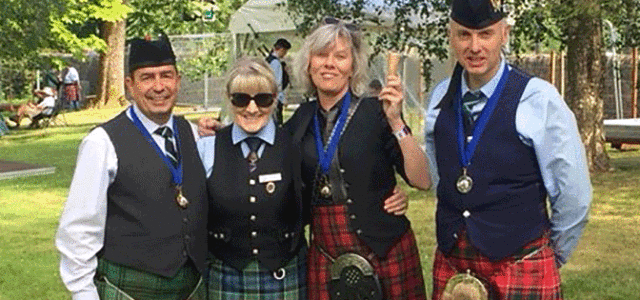 Piping convenor Colina Helen Campbell has forwarded the full results from Saturday's (July 14) piping competitions at Balloch on the shores of Loch Lomond. Mrs Campbell is pictured above with winners in the CLASP amateur league contests.
Open Juv 14 and under March & S/R
March
1 Bobby Allen
2 Fraser Hamilton
3 Calum Barton
4 Mark Morrison
S/R
1.Bobby Allen
2.Fraser Hamilton
3.Calum Barton
4.Mark Morrison
Open Juv 15-17 yrs
March
1 Anna Smart
2 Ian Hamilton
3 Kyle Gordon
S/R
1 Anna Smart
2 Ian Hamilton
3 Kyle Gordon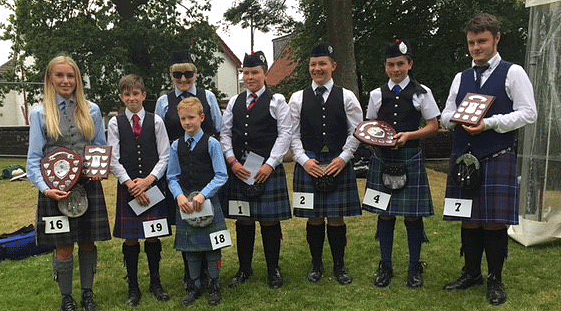 Juv. Open Piobaireachd
1 Anna Smart
2 Bobby Allen
3 Mark Morrison
4 Kyle Gordon
SENIORS
March
1 Kris Coyle
2 Steven Gray
3 John Dew
S/R
1 William Rowe
2 Brian Lamond
3 Kris Coyle
Piob
1 Jonathan Greenlees
2 Mael Sicard-Cras
3 Kris Coyle
4 Bobby Durning
The Rosneath CLASP competition was held at Balloch this year.
Winners were -Grade 3 Piobaireachd
1st Megan Kenney
2nd Duncan Lamont
3rd Stephen Whitton
Grade 2 Piobaireachd
1st David MacKenzie
2nd Robert Wilson
3rd Stuart Allen
Grade 1 Piobaireachd
1st Gordon Hislop
2nd Andrew Park
3rd Janette Greenwood
Grade 3 – 2/4 March
1st Dugald MacLeod
2nd Duncan Lamont
3rd Megan Kenney
Grade 3 – Strathspey & Reel
1st Dugald MacLeod
2nd Duncan Lamont
3rd Megan Kenney
Grade 2 – 2/4 March
1st David MacKenzie
2nd Owen Capon
3rd Dagmar Pesta
Grade 2 – Strathspey & Reel
1st David MacKenzie
2nd Bianca Kail
3rd Owen Capon
Grade 1 – 2/4 March
1st Robert Wilson
2nd Gordon Hislop
3rd Stewart Gaudin
Grade 1 – Strathspey & Reel
1st Stewart Gaudin
2nd Robert Wilson
3rd Gordon Hislop