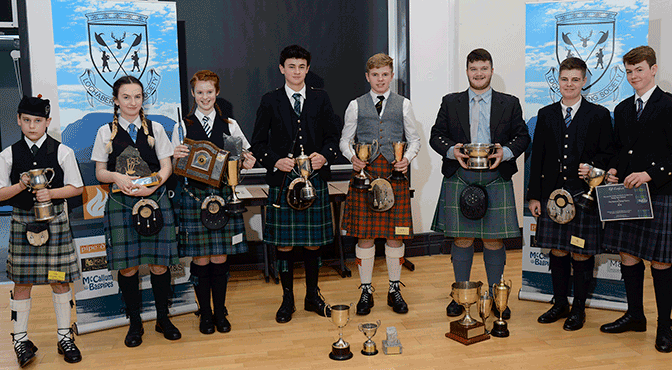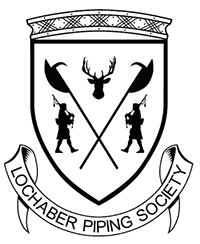 Ken Cameron, Chairman of Lochaber Piping Society, reports: Attached is a set of results from Saturday's Youth Competition, which we would be grateful to have published. The picture shows the piping  winners. We were very fortunate to obtain really strong support, in putting the event on, from the Estates side of the Aluminium Smelter, Jahama Highland Estates.
Sponsorship of prizes was also very strongly supported by contributions from the piping world: McCallum Bagpipes, Pipe Dreams (with Ezeedrone reeds), Maverick Chanters, R.G. Hardie, Dougie Murray (Murray Reeds), National Piping Centre (with Young Stars tuition packages) and Sabhal Mor Ostaig, also with a tuition package. The local Marks & Spencer helped with some catering supplies.
We had a great judging panel, with Euan MacCrimmon, John Don Mackenzie, Duncan Nicholson, Bill Geddes and Iain Hurst, who kept things running smoothly and helped achieve minimum delays. We had a good turnout of 31 contestants, spread across all age groups and hailing from as far afield as Campbeltown, Skye, Dunblane, Inverness and Knoydart (this contestant having to come out from Inverie by boat to Mallaig before the road journey to the Fort).
All contestants and their supporters really enjoyed the day, judging by the feedback received. However, a very late-in-the-day ruling by the CPA [Competing Pipers' Association] scuppered our plans for a 19-20 years Class and prospective participants had to be disappointed by three cancelled Classes.
Lochaber Piping Society held its Annual Youth Piping Competition at Lochaber High School, Fort William, on Saturday 24 March 2018. Results were as follows. 
---
[wds id="2″]
---
Chanter 10 years and under (confined) March: 1st Rosie MacLennan 2nd Fraser Lindsay 3rd Shaughn Paul Dunlop 4th Aidan Patterson
Chanter 11-13 years (confined) March: 1st Connie MacLennan
Chanter 14 years and under (open) March: 1st Grace Kelman
2nd Charles MacLennan 3rd Connie MacLennan 4th Rosie MacLennan 5th Cameron Overend 6th Fraser Lindsay
Bagpipes (Novice confined) March: 1st Struan Robertson
2nd Jac Currie
Bagpipes (Novice confined) Slow Air: 1st Struan Robertson
Bagpipes 16 years & under (Open) Slow Air: 1st Gregor MacDonald
2nd Ciaran Kellett 3rd Rhuaridh Brown 4th Ross Conner
Bagpipes 14 years & under (open) March: 1st Gregor MacDonald
2nd Hector Finlayson 3rd Laura Robertson 4th Andrew Orr
Bagpipes 14 years & under (open) March (Best Local): Laura Robertson
Bagpipes 14 years & under (open) Strathspey and Reel: 1st Gregor MacDonald 2nd Ruaridh Blyth 3rd Hector Finlayson 4th Calum Dunbar
Bagpipes 14 years and under (open) Piobaireachd: 1st Gregor MacDonald 2nd Calum Dunbar 3rd Laura Robertson 4th Ronnie MacIntosh 5th Declan Malloy
Bagpipes 14 years and under (open) Jig: 1st Gregor MacDonald 2nd Ruaridh Blyth 3rd Laura Robertson 4th Declan Malloy
Bagpipes 15-18 years (open) March: 1st Angus MacPhee 2nd Tomas Young 3rd Rhuaridh Brown 4th Ciaran Kellett
Bagpipes 15-18 years (open) Strathspey & Reel: 1st Angus MacPhee 2nd Tomas Young 3rd Ross Conner 4th Ciaran Kellett
Bagpipes 15-18 years (open) Piobaireachd 1st Rhuaridh Brown 2nd Angus MacPhee 3rd Ciaran Kellett 4th Ross Conner
Bagpipes 15-18 years (open) Jig: 1st Angus MacPhee 2nd Rhuaridh Brown 3rd Tomas Young 4th Ciaran Kellett
Bagpipes Piobaireachd (P/M D MacLeod tune) (open): 1st Angus MacPhee 2nd Ross Conner 3rd Ciaran Kellett 4th Calum Dunbar
Youngest Competitor: Grace Kelman (8 years old)
Lochaber resident – Best in chanter classes: Connie MacLennan
Lochaber resident – Best in Novice Piping Class: Struan Robertson
Best Lochaber Girl Piper: Laura Robertson
Best Lochaber Boy Piper: Equal, Ronnie Mackintosh & Andrew Orr
Best Lochaber Piper in 15-18 Piobaireachd: Amber MacDonald
Best Lochaber Jig Piper (over both age groups): Laura Robertson
Dress & Deportment: Equal, Robbie Martin & Martin MacRae
---
[wds id="10″]