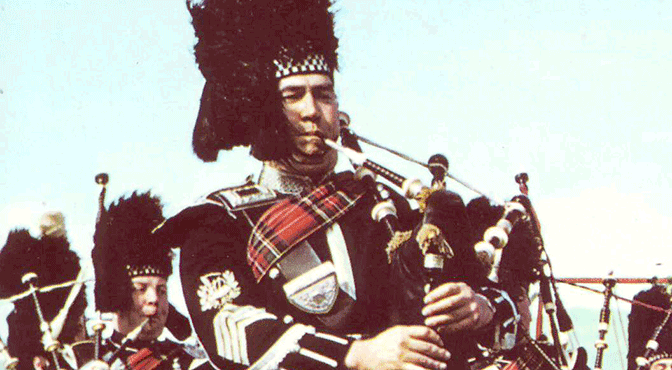 Thanks to Piobaireachd Society President Dr Jack Taylor for forwarding new archive recordings to Piping Press. They are from the Society's Robert Reid audio archive and feature P/M Ronald Lawrie and Jimmy Young playing at the 1956 'Echoes of Oban' concert held at the College of Piping.
P/M Lawrie, Gold Medallist and Pipe Major of the City of Glasgow Police Pipe Band, plays his own tune Glenfinnan Highland Gathering – making this an historic recording – and an MSR Bonny Ann, Shepherd's Crook and Lochiel's Awa' tae France.
Ronald Lawrie was one of the great characters of post-war solo piping. Standing six feet four inches tall his massive bulk belied a gentle, kindly temperament and a keen sense of humour. Ronald was born in 1927 and died in 2008. He was taught by Donald Maclean of Lewis, Thomas Pearston, Robert Reid, John MacDonald, Glasgow Police, and had piobaireachd from Ronald Morrison.
He was Pipe Major of Glasgow Police from 1967 -1972 taking them to second place in the World Pipe Band Championships in his first year – at Oban his home town. He won the Oban Gold medal in 1961 and the Former Winners at the Argyllshire on two occasions, 1957 and 1960.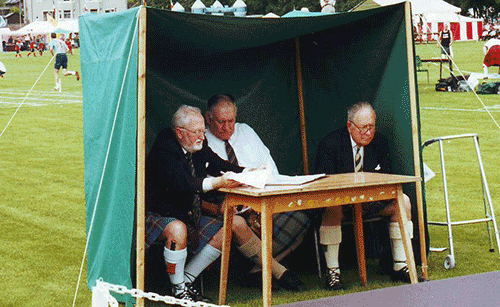 Jimmy Young, latterly a tutor at the College of Piping, plays two 6/8s Lord MacPherson of Drumochter and Leaving Port Askaig and an MSR P/M John Stewart, Lady Loudon, Mrs MacPherson of Inveran and Duncan Lamont. Jimmy Young was an active judge until he had a stroke whilst teaching at the College. He was taught originally by his father and then by an uncle, William Young. He had a successful solo career but never quite managed the Gold Medal taking second on four occasions. He won the strathspey and reel at Inverness in 1957 and the March there in 1961.
Access the recordings on the PP Audio Archive and thanks again to Dr Taylor and the Piobaireachd Society for making them available to us.
---
[wds id="2″]
---
Pauline Craib: Could you please add details of the CPUB Highlands & Islands Young Piper of the Year 2018 competition to your website and the Guide to the Games.
The competition will be held on Thursday 19 July '18 at Sgoil Lionacleit (Benbecula) with a Ceilidh and Prize Giving afterwards at the Dark Island Hotel.  I have attached the entry forms which can either be returned by post to the address on the forms or by email to
youngpiperoftheyearcompetition@gmail.com
.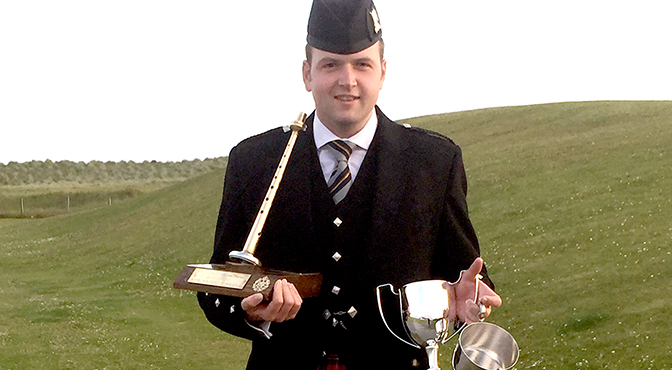 There will be medals for juniors placed 1st to 4th in all events and cash prizes for the Seniors as follows:
Piob
1 £200 2 £150, 3 £100, 4 £75
March
1 £100,  2 £75, 3 £50, 4 £25
S&R
1 £100,  2 £75, 3 £50, 4 £25
H&J
1 £75,  2 £50, 3 £25, 4 £10
It may interest competitors to know that the South Uist Games are on Wednesday 18 July and the North Uist Games on Friday 20 July. Download entry forms here.
---
[wds id="39″]