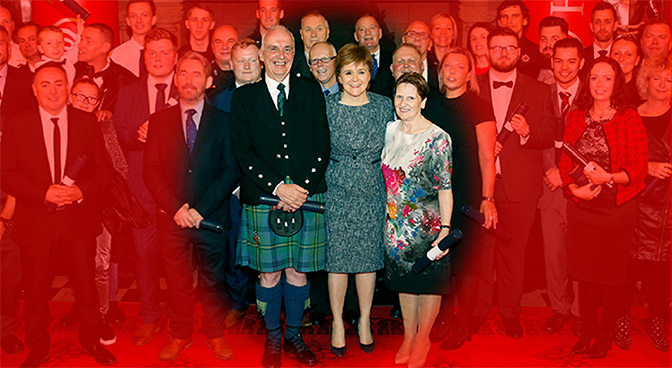 Well they've always been heroes to me but now their bravery has been officially recognised by the Scottish Government.
Tommy and Anne Johnston received their Brave@Heart Awards from Scotland's First Minister Nicola Sturgeon at a special ceremony at Edinburgh Castle on Tuesday (above). They were among 47 people from the emergency and voluntary sectors and the public to be presented with Brave@Heart Awards recognising acts of bravery and heroism. Of the 47 winners, 17 awards were presented to members of the public.
Tommy and Anne received the awards for tackling a burglar breaking into a house near their Glasgow home. Tommy gave chase and held the offender until the police arrived.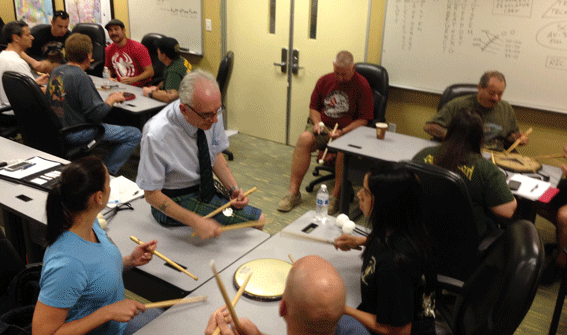 Everyone in the piping and pipe band worlds will wish us to pass on their congratulations to them. Tommy is the drumming instructor at the South Florida Pipe and Drum Academy and also at its sister Academy in New England where he is already a hero to the students. In addition Tommy is known throughout the piping and pipe band worlds for his meticulous attention to detail in the manufacture of reeds for Pipe Dreams, the company in which he is a partner with respected senior adjudicator and teacher Ronnie MacShannon.
Anne is a noted piping tutor and a pioneer for women in piping. She was the first female recipient of the Silver Medal and battled against male prejudice in the 1970s to stake her place in Grade 1 pipe bands.
Tommy and Anne are the proud parents of Finlay Johnston, the double Gold Medallist and Clasp winner.
---
[wds id="6″]
---
A busy weekend of piping. Tomorrow sees the annual Glenfiddich Championship at Blair Castle. If you can't manage then the day will be livestreamed over the web. Check out the runners and riders here. Proceeds from the broadcast will go to the Festival of Juvenile Piping held each year in North Ayrshire and now in its 12th year.
On Sunday more quality piping at the Scots Guards Association KO at the Association club in Edinburgh. Pipers are Ben Duncan and John Dew. The music starts at 4pm and entry is £5 with pies for sale at half time.
---

New piping post in the Highlands at a salary of £24,000 – £33,000 per annum. Applications must be in by Nov 6. Click here for more.
Also Gordon Bruce's job in West Lothian is being advertised at 35 hours per week at the same wage as above. Applications close this weekend. Click here for more. Gordon has taken up the job of pipe tutor and pipe major at St Columba's School in Kilmalcolm, Ayrshire. Gordon is pictured above with the West Lothian Schools band. He did a great job there and they will be sorry to lose him.
---
A lady in New York is looking for a home for her late father's extensive pipe band LP collection. Check out our Letters pages for more.
---
[wds id="3″]