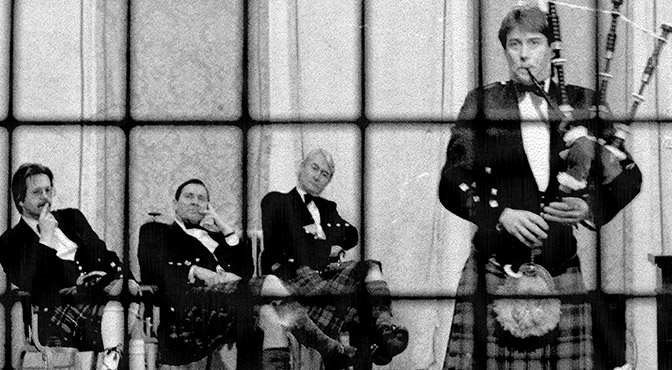 The Northern Ireland Piper of the Year contest takes place in the Adair Arms Hotel, Ballymena, Co. Antrim, tomorrow. The piobaireachd starts at 12 noon and the MSR at 7pm. All are welcome. Judges are Angus MacColl and David Caldwell and the hosts Kenny Stewart and Chris Stewart.
In the PP archive picture above a youthful Angus is photographed through the window performing at the now unfortunately defunct John MacFadyen Memorial Trust Lecture. The lecture was a showpiece event and used to be held every spring in the historic surroundings of Stirling Castle.
Also in the picture are that year's lecturer, history professor Allan MacInnes, Trust Chairman, the late Alasdair Milne, and Trust Secretary Neil Fraser, Head of BBC Radio Scotland from 1987 -1992 and a leading Gaelic activist. I think this must have been in the late 80s but perhaps someone can give me a more accurate date. Read about Alasdair, former Director General of the BBC, here. 
More up to date, here are last year's winners at the NI Piper of the Year: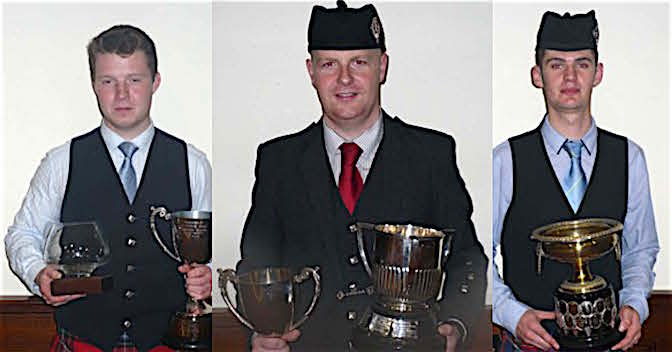 Stay tuned for results when we get them.
---
From Piper Press of May 1999:  'The Scottish Pipers Association proved once again that open piping competitions are not impossible to run if they are properly graded and organised. Their 1999 event was an object lesson in how to carry this difficult task off.
The contest began at 10am and finished at 6.30pm. There were 58 pipers entered, 36 in the 'B' grade piobaireachd. The number of young professionals recently out of the amateur ranks who seized this opportunity of making their mark among the big boys was significant. Innes Smith took the 'B' Piobaireachd and March, and Simon McKerral the Strathspey and Reel.
'Other notables among the 'B' list were Niall Stewart, Andrew Hall, Allan MacColl, James Johnston and John MacPhee.
In the senior events William McCallum won the overall and the member's trophy with Greg Wilson taking the Former Winners MSR and the Strathspey and Reel. Stuart Shedden continued his good form with second in the 'A' Piobaireachd, and Leslie Hutt must surely now be given his place in the Gold Medal list following his third prize.
'Competition chairman was Dr Leslie Craig and the judges were Ronald Morrison, James Young, Donald MacPherson, Angus J MacLellan, Hugh MacInnes and Joe Henderson. Congratulations are due to Glasgow Academy for providing the SPA with premises free of charge, the Competing Pipers Association for helping with the stewarding and to the SPA themselves for continuing to provide an open platform for the aspiring professional.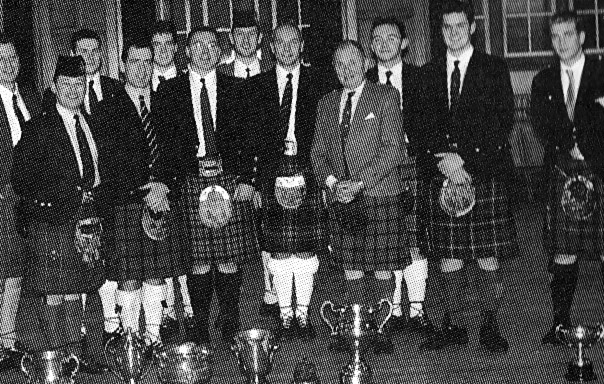 'A' Piob: 1 William McCallum, Lachlan MacNeill Campbell of Kintarbert's Fancy 2 Stuart Shedden, Lament for Captain MacDougall 3 Leslie Hutt, Rory McLoude's Lament 4 Brian Donaldson, MacDougall's Gathering
Former Winners MSR: 1 Greg Wilson 2 Brian Donaldson 3 William McCallum
March 'A': 1 Gordon Walker 2 Michael Gray 3 Peter Hunt
S&R 'A': 1 Greg Wilson 2 Iain Speirs 3 Michael Gray
'B' Piob: 1 Innes Smith, Corrienessan's Salute 2 Niall Stewart, Wee Spree 3 Andrew Hall, Donald of Laggan 4 Donald Campbell, The Groat
March 'B': 1 Innes Smith 2 James Johnston 3 Allan MacColl 4 John MacPhee
S&R 'B': 1 Simon McKerral 2 Allan MacColl 3 James Johnston 4 Innes Smith
All of the judges on the benches that day have now, sadly, passed on, but memory serves well. Donald MacPherson would quietly mention when his pupils were playing, and thus, rather than relegate himself to the lower contests, was able to give the top players the benefit of his expertise and knowledge – and the contest the status it deserved.
---
[wds id="6″]
---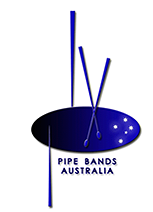 Pipe Bands Australia have confirmed the following as office bearers for the next two years:
President Chris Earl (re-elected unopposed)
Secretary Steve Patterson (re-elected unopposed)
Treasurer Tim Bodey (re-elected unopposed)
Committee: College representative Tony Bidgood (re-elected unopposed) and James Cowie
College principals Tony Bidgood (drill and dress), Dean Hall (drumming) and Jamie Forysth (rules and administration) were re-elected unopposed and Brett Tidswell was re-elected principal piping.
---
[wds id="3″].