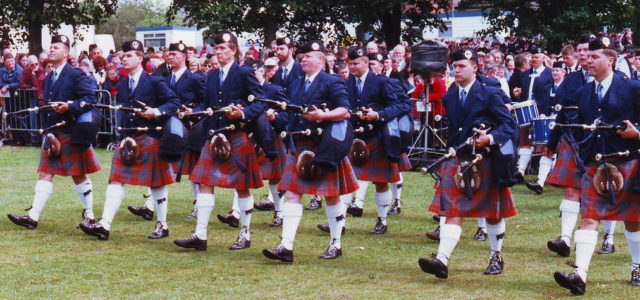 It is with real sadness that I report the passing of Andrew Bonar who has died after a three-year battle with brain cancer, writes the Editor. Andrew (51) was a brilliant piper with the Simon Fraser University Pipe Band and on the front rank during their glory years of five World Championship wins under P/M Terry Lee. Andrew is fourth from the left in there picture above.
Andrew was also an accomplished solo piper and later in his career took to studying piobaireachd where he was quickly successful winning the Silver Medal at Inverness in 2010.
I interviewed him after that success and I can honestly say that I have never met a more humble or grateful man. Yet within a few years fate struck and he was diagnosed with his last illness.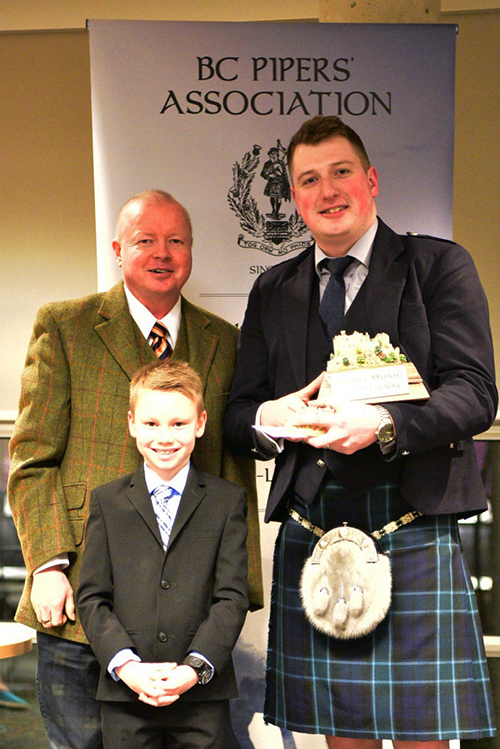 Andrew, an air traffic controller by profession, remained positive throughout his treatment and was buoyed by the many messages of support from throughout the piping and pipe band worlds.
None gave greater support than the pipers and drummers of the SFU Pipe Band. They were with him to the end and it is to their eternal credit that they did all they could to offer him and his family what comfort that was possible in such trying circumstances.
P/M Terry Lee has sent this tribute: 'Andrew came to the band in 1980 (then City of Port Moody PB) as a lad of 14 years.  He still stands as one of youngest to join our pipe corps through the years.  Whether in solo or band performance, 'Boney' had a real zest and determination for the task at hand.  He was always one to take on the biggest jobs – nothing really fazed him.  But amid this determination Andrew had a warm personality and was always interested in others; he was a friend to all.
'He was a gifted performer and feisty competitor. His mind is what set him apart though and he was about as comfortable switching hands, or even playing a tune in reverse (front to back) as he was playing it in conventional mode. These are things most of us cannot even comprehend.  He was always pushing boundaries.
'Being both naturally talented and a hard worker kept him 'in the hunt' for prizes for an extended period of time. As a composer and arranger he was of the first rank and the band played a number of his catchy tunes and transpositions through the years.
'However his other main focus was his family. He was a very proud father with daughter Kate doing very well at Highland dancing and his son Cameron a new and promising young piper.  Boney was 'Captain Facebook', often keeping others updated with quick wit and results.  His mind was never blank – even after his diagnosis – and he was always thinking and working on the next thing to be done. We thank him for his unsurpassed contribution to the band and for the friendship and kindness he showed to all who knew him.'
Andrew is survived by his wife Jeanette and children Kate and Cameron to whom we offer sincere condolences. Andrew's name will live on in competition and wherever and whenever bagpipes are played in British Columbia and in the wider world. RIP my friend.
• The British Columbia Cancer Foundation will receive donations in Andrew's memory.