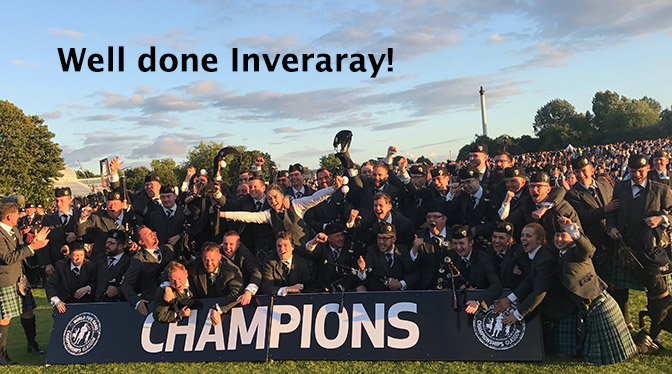 Inveraray Pipe Band under P/M Stuart Liddell and L/D Steven McWhirter are the new World Pipe Band Champions. They were placed ahead of Northern Ireland's Field Marshal Montgomery, so reversing last year's 1/2. Inveraray also took the drumming title. 220 bands took part across all grades. Conditions were wet in the morning but warm and dry in the afternoon. Scottish bands were to the fore in every grade except 4b which went to Canada. 
Full results:
Grade 1
1 Inveraray and District
2 Field Marshal Montgomery
3 St Laurence O'Toole
4 Scottish Power
5 Simon Fraser University
6 Shotts and Dykehead Caledonia
Drumming: Inveraray and District
Grade 2
1 The Glasgow Skye Association
2 Lomond and Clyde
3 St Thomas Alumni
4 City of Dunedin
5 MacKenzie Caledonian
6 Manorcunningham-Eire
Drumming: Lomond and Clyde
Grade 3a
1 Royal Burgh of Stirling
2 New Ross and District
3 Marlacoo and District
4 Coalburn I.O.R
5 St Joseph's-Eire
6 Deeside Caledonia
Drumming: Royal Burgh of Stirling
Grade 3b
1 Royal Burgh of Annan
2 Bothwell Castle
3 Quinn Memorial
4 The Highlanders(4 Scots)
5 Major Sinclair Memorial
6 Kevin R. Blandford Memorial
Drumming: Royal Burgh of Annan
Juvenile
1 Dollar Academy
2 George Watson's College
3 George Heriot's School
4 West Lothian Schools
5 Peoples Ford Boghall and Bathgate
6 Robert Malcolm Memorial
Drumming: George Heriot's School
Grade 4a
1 3rd Battalion The Royal Regiment of Scotland
2 Tullylagan
3 McNeilstown
4 Denny and Dunipace Gleneagles
5 Cullybackey
6 Dunbar RBL
Drumming: Tullylagan
Grade 4b
1 College of Piping Summerside
2 Kildoag
3 Lisnamulligan
4 Culter and District
5 Cullen-Eire
6 Davison Mains and District
Drumming: Bucksburn and District Novice
Novice A
1 Ross and Cromarty P&D School
2 Dollar Academy
3 Oban High School
4 George Watson's  College
5 George Herriot's School
6 Peoples Ford Boghall and Bathgate
Drumming: George Watson's College
Novice B
1 Lochalsh Junior
2 Oban High School
3 Bucksburn and District Novice
4 MacKenzie Caledonian Juvenile
5 North Lanarkshire Schools
6 Sgoil Lionacleit
Drumming: Bucksburn
• Stay tuned to Piping Press for our exclusive reports on the Grade 1 and Grade 2 contests.
---